Mitsubishi Eclipse Cross Coming to Dealerships Soon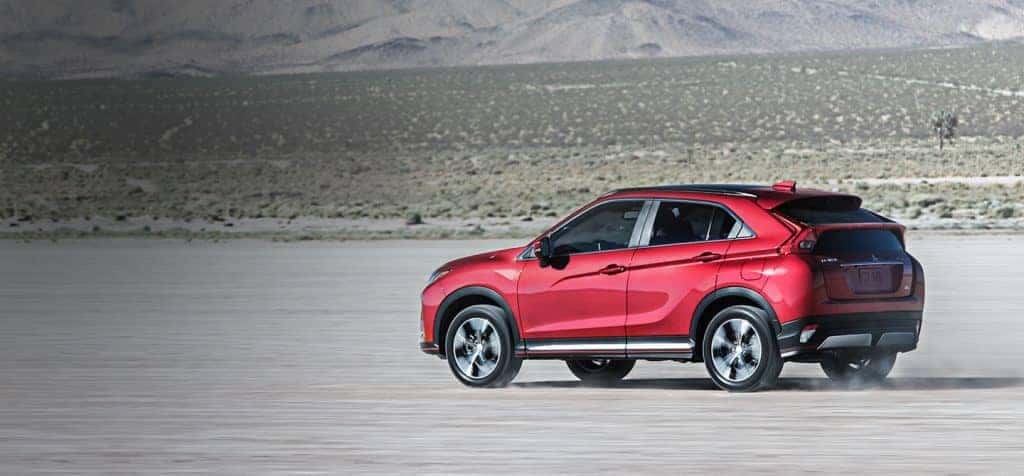 When we first heard about the 2018 Mitsubishi Eclipse Cross, many were skeptical as to why Mitsubishi Motors was naming a crossover with a similar name to one of their retired models, the Mitsubishi Eclipse , that was a sports car. As we learned more about it from the 2017 Geneva Motor Show and again during the 2018 Los Angeles Auto Show, the Eclipse Cross got more and more exciting with new technology in the Eclipse Cross and its official addition to the Mitsubishi Motors lineup. Now, the 2018 Mitsubishi Eclipse is on its way to dealerships across America.
Mitsubishi Motors did a lot of interesting stuff with the Eclipse Cross following its debut. Almost as if to capitalize on American history, the automaker made use of " The Great American Eclipse " during a photoshoot and released tidbits of information about the Eclipse Cross as time went on. Now, with all the specs online, we can look at all the 2018 Mitsubishi Eclipse Cross has to offer.
Available in four trims, technically five*, consumers will be able to enjoy Mitsubishi's Super All-Wheel Control (S-AWC) driving system while on the road. This is Mitsubishi's own all-wheel drive system, able to handle various types of terrain. The Super All-Wheel Control even offers three selectable driving modes to enhance the crossover's performance – auto, snow, and gravel.
When it comes to power, consumers don't have to worry about all of the various options and which one is for them. The same engine is standard throughout the lineup, and it's a turbocharged 1.5-liter L4 engine with MIVEC and direct injection. Small turbocharged engines are said to be the future of the auto industry and they are able to offer a little more power while still providing great fuel economy. This turbocharged 1.5-liter generates 152 horsepower and 184 lb-ft of torque, and offers a fuel economy of 26 mpg in the city and 29 mpg on the highway.
As pointed out, there are two key engineering features built into the engine for optimal performance. "MIVEC" is Mitsubishi's brand of variable valve timing (VVT) technology, designed to enhance the performance of an engine by altering the frequency of the engine's cylinders valve lift events during the intake of air and fuel and the exhaust of the resulting fumes. "Direct Injection" or "Gasoline Direct Injection" (GDI) delivers highly-pressurized fuel directly into the combustion chamber of an engine via its fuel line, said to be a better fuel delivery system than many today. All trims also have the engine paired with an 8-speed continuously variable transmission for seamless switching between gears no matter the speed and without an expenditure of fuel.
When it comes to technology, there is a lot more going on than we previously thought. In addition to the heads-up display, a new infotainment system controlled by a touchpad, and Apple CarPlay and Google Android Auto capabilities, we learned a little more. The new infotainment system is in fact Mitsubishi Connect, an infotainment system destined to revolutionize vehicles as we know. During its premier in the 2018 Mitsubishi Eclipse Cross, we won't get to see all its designed to do, but in the coming years, the Mitsubishi Connect system will make use of Mitsubishi Electric's impending artificial intelligence demonstrated in the Mitsubishi Emirai4 and other Mitsubishi concepts at the 2017 Tokyo Motor Show .
These are many of the highlights surrounding the 2018 Mitsubishi Eclipse Cross, and we can't wait to see what Mitsubishi Motors does next. Will they release another plug-in hybrid, like the Mitsubishi Outlander PHEV ? After all, following its new partnership in the Nissan-Renault-Mitsubishi Alliance, Mitsubishi Motors is set on making more hybrid SUVs and electric vehicles for the future.
We'll have a landing page covering all the specs soon, but until then, tell us what you think about the new 2018 Mitsubishi Eclipse Cross. Is it a successful resurrection of the sports car? Just look at it, the Eclipse Cross even has a swept-back coupe-like look to it, a currently hot fashion statement in the auto industry. Tell us your thoughts on Miami Lakes Mitsubishi social media .
*S-AWC is an add-on option for the base trim, not standard
Photo Source/Copyright: MitsubishiCars.com
Previous Post Best Times to Buy or Trade-in Your Vehicle Next Post Reviews About the New 2018 Mitsubishi Eclipse Cross