Reviews About the New 2018 Mitsubishi Eclipse Cross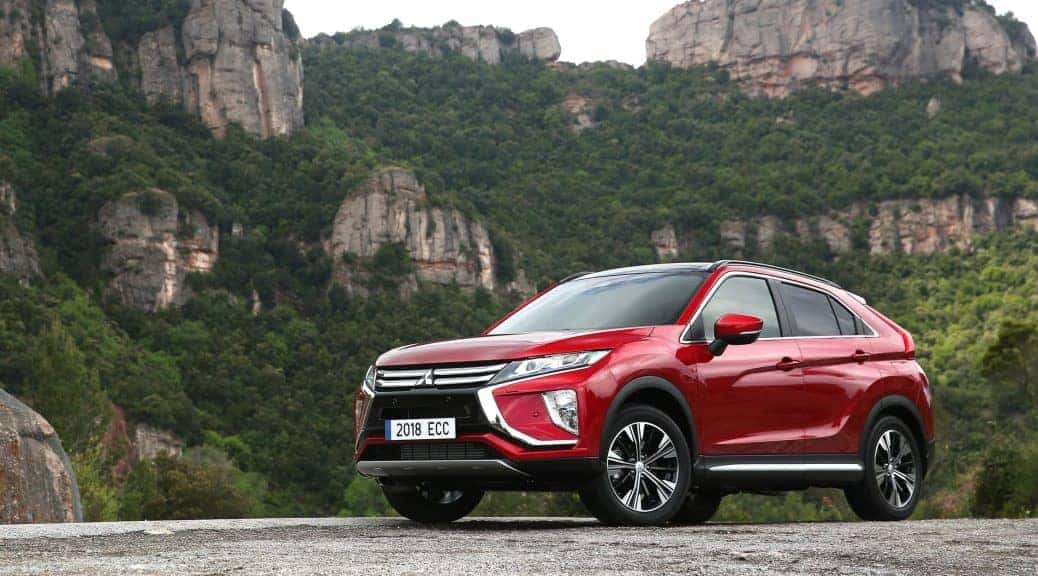 Last week we found out the 2018 Mitsubishi Eclipse Cross is finally on its way to American dealerships. Even so, those with connections in the auto industry, or people living in Europe, have already gotten their chance to drive the Eclipse Cross and have given their impressions of it. Like any new vehicle, there will be mixed reviews. Some drivers like it, some don't, and that's okay. Not every vehicle is for everyone. Regardless, the Mitsubishi Eclipse Cross does have a few things going for it, and although it shares a lot with other Mitsubishi vehicles (Outlander), it has enough positive differences to set it apart.
The Mitsubishi Eclipse Cross and Reviews
Now that the Mitsubishi Eclipse Cross is coming to America , we know more about it than we did during the 2017 Geneva Motor Show debut and more than all the cool technology in the Eclipse Cross . There's some new stuff and some old. For example, Mitsubishi Motors has never been known to make sports cars or high performance vehicles, and although they claim their e-Evolution concept will be a performance SUV, the Eclipse Cross follows the pattern of low-tier engines. Found standard on the lineup is a turbocharged 1.5-liter L4 engine, optimized with MIVEC and direct injection fuel delivery. This 1.5-liter can generate 152 horsepower and 184 lb-ft of torque, and offers a fuel economy of 26 mpg in the city and 29 mpg on the highway.
Permanently matched to an 8-speed continuously variable transmission, and with the option of Mitsubishi's Super All-Wheel Control (S-AWC), the drive is pretty great.
"The turbo [engine] smears its torque over a wide range, so [the Eclipse Cross] responds well from low down. It also sings sweetly and quietly at the top end … You can feel the [S-AWC] system shuffling [torque] to the tires that can use it, and the chassis and steering feed some info, and the balance is fine." – Top Gear
"…the AWD system managed to find all the traction it needed on the smooth Spanish asphalt where our test drive took place, rarely being called upon to send torque aft." – Car and Driver
The interior is great for a crossover and it even feels a little roomier than other Mitsubishi vehicles. Plus, the Mitsubishi Eclipse Cross allows consumers to slide the back seat bench forward to open up cargo space in the rear and also change up the seating configuration.
"The Eclipse Cross carves a lot of people space from its compact footprint. You sit in the usual throne-like crossover attitude up front. Out back, there's top-class leg room, and foot space under the front seats. Enough headroom too …" – Top Gear
We have also talked about the technology found in the Eclipse Cross, such as the available heads-up display and a new infotainment system controlled by a touchpad. The new tech system of course comes with Apple CarPlay and Google Android Auto capabilities to bring the Eclipse Cross into the modern age. Overall, the new tech seems to actually be a hit with just about everyone at the moment.
"The dials and screens are clear enough, and top versions have a head-up display. Infotainment is controlled by a touchscreen or well-designed trackpad controller down in the centre console. Mirroring of Apple or Android phones is standard, just to add to the user-friendliness." – Top Gear
"The tech factor is high, with our fully loaded test car having a 7.0-inch touchscreen, a 360-degree-view camera system, adaptive cruise control, and a head-up display that projects onto a pop-up plastic reflector atop the instrument cluster. There's also a touchpad controller between the seats, similar in feel to Lexus's Remote Touch Interface…" – Car and Driver
Again, with every review there will be good and bad, but in the end, many gave 2018 Mitsubishi Eclipse Cross pretty good overall reviews.
"A comfy, versatile crossover that looks distinctive enough to be recognizable in this crazily crowded market. Better to drive than the first impression suggests … " – Top Gear
"The Eclipse Cross is well constructed and well equipped, and it feels entirely capable of coping with the duty cycles that will be asked of it, but it does all this with little distinct personality beyond "unexceptional crossover." – Car and Driver
* Until the Eclipse Cross makes it to the states, we can't really say what we think until we get our hands on a couple. Until then, stay tuned with Miami Lakes Mitsubishi social media . *
* Photo Source/Copyright: Car and Driver *
Previous Post Mitsubishi Eclipse Cross Coming to Dealerships Soon Next Post Mitsubishi Models Available Overseas