Mitsubishi Eclipse Cross Highlights
Now that Mitsubishi has officially added the Mitsubishi Eclipse Cross to their changing lineup , many of us are awaiting more information and details. So far, Mitsubishi Motors only has a preview page highlighting a couple things that stand out. However, given what we do know about the vehicle, we think we can do better. Here are some of the 2018 Mitsubishi Eclipse Cross highlights.
Power
New to Mitsubishi Motors is a 1.5-liter turbocharged engine with direct-injection. Not only does this bad boy go under the hood of the Eclipse Cross, but it was built in-house. In fact, the entire small SUV was built in-house, demonstrating Mitsubishi Motors' ability to still design and produce fantastic vehicles despite their new deals with Nissan-Renault. Being a turbocharged engine with direct injection, expect more horsepower than seen on a Mitsubishi vehicle before. Plus, Mitsubishi's Continuous Variable Transmission (CVT) is being integrated into the Cross and paired to the engine for great fuel economy.
Style
The Mitsubishi Eclipse Cross has style inside and out. Highlighted on the features page is the stylish couple lines that give this SUV more of a bold, athletic stance. Also known by Mitsubishi is its dynamic shield design that not only protects the front fascia but also gives the Eclipse Cross some of that sporty style the original Mitsubishi Eclipse sports car was known for. Also say hello to a panoramic sunroof for enjoying a breezy day and the LED headlamps for seeing clearly on the darkest of days.
Inside, the cabin is built with the driver in mind. Intuitive in design, many of the controls the driver will fiddle with the most are all right near the gear shift for ease of access. Not to mention the interior looks pretty fly. Check it out below – dreamy, isn't it?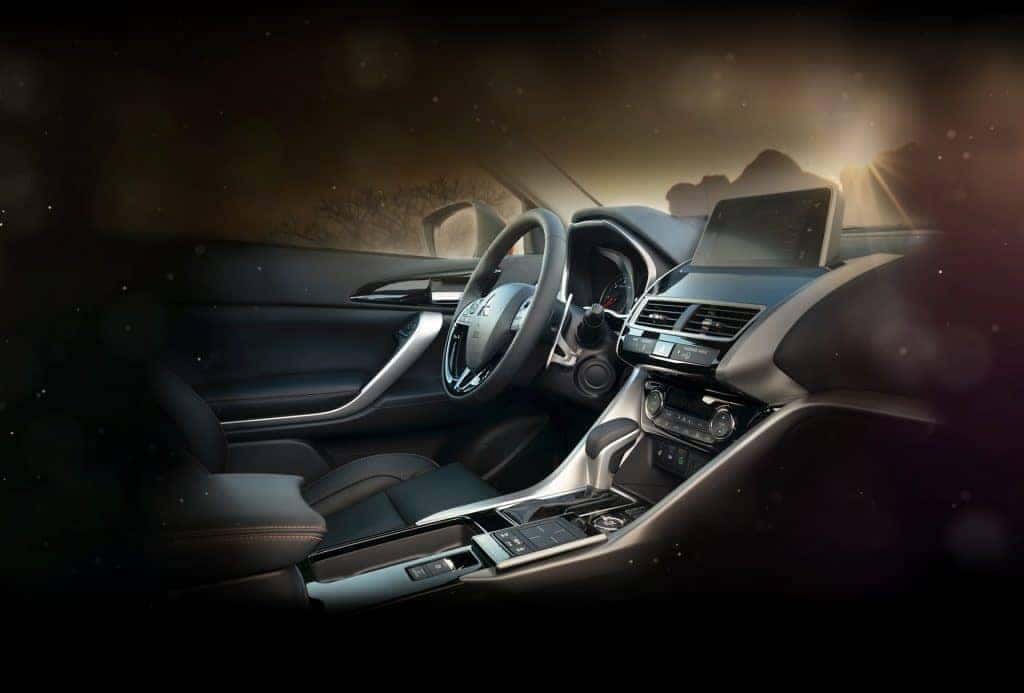 Technology
We covered a lot of the new tech features popping up in the Eclipse Cross earlier, but it doesn't hurt to do a little review. Finally, a Mitsubishi vehicle that can completely connect with the driver via smartphone connectivity, a mobile app, Apple CarPlay, Google Android Auto, and voice-command technology. A new infotainment system has been integrated for the Mitsubishi Eclipse Cross, another feature that has been missing in previous models, but instead of relying on a touchscreen, this system can be navigated via a touchpad next to the gear shift. The screen is also level with the steering wheel so drivers need not take their eyes off the road too much when navigating.
What's really turning heads is the pop-up heads-up display (HUD) built into the dashboard. This also helps drivers stay focused, not only displaying their speed at eye-level but also whether or not adaptive cruise control (ACC) has been engaged, the vehicle's distance from other vehicles ahead, and other features that may be activated. Along with such technology to improve driver safety, the Eclipse Cross also comes with lane departure warning, blind spot warning, and super all-wheel control.
* Exciting isn't it? We can't wait to hear more, 'cause it's plenty to look forward to. What do you think? Let us know on social media . *
* Photo Source/Copyright: Mitsubishi *
Previous Post Mitsubishi Making Changes to the Lineup Next Post Mitsubishi Fuso eCanter Comes to New York City