The 2018 Mitsubishi Outlander PHEV Made it to America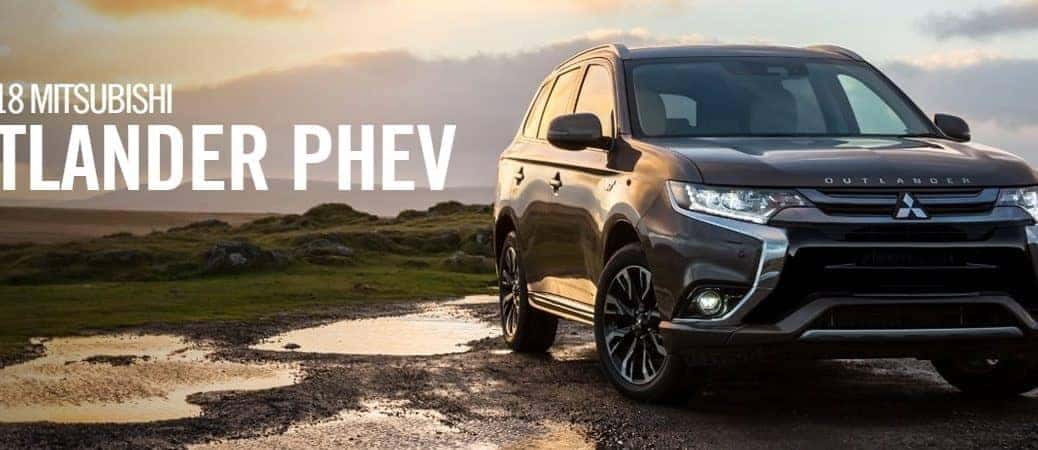 The Mitsubishi Outlander PHEV made it to the U.S.! This is not a drill and not a hoax. Mitsubishi Motors America added the Mitsubishi Outlander PHEV to their lineup, and the news about the Outlander PHEV coming to America is true. How exciting, we've been waiting for years and we're finally going to get our hands on the first outstanding, popular, and successful hybrid by Mitsubishi Motors. You can bet we'll have a full specs page on it, but for now, take a look at some of the highlights to expect on the 2018 Mitsubishi Outlander PHEV.
Powertrain
Being a plug-in hybrid electric vehicle (PHEV), the Outlander PHEV is powered by a hybrid system made up of a 2.0-liter DOHC MIVEC engine and two electric motors powered by a rechargeable 12 kWh lithium-ion battery. The internal combustion engine, like most found in Mitsubishi vehicles today, has been optimized with Mitsubishi's MIVEC system, their version of variable valve timing (VVT) technology. As some may know, VVT is a process that alters the lift events in an engine's cylinders during the intake of gas and air and the exhaust of fumes. The better this process is optimized, the better an engine can perform.
The 2.0L engine generates up to 117 horsepower and 137 lb-ft of torque, whereas the electric motors produce a different amount of power. The front motor output has a measurement of 60 kW for horsepower (60 kW equates to roughly 80 units of horsepower) and 101 lb-ft of torque, and the rear motor generates another 60 kW for horsepower and 143 lb-ft of torque. Once again, electric motors illustrate their ability to deliver a whole lot of torque with just a 12 kWh battery.
Able to charge up in one of four ways, consumers have the ability to recharge the battery in as little as 25 minutes with a CHAdeMO DC fast charger, (available at many electric charging stations in Miami ). There's also the ability to fully recharge the battery in 3.5 hours with a Level 2 240V electric port, or between 8-13 hours with a 120V electrical outlet. Most consumers will find the latter option the most convenient because people can practically recharge their vehicle at home for free while they sleep. A fully charged battery can power the Outlander PHEV for a driving range up to 22 miles on pure electricity. If driving all day, with a full charge and fuel tank, drivers can travel up to 310 miles before needing to gas up or recharge.
Amenities
Being its first year in America, the 2018 Mitsubishi Outlander PHEV is bringing the heat, literally. Heated front seats are a standard across the two trims in the lineup, along with leather upholstery, a leather trimmed door, and a leather-wrapped steering wheel. Along with such luxurious features shared across the trims, many convenient and technological features can also be found on either trim. We're talking a 7-inch smartphone link display with Android Auto and Apple CarPlay, Bluetooth wireless technology, steering wheel-mounted audio, phone, and voice controls, dual-zone automatic climate control, a power remote liftgate, FAST-key passive entry, the list goes on.
Consumers can rely on the standard six speaker system, or can get some better sound on the Mitsubishi Outlander PHEV GT (no longer just a concept) for a 9-speaker system by Rockford Fosgate. The Outlander PHEV GT trim also comes with a multi-view camera system (rearview on the base trim), a heated steering wheel, and a sunroof. Both trims are pretty packed, and if going for the Outlander PHEV GT, the increase in price isn't too bad.
The starting MSRP for the 2017 Mitsubishi Outlander PHEV is $34,595. Also keep in mind the tax credits for alternative fuel vehicles. The 2017 Mitsubishi Outlander PHEV qualifies for the a federal tax credit of up to $5,836.
Photo Source/Copyright: MitsubishiCars.com; Edited by Jordan A. Rodriguez
Previous Post Buy a New Mitsubishi Mirage for Less Than $10,000 Next Post Comparison of the 2018 Mitsubishi Outlander PHEV and Kia Niro PHEV