Announcing the Dodge Challenger GT AWD!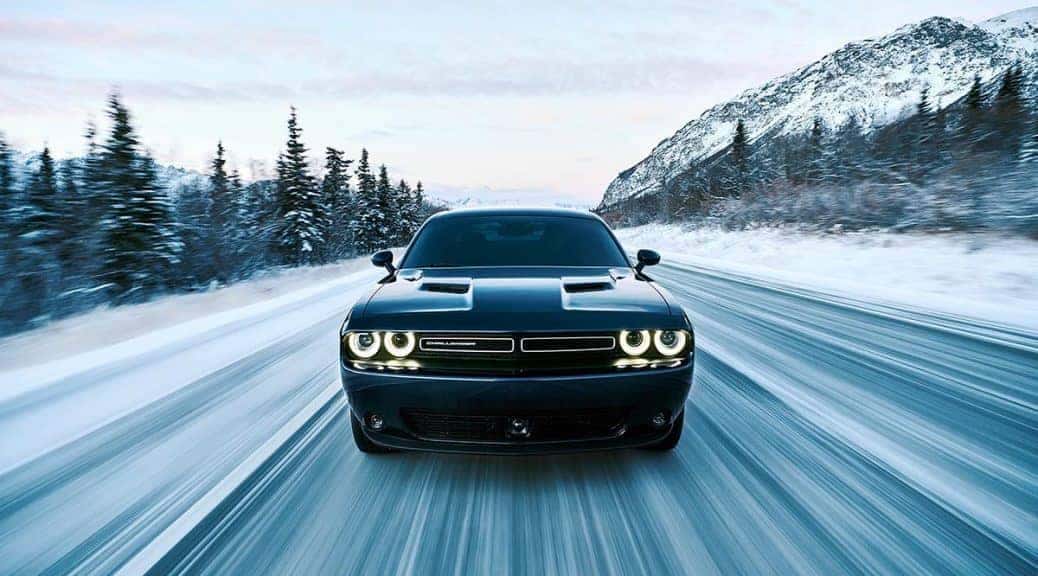 O.M.G. A Dodge Challenger with all-wheel drive will be arriving in showrooms in 2017. This has to be one of the most exciting things we've heard about all year, in terms of Dodge at least. And trust us, there's been a lot of exciting and good news about Dodge this year. Their 2017 vehicles are already getting praise , and with the Challenger GT AWD on the way, there is a lot to look forward to!
All the Goodies
Ever since the new Dodge Challenger T/A and Dodge Charger Daytona models were introduced in August, Dodge has gone completely insane, in a good way. It seems like every month we're getting something new, and who can really complain? It should be illegal, but what cop is going to press charges when they're getting their own Dodge Charger Pursuit cruiser? Plus, along with the big news about the Challenger GT AWD, the Barracuda is also said to be making a comeback .
Other good news – Dodge might be returning to NASCAR , _ might _ . Three Dodge vehicles also got some love from the Strategic Vision Consumer Love Index . The Dodge Charger, Dodge Challenger (of course), and the Dodge Durango are all loved by American consumers. So how can it get better? Well, let's talk about the new Challenger GT AWD that is coming soon.
2017 Dodge Challenger GT AWD
AWD, short for "all-wheel drive", is a very favorable drivetrain for vehicles who want to blaze up and down the street, given their superior handling for tight corners and improved acceleration. They're also great in various weather and road conditions, but that's nothing new. What _ is _ new is that the Dodge Challenger will officially be the first muscle-car _ in the world _ to get AWD.
The Dodge Charger has already has an AWD option, and the Challenger GT will be using the same active transfer case and front-axle disconnect system as the Charger for its AWD drivetrain. This system is sort of a part-time AWD, where the rear axle is always on, but if/when sensors indicate the need for additional traction, the front-axle is also engaged, turning the Challenger GT into an all-season performance vehicle with AWD. The Challenger GT will also get its own enhanced Vehicle Dynamic Control (VDC) system for superior traction on the most slippery of surfaces.
Powering the 2017 Dodge Challenger GT is the popular 3.6-liter Pentastar V-6 engine , generating 305-horsepower and 268 lb-ft of torque. The popularity isn't just in the power though; this engine is also known for its best-in-class fuel economy, up to 27 mpg on the highway. A lot of other goods will be on the Challenger GT model, such as paddle shifters and Sport mode transmission, a full-color Electronic Vehicle Information Center (EVIC) in the middle of the instrument cluster, 7-inch thin-film transistor (TFT) customizable cluster display, and Dodge Performance Pages for driver control and vehicle performance monitoring.
For style, the Challenger GT rides on 19-inch aluminum wheels with Hyper Black finish and BSW all-season performance tires. It is also equipped with projector fog lamps, a deck-lid rear spoiler, and a 1971-inspired design complete with a split grille, pronounced and functional power bulge hood, LED halo headlamps, and LED tail lamps.
Technology? The Uconnect 8.4-inch touchscreen display with Apple CarPlay and Android Auto, and a six Alpine speaker system. Of course, there's always a little extra comfort with premium Nappa leather seating, and heated and ventilated front seats.
It goes without saying, the 2017 Dodge Challenger GT is already shaping up to be a winner, and it's not even on the road yet. It will be soon though, as soon as January, with a starting MSRP of $33,395. Get ready!
Photo Source: nydailynews.com
Previous Post '17 Dodge Vehicles Receive 5-Star Overall Safety Rating Next Post South Florida's New Year's Events