3 Dodge Models Named America's Most Loved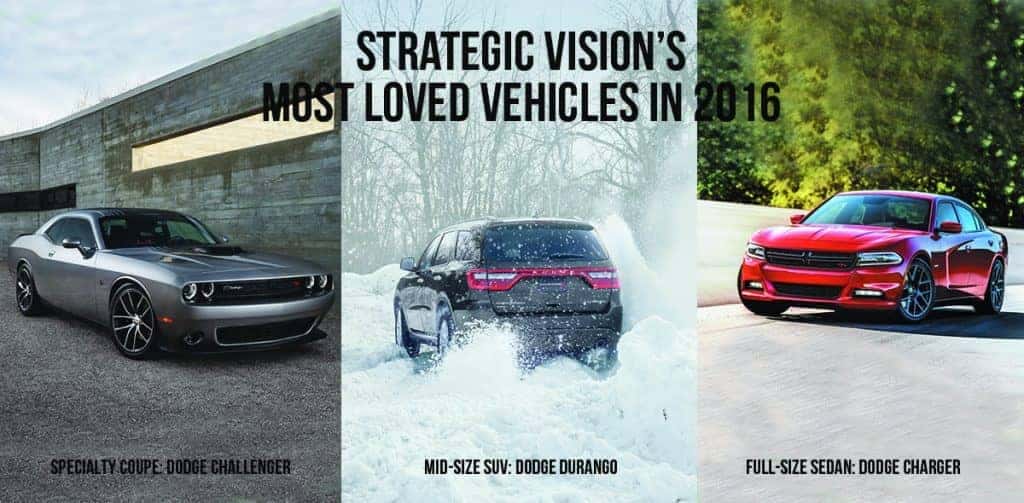 It's the end of the year and many awards are being given to some of the best vehicles on the street. One of which is delivered by Strategic Vision, an organization that annually releases the Consumer Love Index (CLI), an index that measures how much owners love their new vehicle after 90 days of ownership. Recently, Dodge received this award for three of its vehicles and one vehicle received a special award from ALG, the industry benchmark for providing residual value.
Full-Size Car – Dodge Charger
The Dodge Charger appeared on the Strategic Vision's list, and how could it not? Many people love their charger, it's a muscle-car and a sedan all rolled into one. That means it has just as much performance as it has comfort and convenience. With four engine options, including the 707-hp supercharged 6.2-liter HEMI SRT Hellcat engine, it's one of the fiercest vehicles on the road. Plus, it has a fuel economy of 31 highway mpg and a driving range of over 570 miles.
The Dodge Charger also recently received the Residual Value award from ALG, a TrueCar Company. The Residual Value award is awarded to vehicles that have great value even after years of ownership relative to the original price.
"The only four-door muscle car in the market has now won this award from ALG three years in a row, and that is a testament to the fact that there is nothing else like Charger on the road today," said Tim Kuniskis, Head of Passenger Car Brands – Dodge, SRT, Chrysler and FIAT, FCA – North America.
Specialty Coupe – Dodge Challenger
"Specialty Coupe" is a pretty fancy way to call this a performance car with functionality. The Dodge Challenger is a muscle car, but it does have its luxuries, such as best-in-class cargo volume, ventilated and heated seats, and plenty of personalization options to make each Dodge unique to its owner. An icon of adrenaline, the Dodge Challenger has been built around performance since its inception, all the way up to the SRT Hellcat engine, offering acceleration from 0-60 in 3.7 seconds. That's fast.
Plus, the Challenger is designed for better fuel economy, a trait that is ever increasing in demand these days. It has Class-Exclusive TorqueFlite eight-speed automatic transmission for better handling and efficiency, aluminum axles that reduce the weight, electric power steering (EPS) which has been shown to lower fuel consumption, and rear-wheel drive to deliver equal weight distribution and taking the stress of the engine.
Mid-Size SUV – Dodge Durango
The Dodge Durango was a winner in the mid-size SUV category. You can read more about it here .
* To see what we have in store for the Dodge Charger and Challenger, you can check our inventory. *
Photo Source: Chrysler Ad Planner
Previous Post Performance, Safety and Tech in the Dodge Charger Pursuit Next Post Will Dodge Return to the NASCAR Race Track?