America's Most Loved 2016 SUVs at Miami Lakes Automall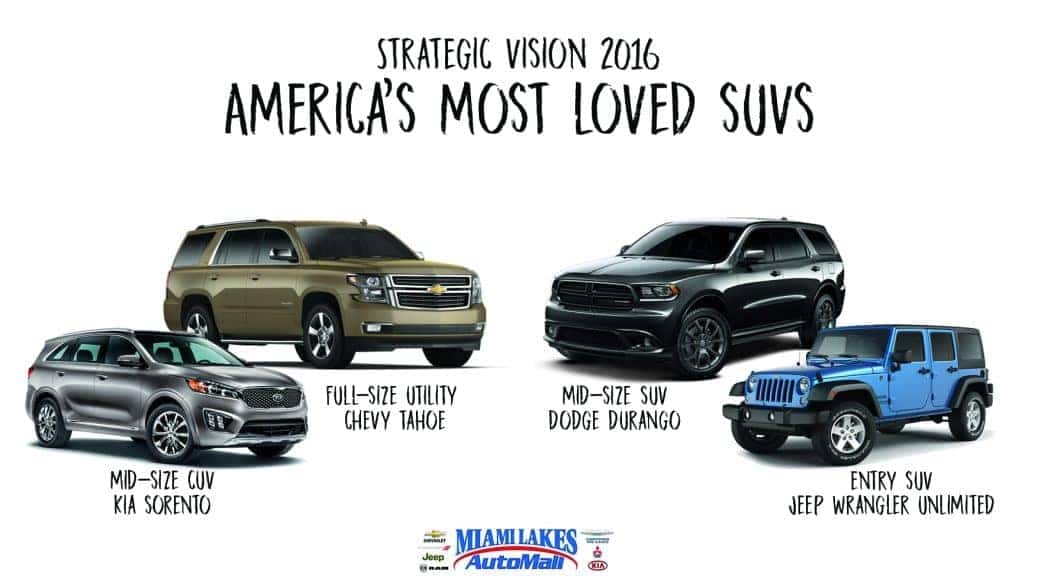 Like the annual J.D. Power Initial Quality Study , every year Strategic Vision measures an owner's experience with their vehicle after 90 days of ownership. But instead of measurements for quality, Strategic Vision's evaluation is based on how much love a consumer has for their vehicle.
Love is hard to quantify, but Strategic Vision's survey asks for ratings on over 120 vehicle aspects, ranging from simple stuff like the operations of the door handles to the overall performance of the vehicle. This year, Kia, Chevrolet, Dodge and Jeep are among the SUV brands that consumers love the most, and all four of those vehicles are available at Miami Lakes Automall!
Mid-Size CUV: 2016 Kia Sorento
Everyone likes a crossover, and why not? It's a great combination of the maneuverability of a smaller car and the toughness and cargo space of an SUV. The Kia Sorento is available as a five- or seven-passenger vehicle and it offers as much as 100 cubic feet of storage space for five passenger models and a 110 cubic feet for seven-passenger models. Kia is also known for its top safety standards, making the Sorento a great choice for families.
With seven trims available, there are many options a buyer can utilize to customize their new Kia Sorento. There are a range of standard features, but there are some optional high-end finishes and tech features available as add-ons. Plus, the amount of features to make the Kia Sorento a convenient vehicle are large and plenty, making it a top choice and a CUV to love. Starting MSRP at $25,400.
Mid-Size SUV: 2016 Dodge Durango
This is the third consecutive year that the Dodge Durango earned the title as the most loved mid-size SUV from the Strategic Vision study. Like the Kia Sorento, the 2016 Dodge Durango is available as a five- or seven-passenger SUV, but the Durango is a bit more spacious. The Durango lineup is available with three engines, including the 5.7-liter HEMI engine.
The Durango has an excellent towing capacity of up to 7,400 pounds and it manages to squeeze out 27 mpg on the highway. Available with two seatback DVD screens and third-row tailgate seating, the Durango is an excellent vehicle for camping and long road trips. Starting MSRP at $30,495.
Entry SUV: 2016 Jeep Wrangler Unlimited
It's hard to say what vehicles classify as an "Entry SUV." Some could say an entry SUV is a "base" model and others say it's determined by the price tag. We think it's both, seeing as how the Jeep Wrangler Unlimited is a great first Jeep for consumers new to the brand, especially with a starting MSRP of about $28,000.
Jeep vehicles are known for their versatility, and with eight Wrangler Unlimited models, consumers have many choices for amenities and features. Plus, like the Wrangler, the Wrangler Unlimited can be customized for open air adventure by removing its hard top, or kept tough for rock crawling with its Command-Trac and Rock-Trac 4×4 Systems. The Jeep Wrangler Unlimited is rugged, refined, and it can be yours today . Starting MSRP at $27,895.
Full-Size Utility: Chevrolet Tahoe
The title of the car class gives it away, the Chevy Tahoe is a bit of a monster. This three-row SUV is beloved by many owners _ and _ families. Powered by a 5.3-liter EcoTec3 V8 engine in all three Tahoe trims, there is no sacrifice of power no matter which model you choose. The engine generates 355-horsepower and averages 23 mpg on the highway.
The Tahoe is spacious and has seating for seven or eight passengers. The Tahoe is never cramped as there is up to 94.7 cubic feet of cargo space. Its cabin is refined, giving passengers a little peace and quiet with acoustic-laminated windshields to reduce outside noise. And of course, it's tech-savvy, complete with the Chevrolet MyLink audio system for Bluetooth streaming audio, Apple CarPlay and Android Auto compatibility, and voice-activated technology for radio and phone. Starting MSRP at $47,215.
* Miami Lakes Automall is one of South Florida's largest dealerships and we have seven brands in one location. Whether you are shopping by brand, make, class or price, Miami Lakes Automall has something for everyone. You can see what we have in store by searching our inventory online. *
Previous Post Kia Soul's Best Buy Award and the New NiroBot Next Post Kia and Millennials