All-New 2017 Dodge Challenger T/A and Charger Daytona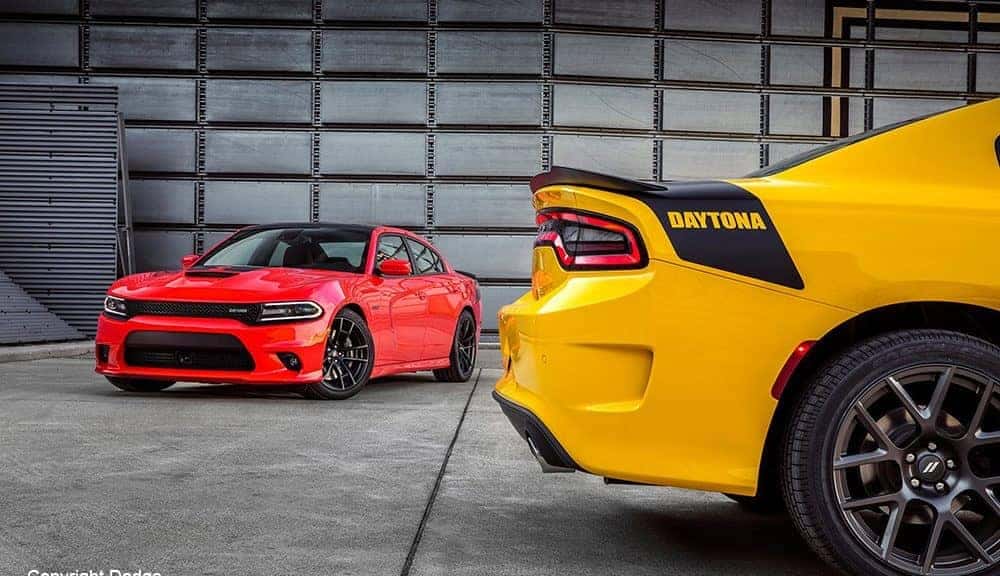 Earlier this month, Dodge announced two new models were being added to the 2017 Dodge Challenger and Charger lineup — the Dodge Challenger T/A and the Dodge Charger Daytona.
Both are throwbacks to previous models, but feature modern tech, more features and retro design. To make a little more noise, Dodge is taking a couple of High-Impact Colors (HIPs) out of its archives and has added a new HIP hue. Both, the 2017 Dodge Challenger and Dodge Charger will be available in Go Mango, the all-new Green Go, a revised Yellow Jacket, and TorRed.
2017 Dodge Challenger T/A, T/A Plus, T/A Plus 392
The 2017 Dodge Challenger T/A will be available in three trims – the Challenger T/A as the base, T/A Plus , and then the T/A Plus 392 . The Challenger T/A and T/A Plus trims have a 5.7L HEMI V8 engine that generates up to 375-horsepower.
The Dodge Challenger T/A model was originally built for the Sports Car Club of America's (SCCA) Trans Am racing series back in 1970. A little more than 2,000 original Challenger T/A models were built making it one of the most sought after muscle car of the time. The new 2017 Challenger T/A model builds on that legacy and packs a modern punch. Standard parts designed for performance will be integrated into the T/A, such as new "Air Catcher" headlamps with LED-illuminated T/A logos, a brand new 2.75" Electronically-controlled active performance exhaust system, and 20-inch Mopar lightweight forged aluminum wheels with a Hyper Black II finish.
Upgrades that bring the 1970 model into the modern age don't stop there. The Super Track Pak, consisting of BSW Performance Tires (Goodyear Eagle F1), anti-lock 4-wheel disc heavy duty high performance brakes, and performance steering with variable displacement pump, is also added to the Challenger T/A. A race-bred chassis will be added to upgrade the new Dodge Challenger T/A, including a 0.5" lowered suspension, akin to the Super Track pack sport suspension, high-performance Bilstein shock-absorbers, and three-mode electronic stability control calibration with "full off."
The 2017 Challenger T/A Plus 392 gets a little higher-class treatment. As the name states, this Challenger model is equipped with a 6.4L-392 HEMI V8 engine that generates up to 485-horsepower. The vehicle is fitted with ultra-high performance Brembo six-piston front and four-piston rear brakes with vented rotors added on, along with unique heated and ventilated Nappa leather performance seats, all-new 20-inch forged aluminum wheels in a Low Gloss Black finish, Pirelli three-season performance tires, and "392" fender decals.
2017 Dodge Charger Daytona and Daytona 392
The new 2017 Challenger T/A isn't the only Dodge model with an addition to its lineup. Dodge Charger is also getting a new family addition with its own assortment of performance enhancements. The 2017 Dodge Charger Daytona will come in two trims – the Charger Daytona and the Daytona 392 .
Like the Challenger T/A, the Charger Daytona is powered by a 5.7L HEMI V8 engine with a maximum horsepower of 375-hp . The Charger Daytona 392 is powered by the 485-horsepower 6.4L 392 HEMI V8 engine .
Mopar's cold-air induction system with a conical air filter will be attached to the engine's intake and exhaust, along with an electronically controlled 2.75-inch active performance exhaust system with 4-inch round tips.
A Super Track Pak is being added as well, including suspension, performance brake linings, and BSW Performance Tires (Goodyear Eagle F1) like those on the new Dodge Challenger T/A for improved acceleration and speed. The engine on the Charger Daytona is being tuned up for performance with a high-speed engine controller, and the car's style is getting a new look too.
For that aggressive, high-performance look, the exterior will be getting SRT and R/T Scat Pack-inspired additions, such as front and rear performance facias, performance side sills, and a one-piece Satin Black performance spoiler. To keep up with Dodge Heritage infusions, the "Daytona" deck-lid with have rear-quarter graphics and the roof will get a Satin Black finish. 20-inch Mopar lightweight forged-aluminum with a Hyper Black II finish will become the new standard for the Charger.
The new Charger Daytona look won't be complete without enhancements to the interior though, which brings up the Black Nappa Leather trim with horizontal Alcantara suede plowthroughs and "Daytona" embroidered seatbacks. The seats will also feature ventilation and heated settings. A performance interior would be incomplete without a Dodge performance steering wheel and premium velour-bound floor mats embroidered with the Dodge logo.
If you are as excited about these models as we are, stay tuned on Facebook for updates!

Previous Post 5 Cool Mopar Parts for Your Dodge Challenger Next Post 2016 Minivan Comparison: Dodge Grand Caravan and Nissan Quest