Kia Stinger – Sports Car of the Decade?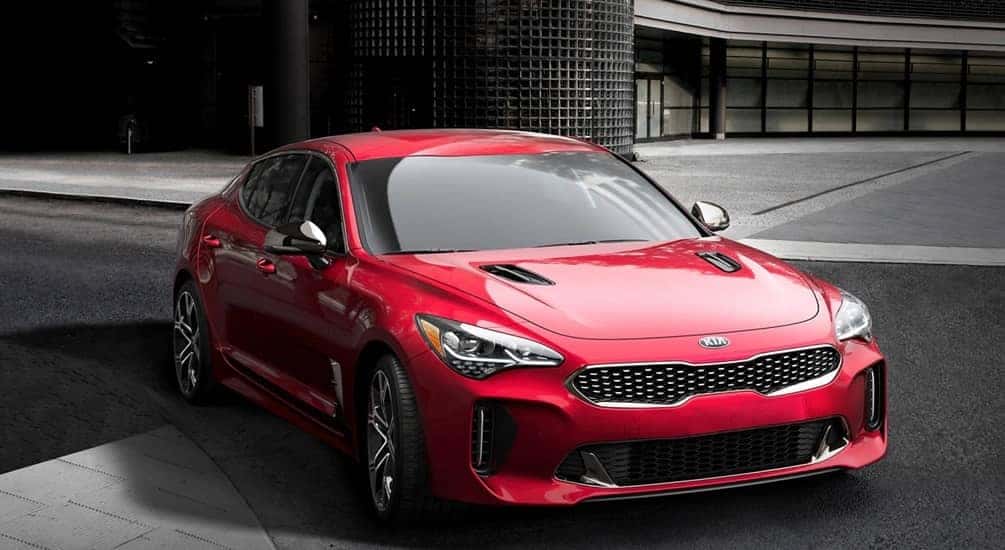 The first Kia Stinger sports car from Kia Motors all started with a mysterious promotional series called _ The Curve Ahead _ . It was a teaser for the unveiling of the Kia Stinger at the 2017 Detroit Auto Show . Coming with a new tagline by the automaker, "Cars that drive as well as they look," the 2018 Kia Stinger embodied that new method with killer style and even better driving prowess. During its first year of release, the Kia Stinger won many awards , there were Kia Stinger Limited Editions , and with a GT option that was fast and affordable, the Kia Stinger was faster than many competitors for double the price. Really, the Kia Stinger GT is faster and more affordable than the Porsche Panamera , Audi A7, Jaguar F-Type, and others. Released a little over two years before 2020, with all the Kia Stinger has going for it, could we call it the sports car of the decade?
Don't get lost in those crosshairs of muscle cars and sports cars. We're not talking the Dodge Challenger, or the Ford Mustang, or a Chevrolet Corvette. Although in the sports car segment, many would call them muscle cars for the high-horsepower powertrain options and all the tech and components one can use to modify and improve their vehicle's performance. Of course, you can modify the Kia Stinger, like the modified 2018 Kia Stinger at the 2018 Chicago Auto Show , but straight from the factory, and most would liken the Kia Stinger to a sports car.
Given its popularity and all the data proving its worth against would-be competitors, the Kia Stinger won't be forgotten any time soon. With a few minor upgrades for 2020, consumers can still get all the great features and options of previous models. There is a bit of a difference for 2020 though, now with the GT-Line making up the base trim, followed by the GT, GT1, and GT2 trims. Interestingly enough, the twin turbocharged 3.3-liter V6 engine, capable of producing 365 horsepower and 376 lb-ft of torque, the GT-line is surprisingly equipped with the lesser 2.0-liter turbocharged four-cylinder engine, but the GT-Line isn't _ all about _ performance. Style plays a part in that too, but let's not get too wrapped up in what's new for 2020. We can talk about that later.
If we were to look at all the sports cars between 2010 and 2020, what vehicles stand out? With the market becoming ever more populated with SUVs and crossovers, how can a niche car segment stand out? By offering the same features and comfort a consumer would find in an SUV or crossover, such as ultra-soft Nappa leather upholstery, a ventilated driver's seat, and the latest version of the UVO infotainment system, for starters. There was also an assortment of advanced safety features that made the Kia Stinger a safe sports car, equipped with Forward Collision Assistance with integrated Autonomous Emergency Braking (AEB) and pedestrian detection, Advanced Smart Cruise Control, Lane Keep Assist, Rear Cross Traffic Alert, and Blind Spot Detection (available in select trims).
Plus, all Kia Motors vehicles come with some amazing warranties. Every new Kia vehicle comes with a10-year or 100,000-mile warranty program that includes: a 10-year or 100,000-mile limited powertrain warranty, a 5-year or 60,000 mile-limited basic warranty and a 5-year or 100,000-mile limited anti-perforation warranty. The Kia Stinger is fast, affordable, safe, and will last consumers for many years to come. So, what do you say?
Is the Kia Stinger the sports car of the 2010 decade? Join the discussion on Miami Lakes Kia social media , or swing by for a test drive of the Kia Stinger sports car .
Photo Source/Copyright: Kia.com
Previous Post 2021 Kia Optima VS 2020 Hyundai Sonata Next Post Kia Motors Releases Info About Next-Gen 2021 Kia Sorento Hybrid