Modified Kia Stinger at 2018 Chicago Auto Show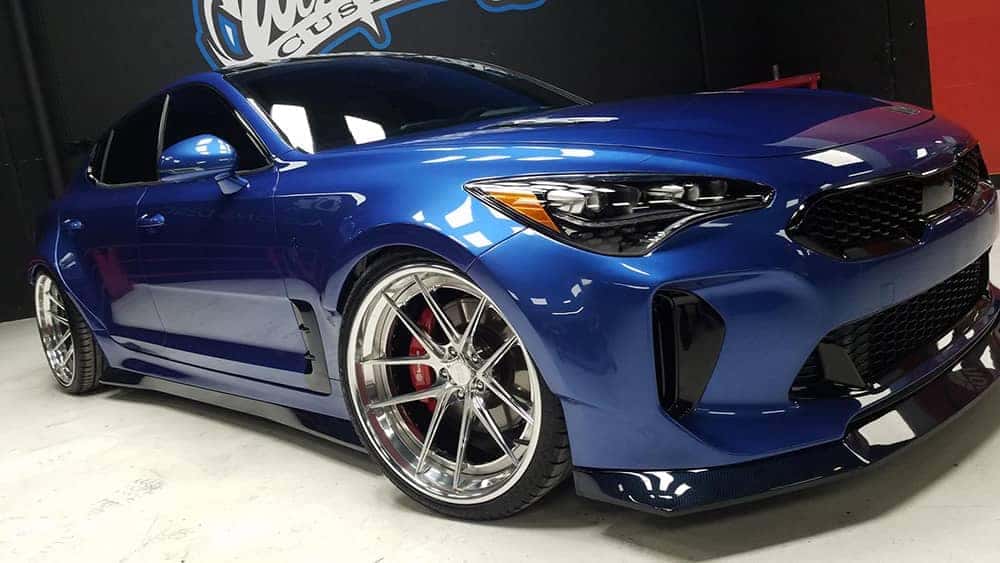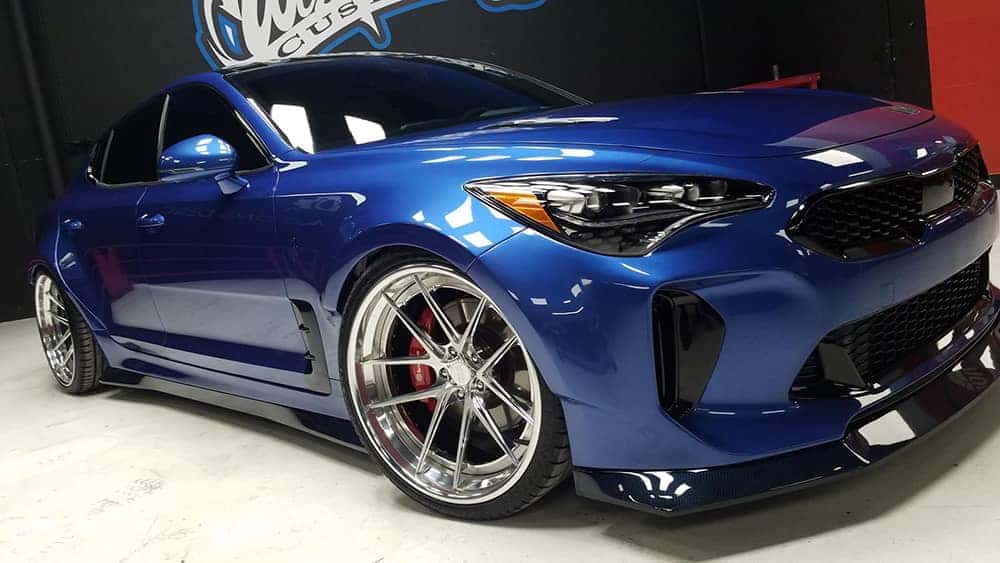 The 2018 Kia Stinger first debuted at the 2017 Detroit Auto Show , and we waited an entire year to see it available on the Kia Motors website. That isn't to say of course that the Kia Stinger didn't have select promotional gigs to get the crowd boiling with anticipation, one of which was a drag race between fashion models and celebrities during Fashion Week in New York. Now, it's all come full circle, and just as soon as the 2018 Kia Stinger was made available, a special one-off custom Kia Stinger was developed and presented at the 2018 Chicago Auto Show.
The 2018 Kia Stinger
Before we talk about this one-time custom-made 2018 Kia Stinger, let's talk about what makes the vehicle so great in the first place. Both powertrain options for the Kia Stinger are incredible, whether driving in a low-tier trim or one of the three high-tier GT trims. Found on the base (2.0L) and Premium trims is a twin turbocharged 2.0-liter DOHC 4-cylinder engine with continuously variable valve timing (CVVT), idle stop and go (ISG), and gasoline direct injection (GDI). The 2018 Kia Stinger 2.0L and Premium trims can generate up to 255 horsepower and 260 lb-ft of torque, and can get 22 mpg in the city and 29 mpg on the highway if paired with a rear-wheel drivetrain. If driving with an all-wheel drivetrain, the combined fuel economy of each is 24 mpg.
The 2018 Kia Stinger GT trims, GT, GT1, and GT2, are all powered by the same engine, a twin turbocharged 3.3-liter DOHC V6 engine with the same add-on designs as the 2.0-liter DOHC 4-cylinder engine. This twin turbocharged V6 engine can generate up to 365 horsepower and 376 lb-ft of torque. Regardless of drivetrain, the Kia Stinger GT trims have a fuel economy of 19/25 mpg city/highway.
All of these implementations in each engine help to increase the performance of the Kia Stinger. A "DOHC" engine is built with a D ouble O ver H ead C amshaft, splitting the work of an engine's cylinders between two routes, one for intake and one for exhaust. CVVT changes the frequency of a cylinder's valve lift event for each of those processes, and proper modification can lead to better performance and fuel economy. GDI is a fuel delivery system designed to inject highly pressurized fuel directly into an engine's combustion chamber via its fuel line, and ISG helps to conserve fuel by shutting down the engine after a few moments of being idle.
West Coast Customs
Now that you know the power of the 2018 Kia Stinger, we can move on, as the powertrain was the one thing untouched for the custom mod. _ West Coast Customs _ , the same company behind MTV's _ Pimp My Ride _ , got their hands on a 2018 Kia Stinger GT trim, and they gave it a whole new look inside and out. It all starts with performance by fine-tuning the suspension, lowering the front by 1.4 inches, and the back by 1.2 inches for a ride that will hug corners a little more tightly. A K&N cold air intake system and Borla exhaust were also added.
The body of the 2018 Kia Stinger is a widebody variant for a wider stance. Added onto this version was a new rear spoiler, bonnet vents via Air Design USA, ceramic window tint, a custom WCC fender and trunk badge, 20-inch TSW wheels, and Falken tires. A lightweight carbon-fibre aero kit and rear diffuser were also installed to keep the Stinger firm at high speeds. You can easily spot this custom one-off by its Pearl Metallic Blue body paint.
Can't have a custom sports car without changing up the interior. _ West Coast Customs _ also made a few changes inside the 2018 Kia Stinger GT, changing the upholstery to blue leather seat piping with hand-stitched grey leather panels, an Alcantara-wrapped steering wheel, and gloss black detailing for the centre console. The interior of the GT already felt luxurious, but this is a whole new level.
* We're not sure exactly how to get into contact with WCC, or if this modified widebody 2018 Kia Stinger GT will even be for sale. Then again, what body shop doesn't turn a profit? Someone out there has the hook up and is driving around in a sick, custom 2018 Kia Stinger GT. What do you think of the modified Stinger? Interested in your own? We have plenty of 2018 Kia Stinger trims on the lot at Miami Lakes Automall Kia . *
* Photo Source/Copyright: TopGear.com *
Previous Post Kia and Kia Rio Earn Good Rankings in J.D. Power Dependability Study Next Post 2018 Kia Stinger User and Driver Settings