Kia Releases Adventurous Editions for 2021 Kia Sorento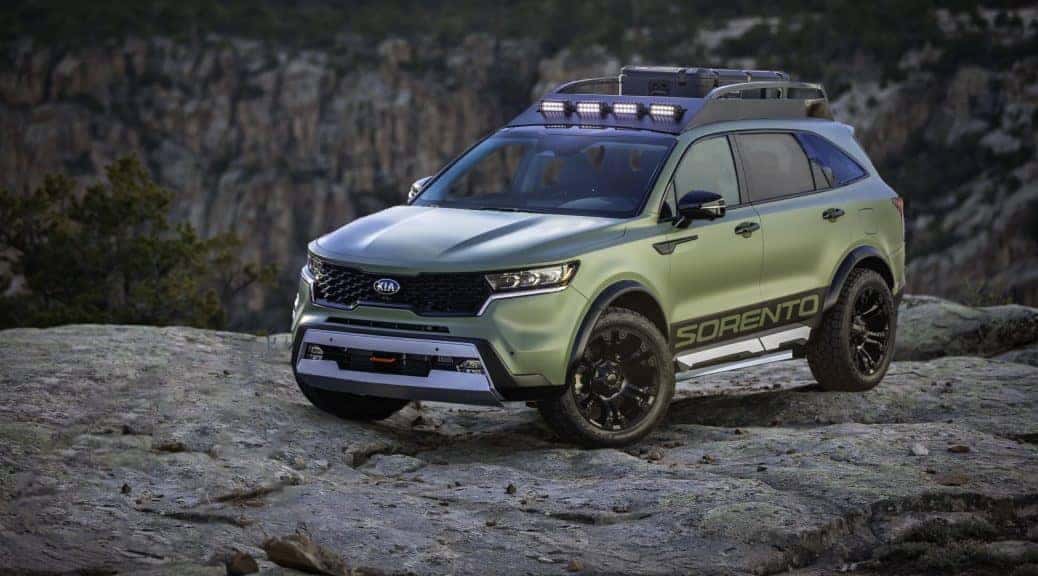 The new 2021 Kia Sorento has a lot to love in the next generation for this SUV. With Kia Motors highlighting the Sorento and the many new additions, there is one newcomer we haven't seen much of. We're talking about X-Line trims. Way back in 2019, once the new Kia Soul debuted, Kia Motors launched an ad highlighting the GT-Line, X-Line, and the EX Designer Collection. Each breed will add an assortment of features to its respective model, but some are more obvious than others. A Kia GT trim gets a high-power GT engine, whereas the EX Designer Collection adds all kinds of premium and luxury creature comforts to bring the mid-trim level EX up a notch. The X-Line has been a bit of a sleeper, adding off-road equipment like fog lights, a rounded grille, unique wheels, and a roof rail for a more rugged look. Here's hoping the new Kia Sorento X-Line has more to offer.
An X-Line trim is in the new 2021 Kia Sorento lineup, also mainly for added off-road capability that will feature a 1.0-in. higher ground clearance, improved approach/departure angles, more advanced AWD with snow-mode, and a more robust roof rack for hauling equipment without needing to attach a trailer – just remember, anything on the roof racks will bring the center of gravity higher, especially on an SUV, so maybe avoid rock-crawling if bringing all your camping gear off-site. With the Kia Telluride and all its winnings, like landing on the _ Car and Driver _ 10Best list for 2021 , the new Sorento SUV has a lot to live up to. Kia Motors America (KMA) is up to the challenge, with a new pair of custom-built Sorento SUVs – the Yosemite Edition and the Zion Edition.
Already two new editions for the Sorento? Yes, Kia is definitely pulling out all the stops to push this one to the front lines. Building off of our camping joke, both editions are wilderness-themed and build off of the Sorento X-Line model. Equipped with unique 20-inch wheels, a total increased ride height of 8.3-in., and all the other off-road features previously mentioned, the Yosemite Edition and Zion Edition add their own unique flare. Both editions come with custom fender flares atop 20-inch wheels and 32-inch all-terrain tires, custom skid plates, and brush guards in a satin chrome finish for protecting the body during off-road adventure. There are minor differences between the two.
On the Yosemite Edition of the new 2021 Kia Sorento SUV comes with a "brawny" roof rack in contrast to the full-length cargo top of the Zion Edition. If you ask us, the latter sounds more like it's been built for camping while Yosemite is more geared towards adventure, so don't let the names confuse you. Regardless, whether looking for adventure or just disconnecting and to go camping, both editions of the Sorento will be making appearances around the country before becoming available. As an added plus, for those that want the Kia Sorento, are a little adventurous, but don't need all of these add-ons, Kia will offer an exciting range of port-installed and dealer-installed accessories to give consumers the ability to customize their Sorento based on their lifestyle needs.
Kia Motors is constantly upgrading how consumers can customize and personalize their vehicles, and designing models tailored for different lifestyles makes it easier for consumers to find the vehicle for them. The 2021 Kia Sorento is already heading to showrooms. You can look for your new Kia Sorento at Miami Lakes Automall .
Photo Source/Copyright: Kia Media
Previous Post Kia Motor and Hyundai Have Open Call for ZER01NE Next Post Kia Motors Takes Home Four Consumer Guide Best Buy Awards