Kia EV6 Earns 5-Star Safety Rating by Euro NCAP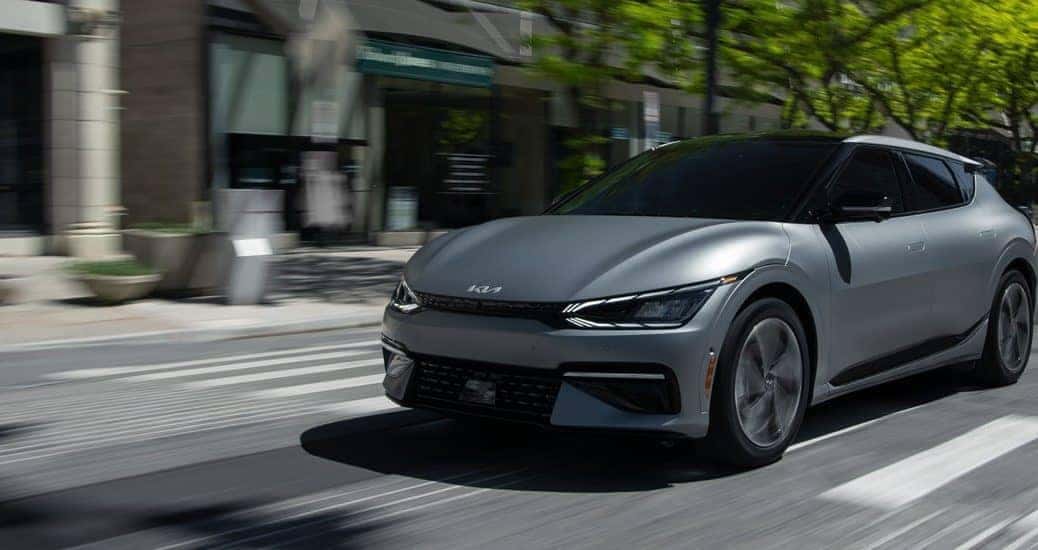 The new electric vehicle (EV) by Kia Corp, the Kia EV6, finally made it to America this year, 2022, but has been winning awards since its release. Twice in March, the EV6 won an award – the 2022 Red Dot Design Award s and the 2022 European Car of the Year. The EV6 also comes with a new incentive in the American market. Kia America and Electrify America entered a partnership to offer new Kia EV6 owners 1,000 kilowatt-hours (kWh), free of charge, at any Electrify America station across the U.S. If drivers needed any more reason to drive this EV, the Kia EV6 just earned a five-star Euro NCAP safety rating.
We're still waiting on safety ratings from organizations in the states, such as the Insurance Institute for Highway Safety (IIHS) and National Highway Traffic Safety Administration (NHTSA), but with the EV6 available longer overseas, the European safety organization NCAP, Europe's leading independent safety testing organization, has its safety results complete first. Either way, a five-star rating is always great to see, especially with EVs and battery-electric vehicles (BEVs), slowly becoming a larger part of the auto industry and auto market. Following extensive testing by Euro NCAP, the five-star rating is reflective of four categories the EV6 scored high in.
The four categories are adult occupant protection, child occupant protection, vulnerable road users including pedestrians, and a "safety assist" category that evaluates the availability of a comprehensive suite of crash avoidance technologies. Scores were 90-percent for adult occupant protection, 86-percent child occupant protection, and 64-percent vulnerable road users including pedestrians. When it comes to safety, every EV6 comes with 21 standard active Advanced Driver Assistance Systems (ADAS), including as Blind-Spot Avoidance Assist (BCA), Driver Attention Warning (DAW); and a suite of Forward Collision-Avoidance Assist (FCA) with FCA-Ped (Pedestrian), FCA-LS (Land-Change Side), FCA-LO (Lane-Change Oncoming), FCA-JC (Junction Crossing), and FCA-JT (Junction Turning). Highway Driving Assist II (HDA 2), ISLA (Intelligent Speed Limit Assist), Navigation Based Smart Cruise Control-Curve (NSCC-C), and Rear Cross-Traffic Collision Avoidance Assist (RCCA). This received the EV6 a score of 87-percent in the "safety assist" category.
The Euro NCAP praised the EV6's passenger compartment during the frontal impact test, providing ample protection of the legs of the occupants, especially the knees and femurs. You do not want to damage either of those. When it comes to rear-end incidents, the front seats and head restraints demonstrated good protection against whiplash injuries. For side-impact, the EV6 scored maximum points, demonstrating strong protection of all critical body areas of the driver and passengers. Tests also showed the EV6's protection of child occupants with test dummies representing six- and ten-year old passengers. Euro NCAP also tested the vehicle's Automatic Emergency Braking (AEB) system, which responded well in most scenarios to avoid impact.
What's really good about this safety rating for an EV is the rating was reinforced by the vehicle's high-strength Electric-Global Modular Platform (E-GMP) and rigid body structure. The E-GMP is the new EV platform decided by the Hyundai Motor Co automobile group, which Kia is a part of. This new EV platform will be the basis for many if not all Kia EVs going forward, at least for the next few years.Nice to see the Kia EV6 continues to earn high scores and awards, especially in safety. That's a huge plus for EVs and the Kia E-GMP. Interested in driving your own Kia electric vehicle? Find the Kia EV6 at Miami Lakes Automall .
Photo Source/Copyright: Kia Corp
Previous Post Kia Launches New E-FOREST Factory for PBV Production Next Post Kia Corp and HMG Increase Investment in EV Production