Kia EV6 Earns 2022 Winter Vehicle Award for Best Electric Vehicle from NEMPA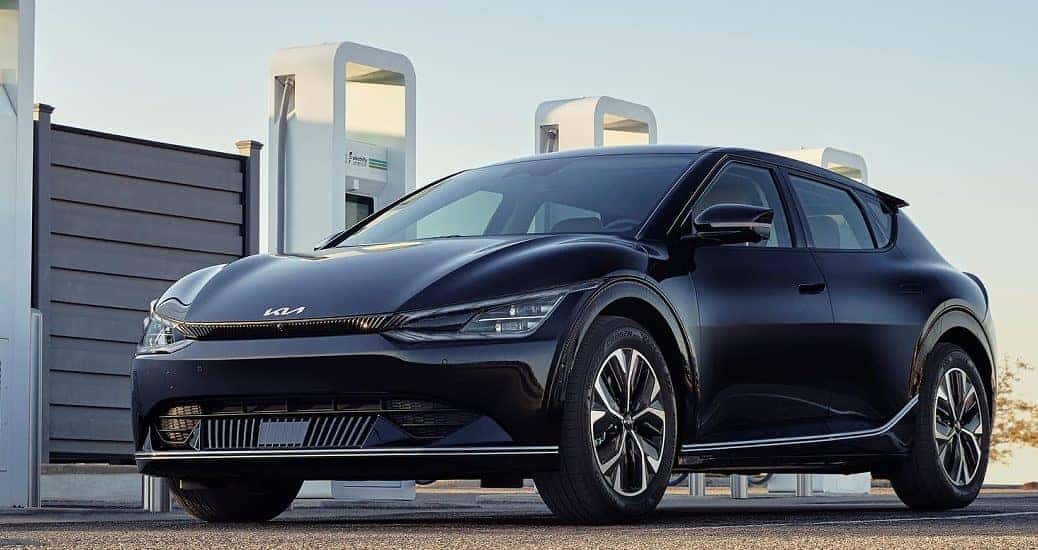 Every year, automotive publications and organizations put together reviews of new automobiles on the market, make "Best of" lists, or even deliver awards via a competition. It's always a great honor to win one of these accolades, and they're a sure-fire way to get consumers interested when in the market for a new vehicle. Recently, the New England Motor Press Association (NEMPA) Winter Driving Competition has concluded, and along the many winners, one all-electric vehicle stood out. The Kia EV6 won the 2022 Winter Vehicle Award for Best Electric Vehicle from NEMPA during the winter competition.
"Kia's new logo sums up its new EV6…It's a clean-sheet design that lives in the present and promises an exciting future. The EV6 is a fast electric car that looks like a spaceship, but it's also practical for all seasons. Kia's Winter Mode helps maintain the battery's performance in cold weather while the heat pump is more efficient than resistive heaters. The all-wheel drive system varies torque almost instantly. These features are critical for New England drivers who need to maximize range and performance in the coldest conditions." – Clifford Atiyeh, Vice President, NEMPA
NEMPA may not be a well-known name down here in South Florida. Although around since 1987, the group places its main focus on markets in Connecticut, Maine, Massachusetts, New Hampshire, Rhode Island, and Vermont. Even so, NEMPA has grown to have an outreach of 14.5 million people, appearing on cable TV, on the Internet and radio, plus regional and national newspapers and magazines. With such a large footprint in the automotive publication industry, we can tell you NEMPA is a trusted organization when it comes to conducting competitions and picking the winners. The EV6 earned its award for its all-around engineering excellence and durability in even the harshest of climate and road conditions, and was selected by a journalist guild with peers who represent automotive on the internet, in radio, television, newspapers, and magazines from the New England region.
Ever since Kia brought the EV6 to North America through its Kia America branch, the all-electric vehicle has been gaining popularity very quickly. We're sure the Kia Robo Dog 2022 Super Bowl advertisement won over many people, even if the main focus was on the robo-pup. All throughout, the Kia EV6 was the automobile this dog was chasing, showing the long battery life and driving range of the battery-electric vehicle (BEV). Having been in America for less than a year (as of August, 2022), the EV6 has already seen more than 14,000 models been sold throughout the United States. Not only this, but the popularity for the EV6 is growing fast, with 1,716 vehicles sold in July 2022, increasing the year-over-year growth in sales of Kia's electrified vehicles to 86-percent. It's all going according to plan, or in this instance, the Kia Plan S Strategy to dominate the EV auto market by 2025.
Kia Corp shared a lot of its plans for EVs and other models that expand upon the Plan S Strategy for the rest of the decade. During the automaker's 2022 CEO Investor Day, Kia shared its strategy for the rest of the decade, launching at least two BEVs per year between 2023 and 2027 to reign in its new all-electric lineup, with the EV6 and upcoming electrified SUV (EV9 ) in the lead. We wonder what we'll see from Kia next.
Want to stay informed? Follow along with us on Miami Lakes Kia social media . Or, if you're interested in going green, you can also find the Kia EV6 at Miami Lakes Automall .
Photo Source/Copyright: Kia Media
Previous Post Kia EV6 GT Debuts During 2022 Monterey Car Week Next Post Kia Ranks High in J.D. Power 2022 TXI Study