Kia America Shares Robo Dog 2022 Super Bowl Ad-Spot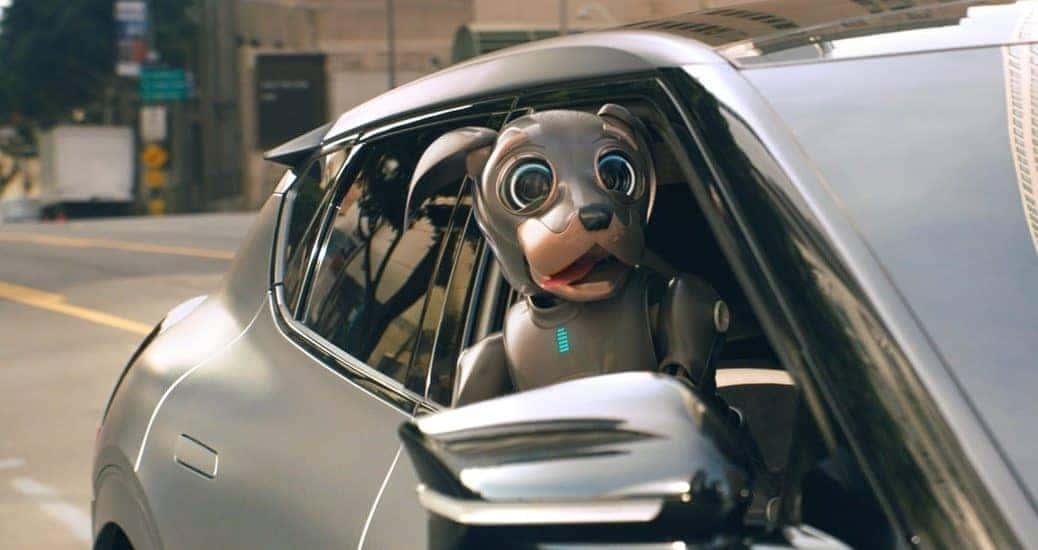 Last week, Kia America shared a small teaser of its upcoming Super Bowl Ad. Always one to release a video with their marketing campaign close to the date of the game, this was expected. Every year, Kia America tries to get involved with the community in some way to give back and enrich the lives of others, especially around the time of the Super Bowl. For two years, Kia America used the Great Unknowns Scholarship Program to give gifted youth a chance to go to college and earn a degree. Then there was the Yards Against Homeless initiative , where Kia America donated $1,000 for every yard gained during the Super Bowl game to each of their three charity partners – Covenant House, Positive Tomorrows and StandUp For Kids. This year, the attention is turning to those who can't speak and need a loving home – animals. That's why the new Super Bowl ad-spot features a robotic dog.
"The EV6 marks the beginning of Kia as a sustainable mobility solutions provider and is the next step in our shift to electrification…To introduce over 100 million viewers to the Kia EV6, we wanted to juxtapose the future with the emotions we all know and understand today – the love that can be shared between a human and an animal… At Kia, we continue to give back to the communities in which we work and live," continued Wager. "We looked at issues that needed attention and found that during the pandemic, many animals were adopted only to sadly be returned later, so we wanted to help." – Russell Wager, vice president, marketing, Kia America
The 60-second spot starts with a CGI robotic dog named "Robo Dog" in an electronics store. We've seen some robo puppies come out in recent years, but nothing this cute – or agile. Did you see that leap across the rooftops? Luckily, it's fake, and the Robo Dog doesn't crash and end up in pieces by the end of the commercial. Instead, it's getting charged up alongside the Kia EV6 , the first all-electric vehicle from the automaker that has no gasoline predecessor. Kia Corp revealed the EV6 in 2021, but the model had yet to hit American shores. Now that Kia America is behind the campaign, we know this electric vehicle (EV) will be hitting dealership showrooms soon.
With the Plan S Strategy well underway, the EV6 is the first of 11 all-new electrified models set to debut by Kia by 2025. Also by 2025, Kia Corp is aiming for 25-percent of all sales to come from eco-friendly vehicles, and sell 500,000 EVs worldwide and 1 million eco-friendly vehicles by 2026. It's a large goal, but with Kia transferring all of its resources to EV development, we'll be seeing many more electrified vehicles from the automaker. The 2023 Kia Sportage Hybrid and Sportage PHEV are already on the horizon, along with a mystery all-electric Kia SUV .
This ad-spot will be Kia's 13th Super Bowl spot, featuring the CGI Robo Dog that chases down the owner of an EV6, hoping to become part of the duo. For those who are looking for a furry friend, the "Kia Pet Adoption Grants" will help fund people looking to adopt "a shelter animals and give them a new home. For those that can't adopt a dog, maybe because your landlord doesn't allow them – what's up with that? – Kia America is also launching its "Robo Dogmented Reality" mobile web experience to bring Kia's Robo Dog into their own home via a smartphone.
https://kiadogmentedreality.com/experience
Jeez, "Pokemon GO" really changed some things when it comes to augmented reality. Too bad no one will be able to pet the digital Robo Dog – I mean, come on, that's the number one thing people want to do when they see a dog in a video game.The 2022 Super Bowl LVI will take place this Sunday, February 13 2022, with kickoff at 5:30 pm. Who are you cheering for this year? Doing any crazy body paint? Show us on Miami Lakes Kia social media – PG-13 or under, please.
Photo Source/Copyright: Kia Media
Previous Post Kia Debuts 2023 Kia Sportage PHEV Next Post Test Driving Kia Models at the 2022 Chicago Auto Show