Test Driving Kia Models at the 2022 Chicago Auto Show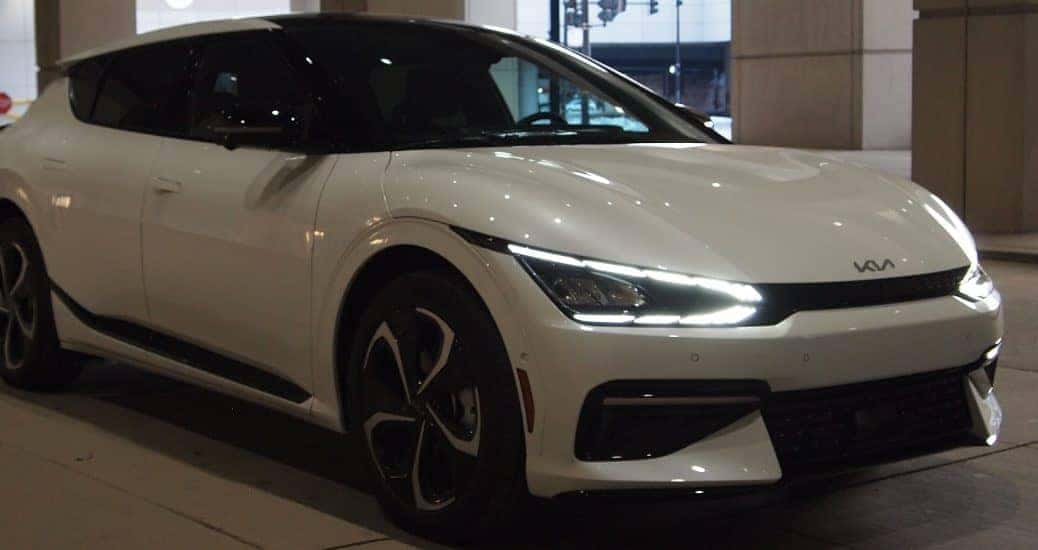 The 2022 Chicago Auto Show is happening through the middle of February 2022, and this time, we got to get in on the party and check out what's happening. Test drives, Camp Jeep's new mountain, arcade-like simulations, and previews of upcoming vehicles – there was a lot going on. At the same time, it felt like there could have been…more? Some exhibits were just large dealership showrooms with someone talking with a microphone. Yours truly got to do a couple of test drives for Kia vehicles, so I'll be sharing my experiences here.
* *Test Drives: Kia EV6 and K5
I actually had two experiences with the Kia EV6. The first was a ride-along in a small, closed test-track (seen above). After getting into the front passenger seat, the driver for the event took us slowly around a turn before gunning it to show off the power of the Kia EV6. Ladies and gentlemen, this was a Kia EV6 First Edition , featuring dual-motor all-wheel drive (AWD) setup with a 77.4 kWh battery that powered a 160kW front motor and a 270kW rear motor. 0-62 mph in 3.5 seconds is no joke, and the switch to "Sport" mode really showed the level of control an electric vehicle (EV) can provide thanks to all that torque that can be generated at 0 RPM – capable of up to 538 lb. -ft. of torque. The rest of the drive was the driver talking about all of the features like I was a clueless consumer – hahaha.
Later, I got in line to test two Kia vehicles we're fans of. I of course had to get behind the wheel of the EV6 to test that power for myself, and it did not disappoint. It was smooth, quiet, and didn't feel much different from a regular vehicle. The interior is pretty high-tech (seen above), and the varying drive modes really change it up! The Kia EV6 in Sport Mode makes the throttle and the brake system so sensitive that just tapping the pedal can send it soaring down the road or bringing it to a stop.
The next Kia model I checked out was the Kia K5 . Definitely a sports car, this vehicle can take off! Although the test drive may be no more than a model around the city streets, Kia definitely made sure there was enough pavement to give consumers a good look at the power the new generation K5 is packing. It was more than enough to solidify my faith in Kia Corp and Kia America as my next car purchase (or lease).
At the Show
A few key points I would like to point out that I found interesting at the 2022 Chicago Auto Show. Seeing the Electric-Global Modular Platform (E-GMP) in person was kind of neat – there is so much going on to bring the next-gen of EVs to the market. This is the platform under the EV6, and surprisingly, the new Kia EV9 was on display, the new and upcoming all-electric SUV Kia Corp previously teased late 2021. Say what you will, but this definitely looks like an all-electric Telluride – it's big, it's boxy, an all-electric SUV.
Also notable, with a few vehicles displayed on a stage, the new Super Bowl ad spot released by Kia America was playing on a loop, the new "Robo Dog" ad . Every year, Kia America makes a campaign with a goal to help a charity or those in need. This year, the goal was to help find forever homes for animals in shelters. Kia America started the "Kia Pet Adoption Grants" to help fund people looking to adopt. It was a long and exciting day, but if there is one thing for sure, Kia Corp is definitely doing something right. Whether a sports car or an EV, I definitely suggest your next vehicle purchase is a new Kia model from Miami Lakes Automall .
Photo Source: Jordan Rodriguez
Previous Post Kia America Shares Robo Dog 2022 Super Bowl Ad-Spot Next Post Kia Ranks Highest in J.D. Power 2022 Vehicle Dependability Study