Kia Debuts 2023 Kia Sportage PHEV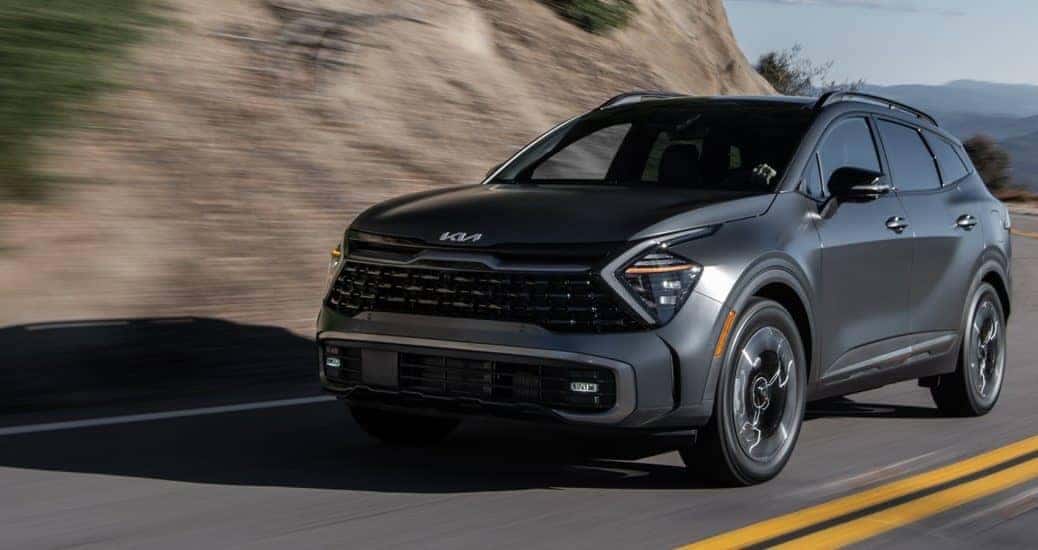 It's only been a few months since Kia Corp revealed the all-new 2023 Kia Sportage Hybrid . Although not quite yet on the road, Kia is known for one major trend when it comes to hybrid vehicles. The success of one model leads to another, and it seems the reception of the 2023 Kia Sportage Hybrid was enough to convince the automaker that they have a good thing here. So, of course, the next step was to turn the Kia Sportage into a plug-in hybrid electric vehicle (PHEV), and voila! Kia Corp recently unveiled the first plug-in hybrid variant of the Sportage lineup, complete with its own 13.8-kWh battery and targeted all-electric range (AER) of 32 miles.
"The first Sportage PHEV to be introduced in the U.S. demonstrates that Kia is listening to our consumers who are asking for electrified solutions and super-efficient powertrains, and Sportage delivers on that promise in a sophisticated, refined package…As Kia continues to implement our Plan S strategy and push toward carbon neutrality, models like Sportage PHEV are paving the way." – Sean Yoon, president and CEO, Kia America and Kia North America
The longest-running nameplate of Kia Corp, the Sportage has been around since 1993! It'll be 20 years next year (2023), so it's no wonder that Kia decided to unveil the fifth-generation of the SUV in 2021. All-new and refreshed, this model is also being called a 2023 model, also still yet to hit dealership lots. So, now we have the popular 2023 Kia Sportage SUV, Sportage Hybrid, and Sportage PHEV – the family is almost complete. If an all-electric Kia Sportage is up on the board, we haven't heard of it yet. Kia Corp did, however, tease an upcoming all-new electric SUV that shares some semblance with the Kia Telluride SUV. After announcing that the automaker will be shifting all of its resources into electric vehicle (EV) development, the Kia Sportage PHEV may be the last vehicle with an internal combustion engine.
Like all plug-in hybrid models, the battery is of course much more powerful than its hybrid counterpart – 13.8-kWh vs the 1.49 kWh lithium-ion battery. The Kia Sportage Hybrid gets its electric power from a 44kW permanent magnet electric motor, but it doesn't come with the ability to recharge the battery. It's all regenerative braking or nothing – does that mean all hybrid vehicles eventually lose their charge and are just gasoline-powered vehicles after a while? Well, with a PHEV, consumers can always recharge, and with a 66.9-kW electric motor on-board, keeping it charged up will offer more distance, whether only using electric power or both motors.
The real beauty will be the X-Line model, also announced alongside the reveal of the 2023 Kia Sportage PHEV. For those that may have forgotten, X-Line models are more rugged versions made for handling varying types of terrain-even going off-road. The Kia Sorento was the last vehicle to get the X-Line treatment, and it seems the Sportage is aiming to do the same with two X-Line trim levels: X-Line PHEV AWD and X-Line Prestige PHEV AWD. "AWD" stands for all-wheel drive, so there's a little hint of what this model will be capable of. Outfitted with a unique front and rear bumpers with a satin chrome surround; side mirrors, roof rack and window surrounds finished in gloss black; and 19-inch, gloss-black alloy wheels, the 2023 Kia Sportage PHEV X-Line adds on to the already distinctive appearance of the model.
Kia's signature Tiger Nose grille returns, "boomerang" design daytime running lights, standard LED taillights, and a muscular body that blends into the futuristic "notch-shaped" taillights, connected by a thin black graphic across the rear. Inside the cabin has been inspired by high-end outdoor products, furniture, and modern architecture, harking back to that " mobile living space" at the 2022 Consumer Electronics Show so many automakers discussed. Able to come with an available dual panoramic curved display, consumers get a total of nearly 25-inches of viewing with the 12.3-inch digital instrument cluster and 12.3-inch infotainment screen). Google Android Auto and Apple CarPlay also come standard on both trims, an available 360-degree Surround-View Monitor with 3D view can give the driver a bird's-eye view of vehicle surroundings, and a Harman/Kardon premium audio system is the final piece, standard on the Sportage X-Line Prestige PHEV AWD. The 2023 Kia Sportage PHEV will offer all of this and more. Follow along with us on Miami Lakes Kia social media to learn when this Kia PHEV and other Kia electric vehicles will be released.
Photo Source/Copyright: Kia Media
Previous Post Hello world! Next Post Kia America Shares Robo Dog 2022 Super Bowl Ad-Spot