Kia Motors Supports the Youth during the Super Bowl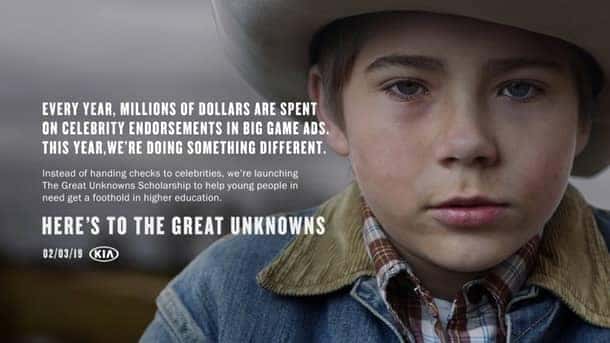 The Super Bowl recently concluded with the New England Patriots taking home the winnings. During this time of year, many product brands and services are able to put together a great commercial that will hopefully burn into the mind of every viewer so that their product and/or service will be remembered for the many months to come. Who still remembers, "WHASSSSUUUUUP?" Say it aloud, and we're sure someone nearby will respond appropriately. Well, aside from humor, some brands are reaching out a bit more to the youth. One of these automotive brands is Kia Motors.
The Great Unknown
We actually discussed this advertisement by Kia Motors not too long ago, but not at length because it had yet to have its "official" debut. However, like many, Kia unleashed this ad online weeks before the Super Bowl aired. Kia Motors has actually been getting very involved with the youth lately, partnering with South Korean girl group, BLACKPINK, to sponsor their 2019 World Tour, and becoming the official sponsor of the _ League of Legends _ European World Championship .
Their "Great Unknown" ad, instead of focusing on a product or paying a well-known actor to show up in their thirty seconds, Kia Motors went with a message. They wanted to make a commercial that focused on our future, and that starts with the kids of today. That's why this commercial is known as "The Great Unknown Scholarship". It's not _ just _ a commercial – it's an announcement.
Part of the Hyundai Motor Group, Kia Motors will always be joining in on the automotive groups ventures. In 2018, Hyundai ran an ad promoting a nonprofit group, Hyundai Hope on Wheels, that distributed a small portion of proceeds from every Hyundai vehicle purchased to institutions fighting childhood cancer. This year, Kia Motors is doing the same in honor of their tenth-year advertising during the big game.
Kia Motors is donating part of their proceeds to set up a scholarship to help impoverished youth go to college and further their education. Like many automakers that release their ads early on, if you didn't catch the Super Bowl or this commercial, go online and Google it or go to YouTube. Clicking below works too.
Little inspiring if you ask us. If curious about the voice, Kia Motors also released a picture of the poster child (above) for "The Great Unknown Scholarship, although we can't guarantee it's the same kid. Either way, the commercial is pretty altruistic in a way. Well, that's not true – true altruism is doing something nice without asking for anything in return and without acknowledgement. This is more a quid-per-quo deal with a dash of paying it forward sprinkled in for all the warm fuzzies one gets when doing a good deed.
With the likes of the 2020 Kia Soul and 2020 Kia Soul EV heading to the public within a year or less, Kia Motors is already working hard on improving their youthful image with the ever funky hatchbacks. The automaker also revealed two environmentally-friendly vehicles, the 2019 Kia Niro EV at the 2018 LA Auto Show and later the 2020 Kia Telluride at the 2019 NAIS . The latter concept was first supposed to be a hybrid SUV, but so far no word on that.
What are your thoughts on Kia Motors so far this year? Let us know on Miami Lakes Kia social media .
Photo Source/Copyright: Kia.com
Previous Post Kia Motors Expands with Crossovers and SUVs Next Post Kia Sweeping Awards for Best Car for the Money