2020 Kia Telluride Debuts at 2019 NAIAS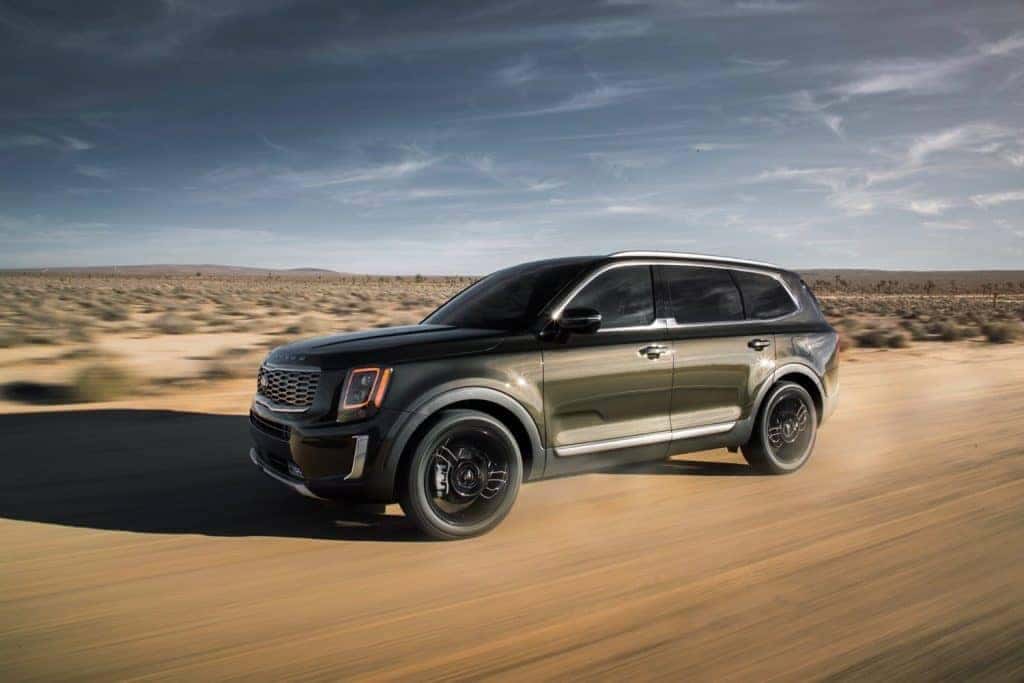 Popping up at 2018 New York Fashion Week and with five concepts at the 2018 SEMA Auto Show , Kia has gone beyond to show that this SUV is as versatile as a crossover with plenty of personal appeal. The production-ready model isn't the concept we were promised, but we don't think anyone was pouring chips into seats that can "read and report the health alerts" of its occupants. Given all of the technology Kia Motors presented at the 2019 Consumer Electronics Show , one could say that the concept features, although not existent in the 2019 debut, may not be that far off. For now, take a look at what the 2020 Kia Telluride debut tells us about the boxy SUV at the 2019 North American International Auto Show, also known as the Detroit Auto Show.
Yes, boxy. The model body does come with its curves, but the front and rear fascia have that robust boxy shape SUVs are known for. This is especially true in the front fascia, where the iconic tiger-nose grille is very prominent in this model. A square hood, vertically stacked headlights, and inverted L-shaped taillights all bring the boxy look together. Kia is intent on calling the Telluride their "largest SUV in the lineup" and making it the new vehicle everyone is talking about.
Powering this SUV is a 3.8-liter V6, capable of generating 291 horsepower and 262 lb-ft of torque, transferred to the wheels via an eight-speed automatic transmission. Consumers will be happy to know all-wheel drive is optional, as discussed when Kia started working on a new transfer case . Kia has also stated that the Telluride may be able to tow up to 5,000 pounds, not yet tested. In conjunction with power and style, Kia Motors is also adding some pseudo-level 4 autonomy to the Telluride with a LIDAR system.
A LIDAR system, short for "Light Detection and Ranging," or a laser range-finding system that maps out its surroundings with multiple lasers and then relays information from every surface a laser lands on via sensors back to a computer. Sound familiar? It's the basis of every autonomous self-driving car technology to date. Many automakers are working on designing their own technology, but most still use lasers and cameras. The 2020 Kia Telluride will be getting a taste of this with a new Highway Driving Assist option that uses radar and lidar to scan the road ahead and keep the car centered and at an appropriate speed, a combination of lane-keeping assist and adaptive cruise control, slowing down or speeding up (great for highway merging).
Several other driving aids have popped up, this round with a more aggressive blind-spot "assist" system that applies the brakes to the vehicle if the driver is still oblivious to the warning signs that they shouldn't merge at the moment. The same can be said for rear-cross traffic collisions with an advanced rear cross-traffic system. Forward collision warning, emergency braking, lane-departure mitigation, and driver attention warning are all available, along with Safe Exit Assist that prevents child locks from being deactivated if the system detects an object approaching from the rear, and a back-seat reminder.
Speaking of the back seat, there's some cool tech with the entertainment features. Not only can parents talk to kids in the second and third-row seats with the new Driver Talk microphone system, but it seems like the Kia Motors Sound Zone Technology may have snuck into the Telluride. Known as "Quiet Mode", music can be played only in the front of the vehicle. Many of us can do that now by adjusting the radio settings to send the music to the front speakers. Quiet Mode just makes it simple with the touch of a button.
Kia Motors still offers an UVO infotainment system, and the Kia Telluride is capable of coming with an an optional 10.2-inch color touchscreen. Apple CarPlay and Android Auto always come standard, but wireless charging for smartphones is extra. If looking to fill all seats of this seven-seater SUV, the 10-speaker Harman/Kardon audio system may also come in handy.
Keep up to date with Kia and the Kia Telluride by following us on Miami Lakes Kia social media .
Photo Source/Copyright: digitaltrends.com
Previous Post Kia Motors Autonomous Tech at 2019 CES Next Post Kia Motors Sponsors European League of Legends Championship Series