Kia Motors Works on New Drivetrain Transfer Case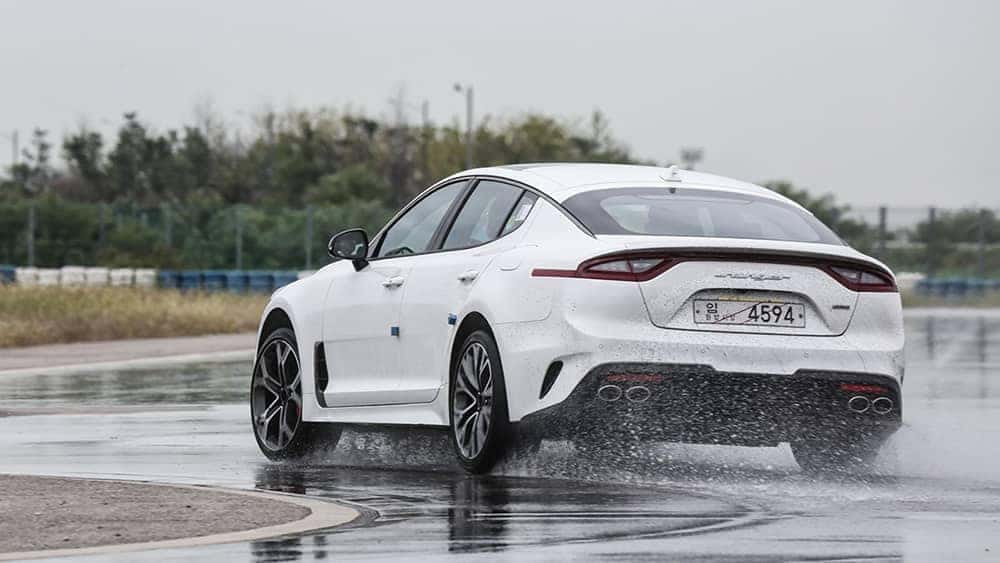 Kia Motors is really into developing new technology these days, and it's amazing. First is was the Kia Telluride that recently popped up during the 2018 Fashion Week in New York , with an LED light-rejuvenation panel, second-row media band, and the ability to display vital signs just by having someone sit in a seat. Then, Kia Motors began work on a wireless charging system for electric vehicles . Isolated sound zone technology by Kia was the latest, but now they've got something really interesting. It's all-wheel drive, at the push of a button.
Testing it out on the Kia Stinger, Kia Motors announced their next-generation "CK D-AWD" system at the Hyundai Motor Group's Namyang R&D Center in South Korea. Those acronyms stand for the Stinger's chassis code (CK) and "Dynamic All-Wheel Drive". The Kia Stinger is already plenty successful, but Kia Motors knows better than to ride that wave out. They're looking into making their prized pony even more fun to drive, and that starts with D-AWD.
Rear-wheel drive (RWD) comes standard on the 2018 Kia Stinger , with all-wheel drive as the optional drivetrain. For 2019, instead of choosing between two drivetrains, consumers get RWD automatically, but can opt-in for an all-wheel drive electronically-controlled transfer case. Sound familiar? It's the same technology found on Jeep ® vehicles and other off-road automobiles.
So, maybe Kia Motors isn't doing anything necessarily revolutionary – transfer cases aren't anything new, and Jeep owners can also switch between the two by turning the dial to select 4×4 or 2×4. But here's the thing. Many consumers have stated that they enjoy the Kia Stinger with RWD more, relating that to the more connected and dynamic feel versus an all-wheel drivetrain. To close that gap and make the Stinger fun to drive on either drivetrain, they're working on a transfer case of their own that allows consumers to send more power to the rear axle.
Wait. The rear axle? Yeah, apparently, the 2019 Kia Stinger will come with all-wheel drive as the standard (to be confirmed), with CK D-AWD that will allow consumers to send more power to the rear axle. On top of that, consumers can control how much torque is sent to the rear wheels depending on the driving mode selected.

As can be seen in the table above, the torque split becomes more rear-wheel biased as the need for front-wheel axle power decreases. On the 2018 model, there are five driving modes – the fuel saving ECO, dynamic performance with SPORT, COMFORT, an adjustable SMART mode, and the ability to customize driver settings with CUSTOM. The table above only shows four – COMFORT, SPORT, SPORT PLUS, and DRIFT. And here we thought drifting died years ago after _ The Fast & The Furious: Tokyo Drift _ craze faded out.
The D-AWD system is still in the evaluation stages by Kia Motors, but it seems that it will appear on the 2019 model-year before 2020. Kia Executive VP Albert Biermann stated that a sharper Stinger will be coming to the automarket, but whether this transfer case-modified Stinger will go global is yet to be seen. With the cost of the limited-slip differential, it really depends on where the demand lies.
Either way, Biermann noted that this new driving philosophy of making vehicles more fun to drive will expand across the lineup. We could see a more agile Kia Soul, or even a crossover that drives like a large size sedan. What do you think of this? Interested in driving a sports car with a transfer case? Let us know on Miami Lakes Kia social media . You can also test out both drivetrains and feel the difference for yourself with a test drive of the Kia Stinger at Miami Lakes Automall .
Photo Source/Copyright: Cnet.com
Previous Post Kia has a Light Tactical Vehicle in the Army Next Post J.D. Power 2018 Multimedia Quality and Satisfaction Study and Kia Motors