MLAM Isolated Sound Zones Brought to You by Kia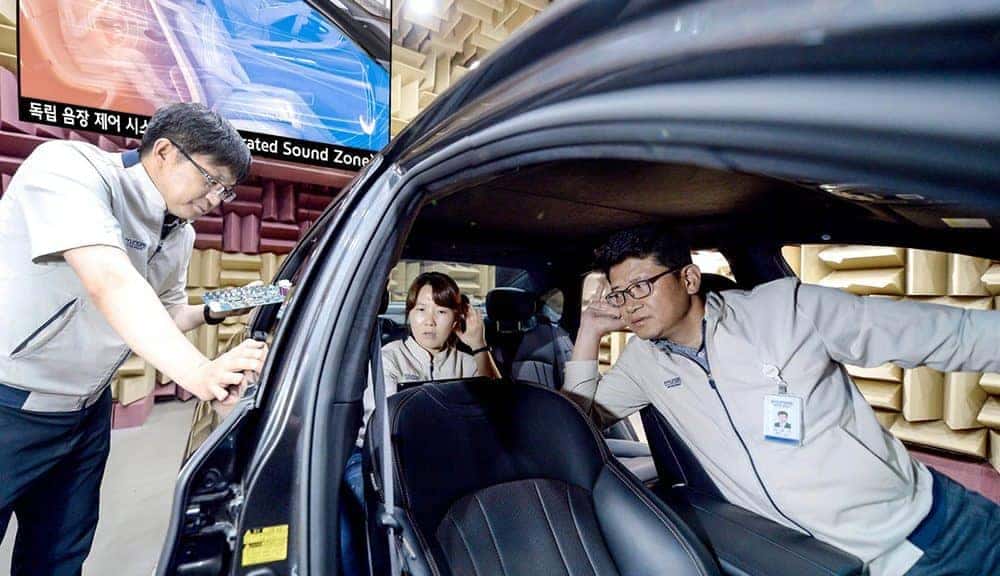 With Kia Motors working on new technology for their up and coming alternative fuel vehicles, we wonder if they'll ever stop surprising us. First, the automaker came out with the world's first hybrid crossover, the Kia Niro . Shortly after, a plug-in hybrid electric vehicle (PHEV) variant of the crossover came out, the Kia Niro Plug-in Hybrid . Now, Kia is working hard on getting the Kia Niro electric vehicle out onto the streets, but still has several bullets in the chamber. Up next is the world's first hybrid SUV, the Kia Telluride , and a whole new sound system that will change vehicle cabins forever.
Back when the Kia Telluride concept got the green light , we were ecstatic. This is the most futuristic vehicle headed for the auto market, designed with an LED Light-Emitted Rejuvenation (LER) therapeutic system, Smart Sensors that can monitor and display configurable health information of the first and second-row passengers, and a Swipe Command touch-sensitive second-row media-control band that allows the second-row passengers to access multimedia via a touchscreen of their own. That third feature is a technology that Kia Motors, in conjunction with the Hyundai Motor Group, is intent to expand on.
Introducing "Separated Zone Technology" into the auto market, Kia Motors will release what it calls a Separated Sound Zone (SSZ) audio system in future vehicles. Like noise-canceling headphones that drown out ambient noise (using a small microphone), SSZ technology isolates acoustic fields around the cabin of a vehicle and then allows speakers around the cabin to increase or reduce audio levels individually. No longer will all speakers be tied to the center console and the main audio system alone. In a five-passenger vehicle, the driver and front passenger can listen to their tunes in the front, while passengers listen to their own in the back. Kia Motors even discusses the possibility of making _ private _ phone calls private by isolating them to a single speaker in the cabin.
How this all works hasn't been specified just yet, but it would seem passengers can connect to the audio system via a smartphone with Bluetooth and then assign a speaker to that smartphone, or maybe just connect directly to the speaker itself. Either way, it's all sounding pretty interesting, and if we can see this kind of technology soon, wireless headphones will be a thing of the past. Besides, isn't is nice to be able to carry a conversation without having to talk over blaring music or noise-deafening headphones?
"Customers in the autonomous navigation era will demand increasingly customizable entertainment options within their vehicles, which includes technological innovations such as the Separated Sound System…I hope by providing drivers and passengers with tailored, independent audio spaces, they will experience a more comfortable and entertaining transportation environment." – Kang-duck Ih, Research Fellow at Kia's NVH Research Lab.
With alternative fuel and autonomous technology on the horizon, Kia Motors continues to seek new ways to bring consumers user-friendly technology that only serves to make owning a vehicle more enjoyable. What kind of other tech would you like to see in vehicles? Let us know on Miami Lakes Kia social media .
Photo Source/Copyright: CarBuzz.com
Previous Post Let's Take a Look at All Three Kia Niro Crossovers Next Post Kia Motors VS Porsche and BMW