Kia Niro EV Gets 280 Miles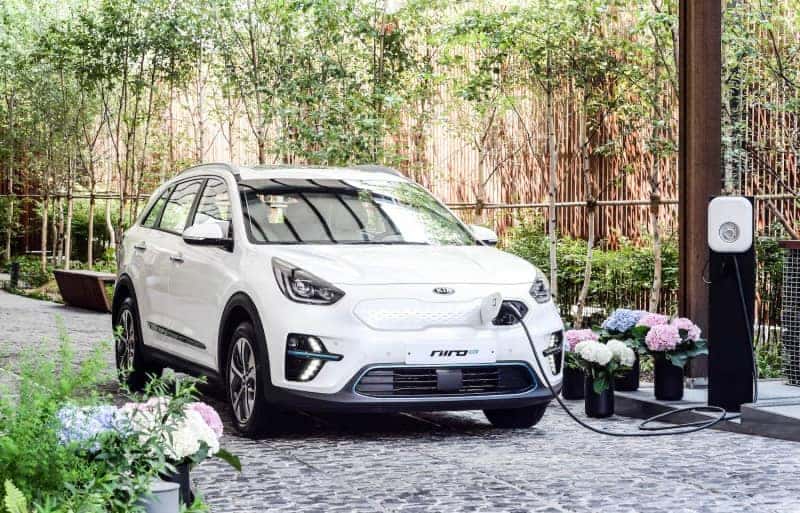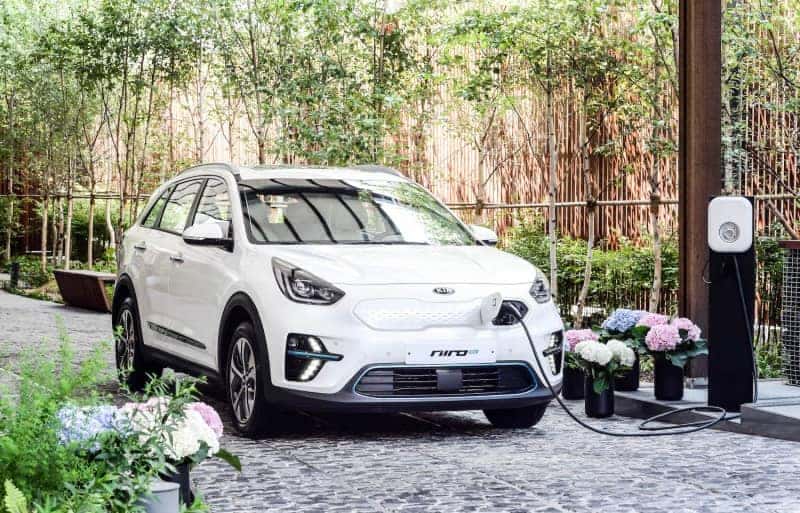 News about Kia Motors new electric vehicle, the Kia Niro EV , keeps popping up as we get closer to its release date. What was first unveiled as a concept at the 2018 Consumer Electronics Show in Las Vegas quickly took off as a new production vehicle for Kia Motors to expand their alternative fuel vehicle lineup. First, the 2018 Kia Niro hybrid crossover came out in early-mid 2017, followed by the Kia Niro Plug-in Hybrid Electric Vehicle (PHEV) at the very end of 2017, and now Kia is taking this crossover and going all electric – it could even be great competition for Tesla in the all-electric crossover market today.
We'll see more of 2018 Kia Niro EV at the 2018 Paris Motor Show in September, but here's what we know so far. The original concept of the Kia Niro EV was sporting a unique front bumper, an exclusive radiator grille, futuristic sporty air intake, arrowhead-shaped LED daytime running lights, and flush-mounted grille and subtle geometric pattern that houses the vehicle's electric charging port. With Kia Motors working on wireless electric vehicle charging , they may not even need a port soon enough, but that technology is a little ways off at the moment. The rest of the concept design took a bit of a slim approach with a sleek profile, but also gives the EV an aggressive look to it.
We recently reported on the interior cabin of the Kia Niro EV , and the details are still coming out, but there are already many aesthetic changes popping up. The center console takes on the largest change, removing the transmission and gear shift column, and replacing it with an electronic rotary dial – perfect for an electric vehicle. Even more nice tech pops up, such as a wireless charging surface for mobile devices, two 12-volt outlets, a USB media port, and a sunroof option. From what we can tell, electric vehicle paddle shifters are becoming the new thing in plug-in hybrid and electric vehicles, like the paddle shifters in the Mitsubishi Outlander PHEV .
As for the powertrain, the setup seems to have changed a bit from the concept – a few tweaks definitely took place. The performance specs we know of discuss a next-generation electric vehicle powertrain developed by Kia Motors for their future lineup. With two powertrain options to choose from, consumers can get a Kia Niro EV with an optional 39.2 kWh battery system that can travel 150 miles, or the high-capacity 64 kWh lithium-polymer battery pack for a whopping 280 miles, tailpipe-emissions free. That's more than the Chevrolet Bolt EV and the Tesla Model 3 – both all-electric vehicles.
* At this rate, Kia Motors and Mitsubishi Motors should take a look into a partnership as well. With the Mitsubishi Motors project to create renewable energy, both automakers have come onto something huge. What are your thoughts about the upcoming Kia Niro EV? An all-electric crossover sounds pretty enticing, doesn't it? Tell us on Miami Lakes Kia social media what you think. *
* Photo Source/Copyright: GreenCarCongress.com *
Previous Post Kia Motors Extends their Certified Pre-Owned Vehicle Program Next Post Find Out What Makes the Kia Cadenza So Great