News About the Kia Niro Electric Vehicle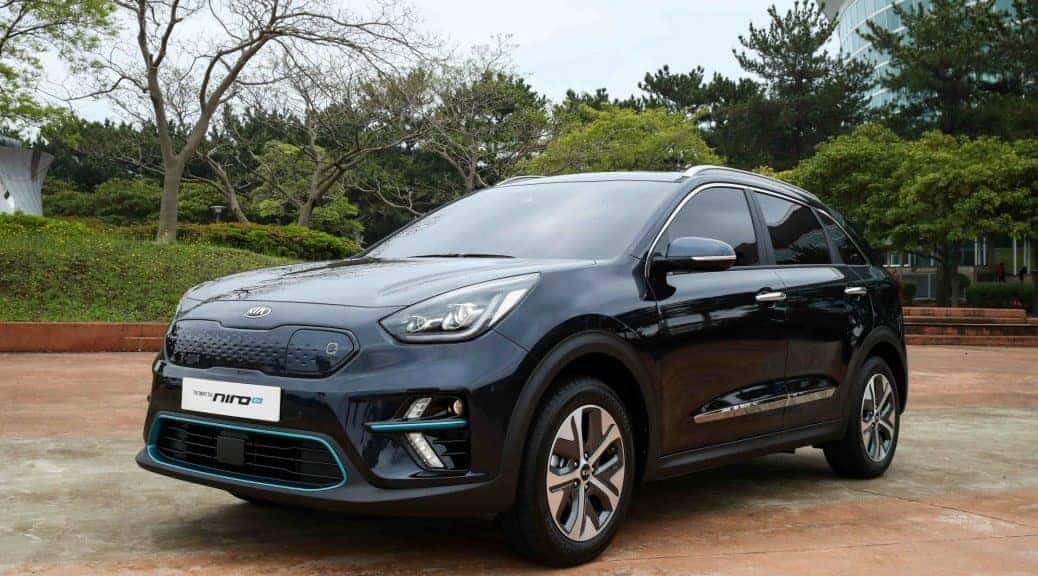 First, the 2018 Kia Niro came out early-mid 2017. It was a bit of a showstopper, being the world's first hybrid crossover. As Kia Motors usually does, if one of their vehicles does well, they tend to expand upon it with different powertrain options. With the Kia Niro already being a hybrid, the next logical step was to make a plug-in hybrid electric vehicle (PHEV), and voila! End of 2017, we got the Kia Niro PHEV. Now, an interesting turn of events, Kia Motors is finally adding another electric vehicle to their lineup. That's right – the Kia Niro is getting its very own electric vehicle (EV) variant.
Details are still a bit dry, but here's what we know so far. Kia Motors unveiled their all-electric version of Niro at the 5th International Electric Vehicle Expo in Jeju, Korea. The vehicle should appear again at the 2018 Paris Motor Show in September, so it's safe to say the production of the vehicle is still a little ways away, but one can never be sure with how quickly Kia has been evolving as of late. The previous showing in Korea isn't all that new though.
The Kia Niro EV was originally unveiled as a concept at the 2018 Consumer Electronics Show in Las Vegas. Oddly enough, although an all-electric vehicle, the concept featured a unique front bumper, an exclusive radiator grille, futuristic sporty air intake, and arrowhead-shaped LED daytime running lights. Housed within the flush-mounted grille and subtle geometric pattern is the vehicle's electric charging port.
Moreover, there was clearly a "Clean and High-tech" approach to the design of the concept, made with slim character lines and tapered rear windows to emphasize the car's sleek profile, while also allowing greater room for the Niro EV's muscular wheel arches. Finished with aquamarine accents and riding on 17-inch wheels, it's safe to say the concept will give the electric vehicle more of an aggressive look than one would expect from a clean-energy vehicle.
Kia Motors was a little hush-hush on the powertrain and performance specs, but word is the Kia Niro EV will be powered by a next-generation electric vehicle powertrain that uses new production technologies earmarked for Kia's future electric vehicles. Equipped with a high-capacity 64 kWh lithium-polymer battery pack, the upcoming Kia Niro EV will be able to drive over 236 miles on a single charge with zero emissions, or up to 150 miles on an optional 39.2 kWh battery system. Why anyone would want to downgrade is anyone's guess.
There's talk about what other technologies will pop up in the Kia Niro EV, and some could be skeptical. The norm for electric vehicles tends to be a little "bare bones" in the past few years. However, Chevrolet did show us that consumers don't have to sacrifice luxury when going green, so it's possible Kia Motors can do the same. After all, it wouldn't be very wise to subtract some of the amenities consumers have already come to expect with the 2018 Kia Niro and 2018 Kia Niro PHEV.
The 2018 Kia Niro, available in four trims, is powered by a 1.6 L 4-cylinder and Full Parallel Hybrid System. This system is made up of a 1.6-liter DOHC engine optimized with dual continuously variable valve timing (CVVT) and gasoline direct injection (GDI) for better performance and an AC Synchronous Permanent Magnet Motor powered by a 1.56 kWh lithium-ion polymer battery. Combined, the Kia Niro can generate 139 horsepower and 195 lb-ft of torque. Being a hybrid, the Kia Niro measures its fuel economy with the standard "miles-per-gallon" MPG. When riding on 16-inch wheels, the Kia Niro has a combined fuel economy of 50 mpg; with 18-inch wheels, the combined fuel economy drops to 43 mpg.
With the plug-in hybrid version of the Kia Niro, things are a bit different. All three trims are powered by the same system as the original Kia Niro hybrid. Although its lithium-ion polymer battery is larger and more powerful, 8.9 kWh, the combined horsepower and torque are the same. The main difference would be, with this plug-in hybrid, consumers can choose to drive solely on electricity for a total electric driving range of 0-26 miles, pending on charge and regenerative braking. With a full tank of gas and a full charge, the total driving range is 560 miles with an estimated MPGe (miles-per-gallon equivalent for plug-ins and EVs) of 110 MPGe in the city, 99 MPGe on the highway. The 2018 Kia Niro PHEV can also be charged with a standard electric appliance outlet over nine hours, an optional 240V power outlet to charge in 2.5 hours (available for home installation), or on-the-go charging at public charging stations.
* No word on when the Kia Niro EV will be made available so far. However, if curious about what you're missing, you can find the Kia Niro and other Kia vehicles at Miami Lakes Automall. *
* Photo Source/Copyright: CarScoops.com *
Previous Post New 2018 Stinger Salons Opening Around the Country Next Post Eight Kia Motors Models Rated with TSP or TSP+ from IIHS