Eight Kia Motors Models Rated with TSP or TSP+ from IIHS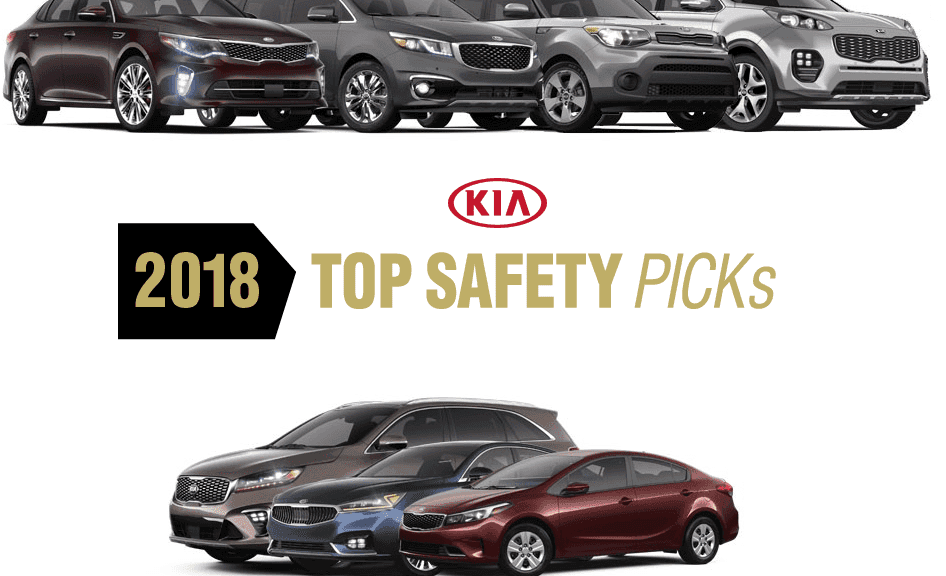 Kia Motors just keeps getting good news it seems, and we're more than happy to share it. If it isn't winning an award for the "Best Family Large Sedan" (2018 Kia Cadenza) from _ U.S. News & World Report _ , or winning a trophy when _ WardsAuto _ named the 2018 Kia Stinger on the "10 Best Interiors" list , then it's news about an upcoming concept, like the awaited debut of the Kia Telluride SUV . Now in spring of 2018, when a lot of organizations seem to be wrapping up analysis for awards and lists, the Insurance Institute for Highway Safety (IIHS) has awarded eight Kia Motors vehicles with a "Top Safety Pick" or "Top Safety Pick+" rating.
The Insurance Institute for Highway Safety (IIHS)
The Insurance Institute for Highway Safety, or IIHS, is a trusted organization for rating vehicle safety by putting it through five impact-crash simulations. The five tests consist of the following for crash avoidance and mitigation: small overlap front, moderate overlap front, side, roof strength, and head restraints. The first test is the hardest, and most vehicles have difficulty with it; it replicates what happens when the corner of a car hits a static object at 40 mph – oof!
These tests help the IIHS evaluate a vehicle's safety based on crashworthiness, how well a vehicle protects its passengers in a car crash — and crash avoidance and mitigation — technology that can prevent a car accident or lessen its severity. Thus, before it hits the streets, a car is smashed up and tested for safety in head-on collisions, side-impact, roof strength, head restraints, and crash avoidance and mitigation. The IIHS rates vehicles on a scale from poor to good, "good" being the highest rating. To get a TPS+, a vehicle must get high ratings across the scorecard.
Kia Motors and the IIHS
The Insurance Institute for Highway Safety (IIHS) has just awarded its best rating possible, "Top Safety Pick Plus" (TSP+), to the refreshed 2019 Kia Sorento. That means, in all five crash tests, the 2019 Kia Sorento got a "good" rating for its crashworthiness and crash avoidance/mitigation. Now, in 2018, that makes Kia Motors the only automotive brand with the highest number of vehicles with either a 2018 "Top Safety Pick" (TSP) or "Top Safety Pick Plus" (TSP+) rating among all other automotive brands.
"This is a significant and fantastic achievement for Kia … It's an honor to have earned strong safety ratings across so many of our vehicle lines." – Orth Hedrick, vice president, product planning, Kia Motors America.
Vehicles that received a TSP+ rating are: the 2019 Kia Sorento SUV, 2018 Kia Forte sedan, 2018 KIa Optima sedan, and 2018 Soul compact car. Vehicles that received a TSP rating include: the 2018 Kia Cadenza sedan, 2018 Kia Sedona minivan, 2018 Kia Sorento SUV, and 2018 Kia Sportage crossover. This isn't the first time some of these vehicles have received a TSP or TSP+ rating, either. The Kia Cadenza, Kia Sportage, Kia Sedona, and Kia Sorento received a TSP+ in 2017, and in 2016, the Kia Optima, Kia Forte, Kia Sorento, and Kia Sedona received a TSP. And 2018 makes eleven consecutive years for the Kia Soul!
A lot of these safety ratings can be attested to Kia Motors available advanced and automatic safety technologies implemented into their vehicles today and the past few years. Some of these include a: lane departure warning system that warns the driver when their car is leaving their appropriate lane unless their turn signals are on, advanced smart cruise control that can slow down and reset the speed if approaching another car ahead too quickly while cruising, a surround view monitor that can give the driver a 360-degree view of their vehicle's surroundings, and a forward collision warning and autonomous emergency braking system that will warn the driver if approaching another vehicle too quickly and then if the driver doesn't intervene the vehicle will attempt to mitigate or avoid the collision by pumping the brakes.
* Kia Motors is rocking the automotive industry as of late, and safety is just one of the ways this automaker is shaking things up. Check out these safe Kia Motors vehicles and many more at Miami Lakes Automall. *
* Photo Source/Copyright: Kia.com *
Previous Post News About the Kia Niro Electric Vehicle Next Post Fast and Expensive Cars that Can't Match the 2018 Kia Stinger