Updates for the Kia Telluride Concept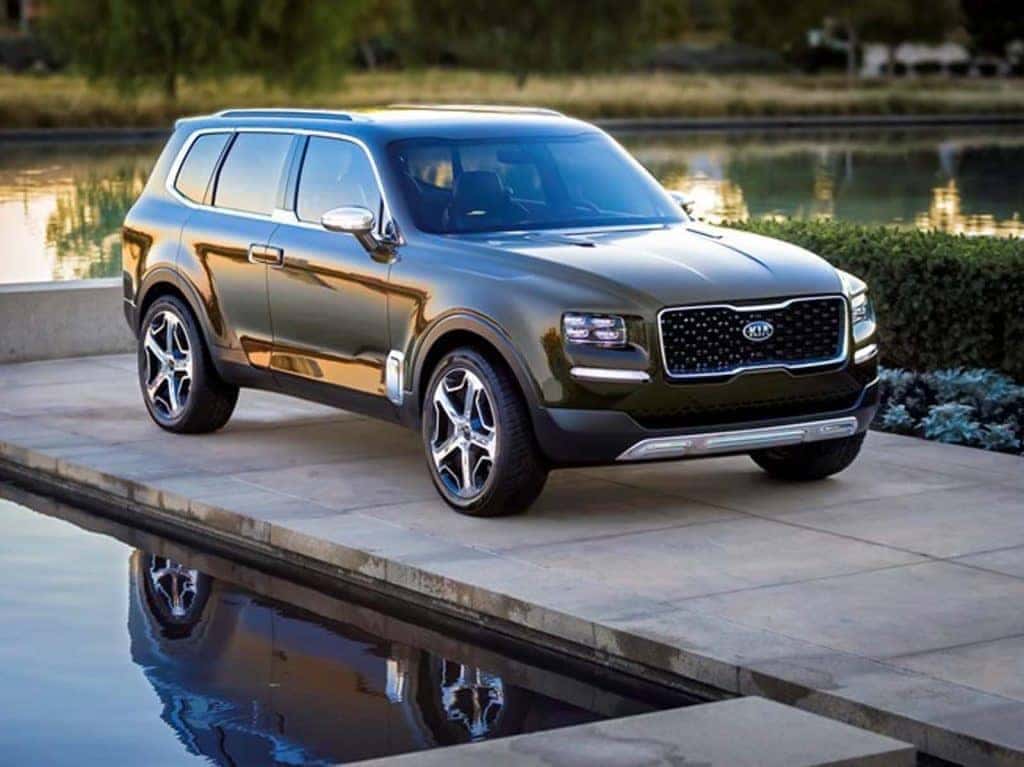 Does everyone remember the Kia Telluride concept ? It's a futuristic looking SUV from the inside and out and it's the latest Kia concept to get the greenlight for production . Considering the anticipation and initial success of the 2018 Kia Stinger, we're pretty interested to see how this new SUV by Kia will do. AutoGuide.com named the Kia Stinger as the 2018 Car of the Year , and the publication said it will "… change things for the whole [auto] industry." Will Kia turn the auto industry upside down again?
Latest News and Rumors
The latest news we've received about the Kia Telluride concept is mainly based on rumors, speculation and a lot of hints from Orth Hedrick, VP of Planning and Strategy for Kia Motors America. According to TopSpeed.com, Hedrick is quoted to have hinted at a new crossover vehicle that will join the K900 in Kia Motors' luxury lineup. Now, that statement in and of itself is pretty solid.
The K900 is by far one of the coolest luxury vehicles out there. We won't go into too much detail, but if you read our piece on 2019 Kia Sedona Updates, we included some bits about the upcoming 2019 Kia K900. We especially liked the available 12.3-inch Human Machine Interface (HMI) touchscreen, 7-speaker Harman Kardon/Lexicon system, and the upgraded interior, designed with a combination of metal veneers, open pore matte wood selections, and soft leather (available in Black, Beige, Espresso Brown, or two-tone Sienna Brown colors).
It all sounds pretty fancy, but what classifies a vehicle as being a "luxury vehicle"? On Wikipedia, the definition of a "Luxury vehicle" is a " marketing term for a vehicle that provides luxury—pleasant or desirable features beyond strict necessity—at increased expense." It goes on to say that the term suggests "a vehicle with higher quality equipment, better performance, more precise construction, comfort, higher design, technologically innovative modern, or features that convey an image, brand, status, or prestige …"
Now look at the K900. Hedrick is also quoted calling a K900-based crossover a "natural thing." If we're going to go by the above statements and data, then let's take a look at all the Kia Telluride concept has to offer.
If we were to compare the Telluride with the features offered by the 2019 K900, the interior seems up to par with those of a luxury vehicle. The Telluride concept has leather-trimmed front and second-row seats, and the second-row seats are captain's chairs versus bucket seats for that sense of "class." The second-row seats also have foldaway footrests so passengers can put their feet up. Kinda sounds like a Lazy-Boy-themed cabin.
The technology in the Kia Telluride concept is even crazier. The cabin features a wing-shaped, ceiling mounted LED panel that has a Light-Emitted Rejuvenation (LER) therapeutic system. The LER system is made up of hundreds of tiny LED lights and not only do they provide plenty of light, but they can improve passengers' mood and energy levels.
When it comes to entertainment, the Kia Telluride is said to have a fingerprint-activated push-button start, a Swipe Command touch-sensitive second-row media-control band, and wireless charging. The Swipe Command media-control band is a nifty feature that will give the second-row passengers access to multimedia and a touchscreen of their own – much like the Uconnect Theatre package in the Chrysler Pacifica and Chrysler Pacifica Hybrid minivans. Oh, and a seven-speaker Harman Kardon® audio system with wireless headphones will be available for quality listening pleasure.
Yeah, we can see how one could call the upcoming Kia Telluride SUV a luxury vehicle. With all these nifty gadgets and luxurious features so far, we can't wait to see what else will be in store for the Kia Telluride. Said to be available in the next few years, we don't know when the Telluride will debut, but a previous concept showed up at the 2016 Detroit Auto Show, and again in late 2017. Production of the Telluride was given the greenlight in January, so it may be a "sooner than later" sort of thing.
Stay in touch with us on Miami Lakes Kia social media , and we'll have all the up-to-date information for the Kia Telluride and other Kia models available in our inventory at Miami Lakes Automall.
* Photo Source/Copyright: CarBuzz.com *
Previous Post Kia Motors Implementing All-Wheel Drive Next Post Kia Motors is Developing Wireless EV Charging