Kia Motors Implementing All-Wheel Drive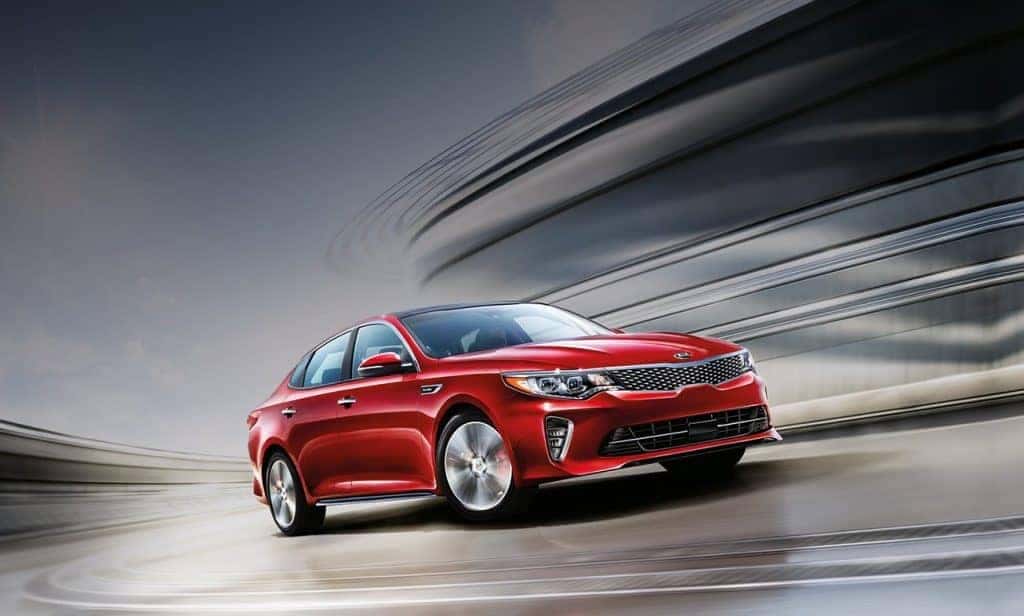 What is all-wheel drive? Is it really all that important? All-wheel drive (AWD) is becoming a hot choice in the auto industry as of late. It was a big deal when Dodge added an all-wheel drivetrain to the Dodge Challenger GT AWD. Muscle cars usually only have rear-wheel drive for the power to push the vehicle forward, but AWD has earned popularity in recent years. Now, even more automakers are pushing for all-wheel drive as an option, and in some cases, as a standard. One automaker is none other than Kia Motors, now studying all-wheel drive intently and its uses for three of its popular vehicles – the Kia Optima midsize sedan, Niro hybrid crossover, and Sedona minivan.
What Is All-Wheel-Drive?
Known as a drivetrain, AWD is a drivetrain system that transfers power to all four wheels at once, which means all four wheels have torque, so they all have enough traction and power to push the vehicle forward. Some automakers will split the power between each axle, with 80-percent in the front and the remaining 20-percent in the rear. Some systems, like a 4×4 system by Jeep, run by a part-time 4×4 drivetrain, although listed as a 4×4 drivetrain, the vehicle will actually only power two wheels-at-a-time, and send power to the other two wheels if traction is missing in the two wheels prior.
That's the real reason consumers want 4×4 and AWD – traction. When going off-road, consumers want to know their vehicle can handle the uneven and unusual terrain. An all-wheel drive system is great for this, because at all times, even if one tire loses its grip, there are three other tires to keep the vehicle stable until all four wheels are met with traction again. AWD can also come in handy in the north because roads can get slippery from ice and snow.
So why is Kia Motors interested in putting AWD into some of their vehicles?
Kia and All-Wheel Drive
With vehicles like the Dodge Challenger that recently got the option of AWD with the Dodge Challenger GT, it's pretty clear AWD isn't just for trucks and off-road vehicles anymore. It's becoming a hot optional drivetrain for many consumers, whether it's for peace of mind or how well the vehicle handles, having an all-wheel drive system is becoming the new thing. Kia Motors capitalized on this when it presented the 2019 Kia K900 at the 2018 New York Auto Show , sporting an all-wheel drive system as the standard drivetrain.
Some would say AWD on vehicles is becoming a premium feature, or a feature that can take a regular vehicle and make it premium, just because of the better handling drivetrain. Coming up next is AWD options, or standard, for the Optima, Sedona, and Niro. But why would those vehicles benefit from AWD?
The Kia Niro is a hybrid crossover, and recently got a plug-in hybrid variant. We don't expect anyone to be doing donuts in a crossover (maybe a barrel roll) anytime soon. But with the quick success of the Niro, Kia Motors seems to be getting excited over the prospects.
"We're still studying [all-wheel drive on the Niro hybrid] … It hasn't been long since we launched the [Niro] and we're still working on it. As a matter of fact, our head of R&D was here yesterday and we reiterated our request. They're working on something. Nothing to announce. It's something we would like." – Orth Hedrick, VP of Planning and Strategy for Kia Motors America.
As for the Sedona, talk is consumers may see AWD on a next-generation vehicle. If anything, maybe a new vehicle altogether. Once an all-wheel drive system finds its way into a minivan, is it really a minivan anymore? Sounds more like an SUV or a crossover with that kind of driving and handling power.
"You'd have to completely change everything underneath the [Sedona for all-wheel drive]. It'll be a next generation thing because the floor pan and the rear suspension has to be completely redesigned—it's a major tear up … If it keeps the car relevant, if it makes sense to make the investment to add that feature, we'll certainly do it." – Hedrick.
The most obvious choice would be to put AWD on the Kia Optima. The midsize sedan has already been successful enough to warrant a hybrid and a plug-in hybrid variant, its roomy interior rubbed off on the design for the new sporty Kia Stinger, and a sedan is the obvious choice when putting all-wheel drive onto a vehicle. Just like their tests for introducing alternative fuel into their lineup, Kia Motors would make a smart choice to put an all-wheel drivetrain onto the next Kia Optima.
* How about you? Does all-wheel drive make much of a difference to your driving style, does it give peace of mind, or is it just a nice feature that warrants a larger price tag? Let us know on Miami Lakes Kia social media . You can also find Kia Motors vehicles like the Kia Optima , Kia Niro , and Kia Sedona at Miami Lakes Automall. *
* Photo Source/Copyright: Kia.com *
Previous Post Updates for 2019 Kia Sedona and K900 Next Post Updates for the Kia Telluride Concept