Updates for 2019 Kia Sedona and K900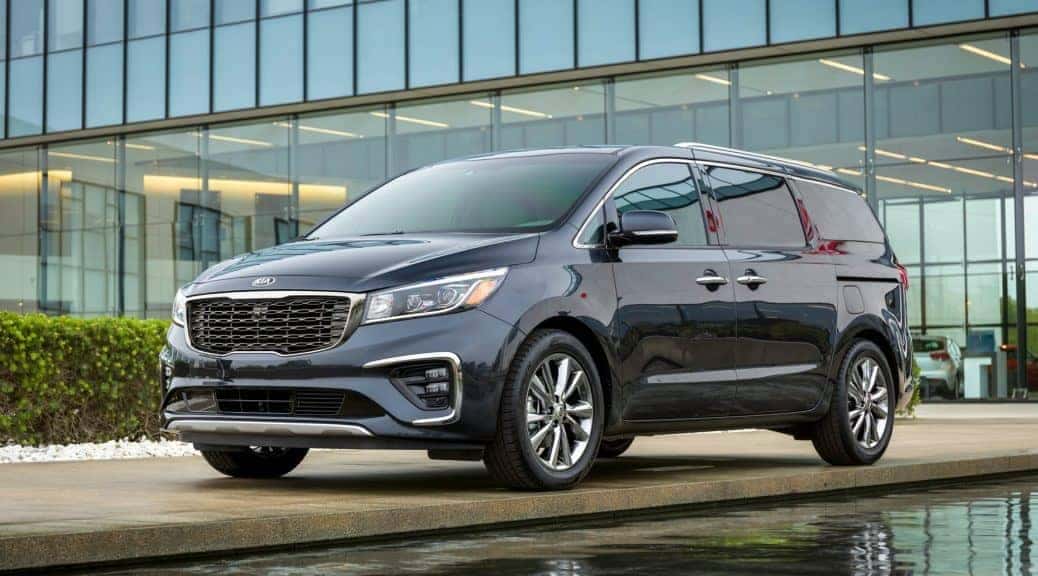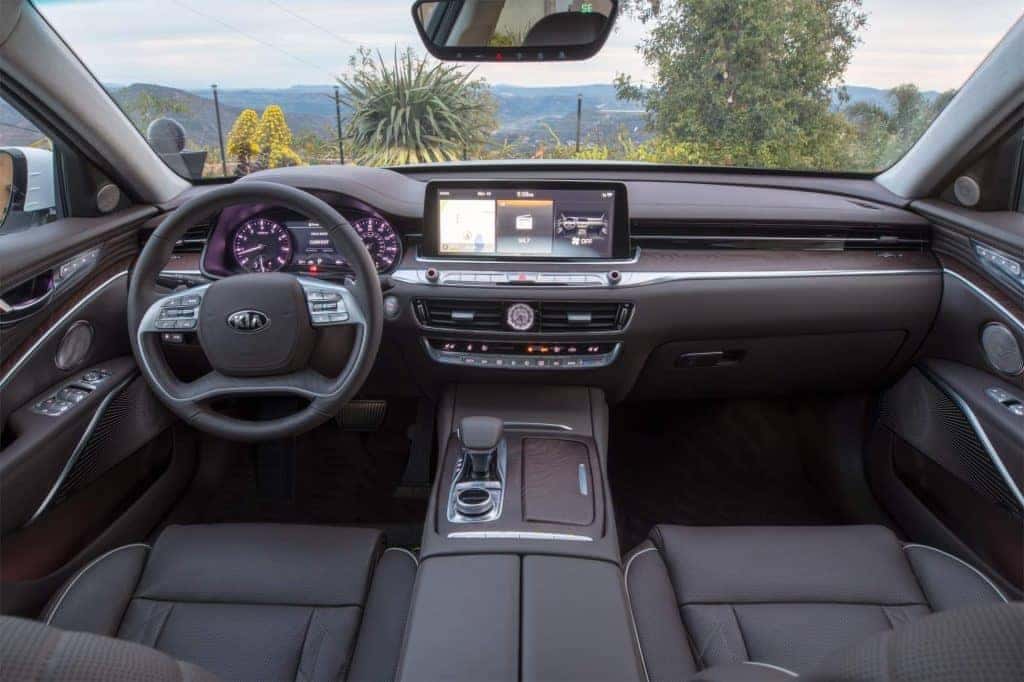 The Kia Sedona hasn't been in the spotlight since the Kia Stinger was released. A lot of the media has been focused on Kia's newly redesigned vehicles, such as the 2019 Kia Sorento , 2019 Kia K900 , and of course Kia Stinger Limited Editions , but that just changed. Kia debuted the refreshed 2019 Kia Sedona at the 2018 New York International Auto Show and it's said to challenge the Chrysler Pacifica.
Power
The only engine that powers the 2018 Kia Sedona lineup is a 3.3-liter DOHC V6 engine with dual continuously variable valve timing for optimal performance. Able to generate 276 horsepower and 248 lb-ft of torque, this engine is still standard on the 2019 Sedona, but for 2019, the engine will be paired to a new eight-speed automatic transmission, that improves fuel efficiency and offers a "more seamless driving experience."
Style
There were a couple of changes made to the Kia Sedona that definitely makes it competition for the Chrysler Pacifica. Not only do the two vehicles look very much alike on the outside, but the Sedona is getting a sportier front bumper, larger air intakes, and a modestly revised grille for 2019. The front fascia will also benefit from a new design, restyled headlights, and distinctive LED fog lights.
It's not just the front of the vehicle that looks different, the back-end is upgraded a bit with additional chrome, tweaked taillights, and a new rear bumper. High-end variants are said to come with some sport skid plates. New sliding button doors have been integrated into the door handles. Oh, and all of this rides on wheels ranging from 17-to-19-inches, all in various styles.
Tech
The infotainment system is also getting some upgrades – being a luxury minivan (an SUV to some), a new 10.1-inch touchscreen display is available for those wanting more than a small overhead display, and the new system comes with an upgraded processor, a smartphone-mirroring functionality, and the option to access the internet via a smartphone connection. Neat – and it should definitely be some good competition for Uconnect infotainment systems on FCA vehicles – another shot at the Chrysler Pacifica!
Infinity was the brand name for the audio system, but it is now being replaced with a new Harman Kardon eight-speaker sound system. Other changes for technology include a revised instrument cluster, an available USB charging port in the luggage area, and a newly available wireless smartphone charger. Modern tech is the way to go.
There will also be some upgrades for automatic safety, such as the Driver Attention Warning system popping up in Kia vehicles from here on out. Designed to provide audible and visual alerts to the driver if the system detects they are losing concentration, this'll be great for drowsy drivers that should really take a nap in a parking lot rather than behind the wheel. Other advanced safety features that make appearance include Forward Collision Warning, Rear Cross Traffic Collision Warning, Blind Spot Collision Warning and Smart Cruise Control with Stop & Go.
Kia K900 Updates
Another Kia model that showed up at the 2019 NYAIS is the all-new 2019 K900, and it seems to have borrowed some power from the Kia Stinger. We already know about the new signature grille "Quadric pattern," the LED headlights and taillights, and repeating aesthetics include the satin chrome trim and multi-spoke 19-inch wheels. So the exterior has small changes, but it's outdone by an upgraded interior, made with a combination of materials such as metal veneers, open pore matte wood selections (available as Walnut, Brown Olive Ash, Beige Olive Ash, and Engineered Wood), and soft leather (available in Black, Beige, Espresso Brown, or two-tone Sienna Brown colors).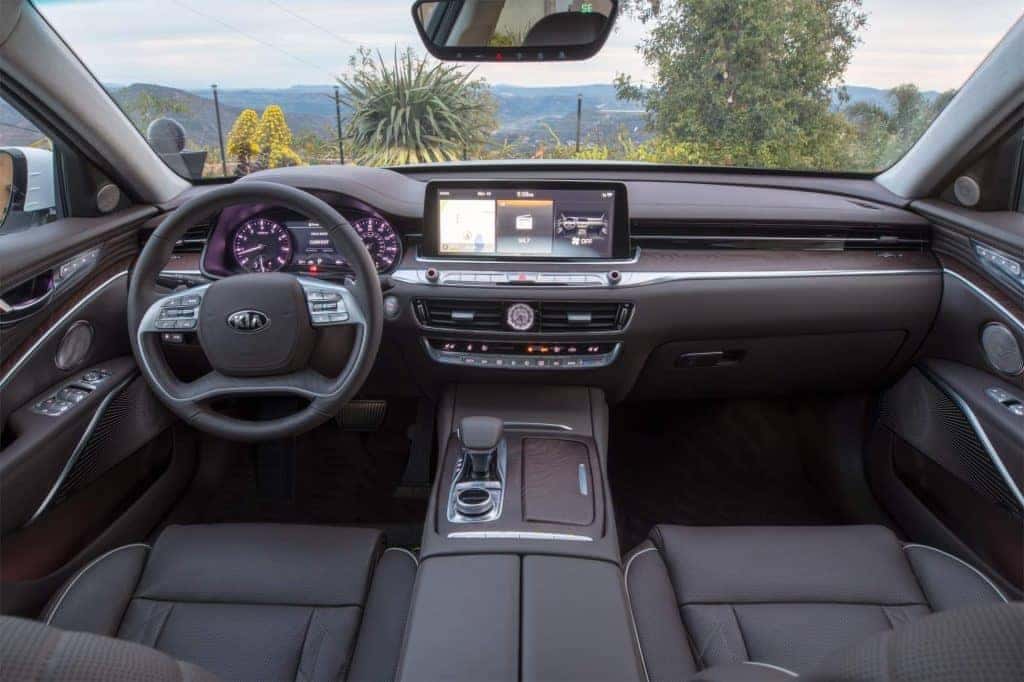 The dashboard has been cleaned up for a clean and ergonomic design, and with a 12.3-inch Human Machine Interface (HMI) touchscreen that contrasts with a Maurice Lacroix analog clock placed below it, the center console is looking _ real _ nice. For those going high-end with luxury, Kia Motors is offering an optional 9.7-inch Head-Up Display (HUD). There are 64-color ambient lighting choices, a modem-based Premium Navigation system, and a 17-speaker Harman Kardon/Lexicon system available.
All of this wrapped up with Advanced Driver Assistance Systems (ADAS) such as Surround View Monitor, Blind Spot View Monitor, Lane Keep Assist System, Forward Collision Avoidance Assist, Driver Attention Warning, Rear Cross Traffic Avoidance Alert, and more. It also offers semi-autonomous driving capabilities such as Lane Follow Assist and Advanced Smart Cruise Control. So far, a lot of great stuff, but there's a little more with that mention of the Kia Stinger above.
Packing some heat under the hood of the all-new Kia K900 is the twin-turbo 3.3-liter V6, also found under the hood of the Kia Stinger GT trims, able to generate 365 horsepower and 376 lb-ft of torque. Being the high-end engine of the Stinger, one wonders what the Luxury trim of the new K900 will get, originally powered by a V8 engine. The 2019 K900 will also be paired with an eight-speed automatic transmission that sends power to all four wheels via a full-time Dynamic Torque Vectoring Control all-wheel-drive system, able to distribute up to 50 percent of torque to the front wheels and up to 80 percent to the rear wheels in Sport mode. We're also looking at some Stinger aesthetic influences with a longer wheelbase, wider stance, stronger chassis, and four-wheel independent suspension geometry.
* Wow, now that's some upgrade! The 2019 Kia Sedona and Kia K900 are going to shake the automarket once more, and with the Kia Stinger still hot and the Kia Telluride in production , Kia Motors is definitely changing the automarket for years to come. Let's chat about it on Miami Lakes Kia social media . *
* Photo Source/Copyright: Car Scoops and DriveMag.com *
Previous Post Subtle Changes for the 2019 Kia Optima Next Post Kia Motors Implementing All-Wheel Drive