Take a Peek at the Kia Niro EV Interior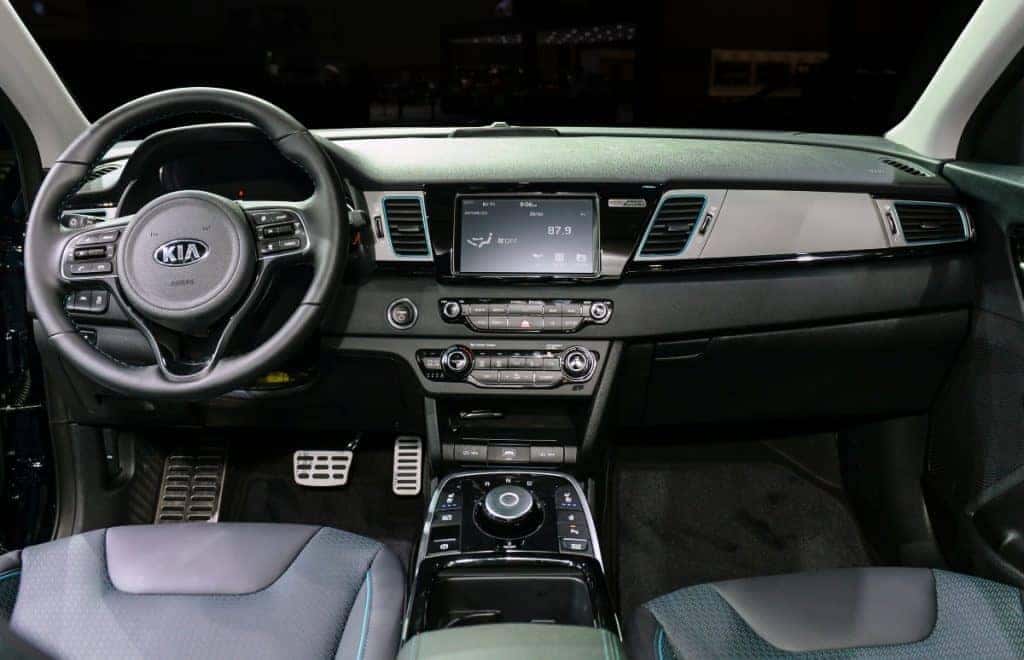 When the electric vehicle variation of the Kia Niro debuted at the 2018 Consumer Electronics Show (CES), there was a lot of interesting information to learn. Kia Motors just keeps pushing the envelope when it comes to their alternative fuel vehicle lineup, continuously expanding it whenever they have a winner on their hands. We can't complain – honestly, it feels good to go green, and if we can drive a fancy car and help the environment, then why not? During the initial debut, the Kia Niro EV was just a concept, and much of the interior was like a cardboard cut-out. Recently, a more fine-tuned prototype of the Kia Niro EV was revealed in Busan, South Korea, and a savvy commentator, Jose Guerrero, took the chance to make a video and upload it for everyone to enjoy. Thanks, Jose!
Recap of the Powertrain Details
During the initial debut of the Kia Niro EV concept, the powerain details were pretty hush-hush at the 2018 CES in Las Vegas. Kia called it a "next-generation electric powertrain [with] new production technologies earmarked for near-future EVs from Kia [with a 64 kWh battery] paired to a powerful 150-kilowatt ([200-horsepower]) electric motor." With an entirely new 64-kilowatt-hour battery pack and a rated 238 miles of range, that's not too bad for an all-electric vehicle. That's the same range for the 2018 Chevrolet Bolt EV .
So the Kia Niro EV concept is said to share the longest-range of an affordable electric car with the Chevy Bolt EV. The concept had some style changes, doing away with the tiger-nose grille, and replacing it with a pair of very thin lamps and a smooth, front bumper with a recharging outlet on the driver's side of the front fascia. Kia said the interior would have a ""pure, minimalist, and digital [approach to provide] an innate sense of space and calm [while inside the car]."
Kia Niro EV Interior
The gearshift is no longer the usual joystick but has been replaced with a rotary selector, like that found on the Chrysler Pacifica. This digital variation now creates a huge gap between the gear shift and the center console, able to act as a storage option and other potential applications closer to production. Speaking of the center console, the cupholders in the front can be folded inward, opening space to hold other things. How practical.
Functions of the powertrain have changed from the Niro hybrid and Niro PHEV as well. For one, the foot pedal handbrake has disappeared and has been replaced with an electronic parking handbrake, also known as an electronic emergency brake. There also seem to be paddle-type shifters behind the steering wheel to configure regenerative braking, a technology popping up in plug-in hybrid and electric vehicles, like the Mitsubishi Outlander PHEV regen paddle shifters .
Seating comes with a leather option with blue accents to give it a little extra style as well as comfort. Some tech upgrades are also popping up, like a wireless charging surface for mobile devices, two 12-volt outlets, a USB media port, and heated and ventilated seats seem to be an option, along with a heated steering wheel. Oh, and there's a sunroof option for the upcoming Kia Niro EV too.
* Sounds like this all-electric crossover is shaping up to be pretty advanced. Given the details of the plug-in hybrid electric SUV, the Kia Telluride , we can't expect much less from Kia Motors. What do you think? Ready to go green with the Kia Niro EV? Or shop for the Kia Niro or Kia Niro Plug-in Hybrid? Let us know on Miami Lakes Kia social media or stop by for a test-drive. *
* Photo Source/Copyright: InsideEVs.com *
Previous Post Kia Motors Has Style, Power, and Now, Safety in the Bag Next Post 2019 Kia Sorento Shines in New Marketing Campaign