Kia Rolls into SEMA 2018 with New Concepts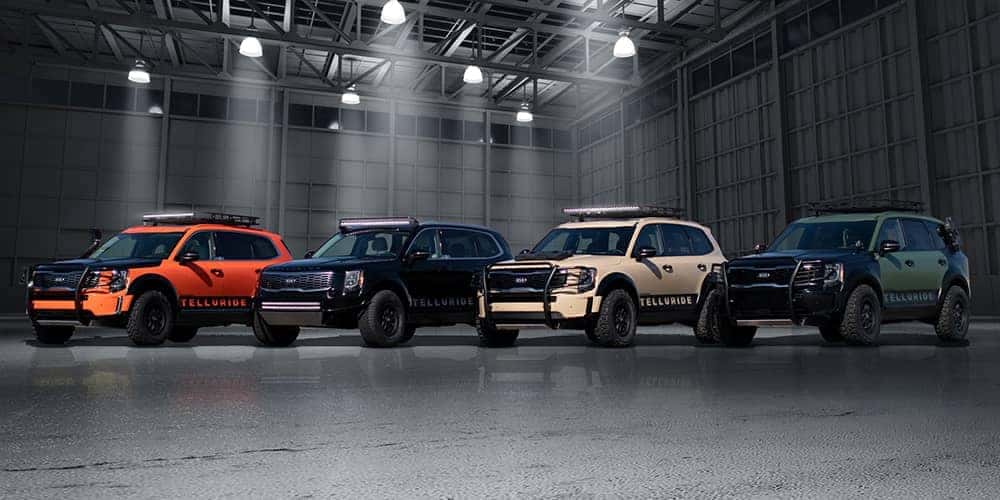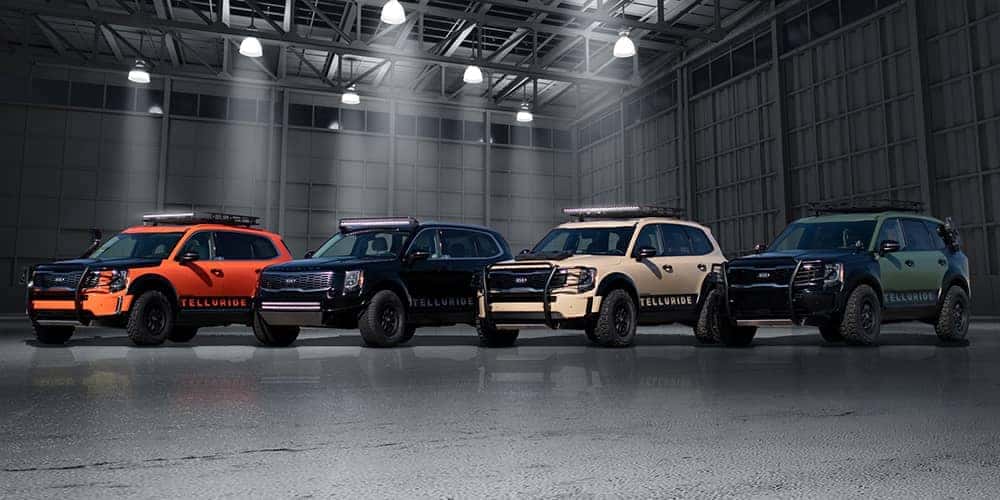 Hot dang, Kia Motors knows how to keep a crowd guessing. Originally, Kia Motors was only thought to be showing off two vehicles modified by DUB at the 2018 SEMA Auto Show, like when they showed off the Kia Stinger that was modified by _ West Coast Customs _ last year. As it turns out, Kia was rolling in to show off a lot more than two slightly modified vehicles. Like we all expected, the Kia Telluride did show up, but we're seeing quadruple with these concepts. Plus, the new GT Line from Kia Motors made an appearance as well.
The Mods
Okay, so first there was a teaser of a modified Kia Stinger GT and a modified K900. In partnership with DUB Magazine, both vehicles were given a bit of a makeover. Just when we thought the performance of the Kia Stinger GT couldn't get any better, DUB added widebody fender flares, 22-inch wheels, a new exhaust, an air intake, and an air-adjustable suspension. To match the interior with the exterior, a lovely black and red color combination with leather upholstery takes the cabin to a whole new level.
Going with a similar path, the Kia K900 received 24-inch wheels, an air suspension for a smoother ride, and leather upholstery. To add a little color, DUB went with electric blue body paint and black accents to transform the K900. Lastly, Kia added a specially developed multimedia system just for this mod.
Kia Going GT
We discussed the upcoming Kia Motors GT Lineup, and we were almost 100-percent certain we saw the 2019 Kia Forte GT unveiled in Korea . And yes, the 2020 Kia Forte GT was displayed at the 2018 SEMA Auto Show. Due for release next summer, the powertrain was confirmed to be a 201hp turbocharged inline four-cylinder engine, front-wheel drive was announced as the only drivetrain available, and a set of 18-inch wheels comes standard. Maybe a later model will get that new transfer case Kia Motors is working on for the Kia Stinger GT.
Kia Telluride Concepts
Also showing up at SEMA 2018 were five Kia Telluride concepts. Slated to be released in 2020, the Kia Telluride still feels far away, but after showing up at 2018 Fashion Week in New York, the Telluride has shown it can be a versatile SUV. So if that's the case, Kia Motors may be curious about testing possible trim concepts to get an idea of what consumers will be looking for or find interesting.
The stylish and outdoor-based Kia Telluride from Fashion Week returned to SEMA, along with the Telluride Horizon Roamer, Cadet Leader, Desert Drifter and Baja Glider. Each concept has its own flair while being built to tackle tough trails. Going by the above image, these are from left-to-right.
Yes, tough trails. As in an off-road vehicle, as in Jeep ® has some healthy competition. Equipped to take on the Rubicon trail, the Kia Telluride Horizon Roamer comes with several hardcore off-road accessories, including a custom brush guard and skid plates, a straight-pipe exhaust located in the rear, and a snorkel for some deep water fording. Kia tops off this Telluride concept with a set of Black Rhino 32-inch wheels.
The second concept in line is the Telluride Baja Glider. With a number of unique features, a dark black paint job and a curved LED light bar attached to the roof separate this trim from the others. Except, like all the trim concepts, the Baja Glider rides in on a set of Black Rhino 32-inch wheels, wrapped in Milestar Patagonia mud terrain tires.
Okay, now we're really seeing Kia aiming to compete with Jeep. Colored with a unique army green and matte black paint job, the Cadet Leader is basically the Horizon Roamer in camouflage. The Cadet Leader rides on Black Rhino 32-inch wheels, also wrapped in Milestar Patagonia mud terrain tires. This concept comes with a brush guard with a skid plate, a rear tube bumper with a skid plate, and a modified straight pipe exhaust.
Like the new Desert Hawk planned for the Jeep Compass, Kia Motors has their own desert-based SUV. Given another military look with a tan and black paint job, this Telluride looks built to go on adventures. Mounted on the roof is a roof rack with a light bar, and the front fascia also comes with a brush guard. There's also roof-mounted rotopacks for extra gasoline when far out into the sandy dunes.
That's all for now. Kia Motors kept their presentation tight-lipped, but in the end, wowza! What an entrance, and with plenty to of concepts and vehicles to show off. Stay up to date with more SEMA and Kia Motors news by following Miami Lakes Kia social media .
Photo Source/Copyright: Motor Authority
Previous Post Kia Motors Wins Digital Ad Campaign Award and Announces New Concept Next Post Kia Motors Developing Solar Panel Car Roof