Kia Motors Developing Solar Panel Car Roof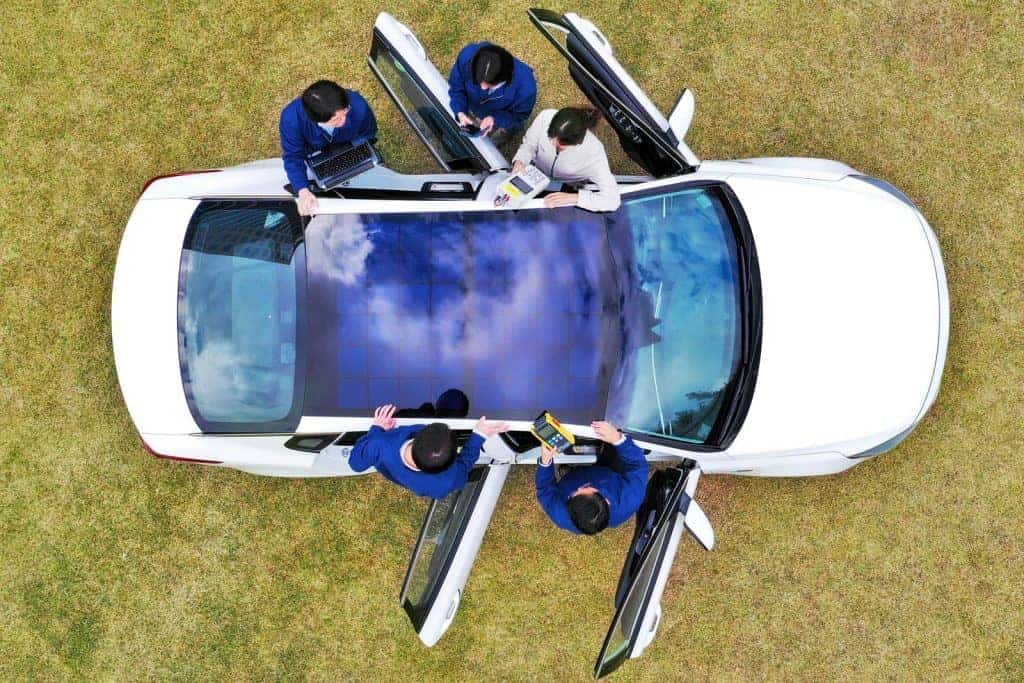 Kia Motors is starting to revolutionize the auto industry. When the automaker released the 2018 Kia Stinger , it was the beginning of a new path for Kia and a wake up call to the auto market. Sports cars are still alive and well in this SUV and crossover-saturated market, but there's still room for innovation. Back in 2017, the Hyundai Motor Group discussed hydrogen fuel cell vehicles and how Kia Motors will get their own. A part of the automotive group, many thought Kia Motors would follow Hyundai and place focus on a performance line after the success of the Stinger, but Kia Motors has placed their focus on a GT line instead and debuted this with their Kia Forte GT at SEMA 2018 . Kia Motors is also known for innovative technology though, and isolated sound zone technology isn't all – the next move for the Hyundai Motor Group is solar panel-equipped vehicles.
Solar panels on cars? When we think about it, this was a long time coming. We have hybrids, plug-in hybrid electric vehicles (PHEVs), and all-electric vehicles (EVs). With the need to charge the latter, consumers are constantly wary about needing to find a place to plug-in if driving an EV or getting the most mileage out of their PHEV. Although electric charging stations are popping up all around Miami, Florida and the rest of the nation, and apps like PlugShare exist, consumers still worry. Well, wouldn't solar panels on the roof of a vehicle help with that?
Yes, they would, and that's why Hyundai and Kia Motors have plans to equip select vehicles with solar panels attached to their roof or hood. Not only will these solar panels help charge PHEVs and EVs, but regular gasoline-powered vehicles will also see some benefits. Furthermore, although the first-generation of this solar panel technology may obstruct the skybox experience of a sunroof, there are already plans to make the second-generation semi-transparent to keep panoramic sunroof systems available.
The first generation of solar roofs and hoods have already been shown to be able to charge 30-60-percent of a hybrid vehicle's battery, depending on the weather and climate. On a rainy day or in the winter months, that may not seem very fancy, but it'd be a great way to cut the worries and costs of stopping to charge up when on a road trip or if caught up in heavy traffic. Nothing like bumper-to-bumper traffic and a low fuel tank or battery to induce mass panic.
Now, we won't see this tech for at least another year or more. Kia Motors is planning to release artificial intelligence in cars by 2019 or 2020, so we'll see what happens by then. If the technology turns out to be a success, and why wouldn't it with Kia Motors already on a roll, solar roofs and/or hoods could become commonplace. Most importantly, what a selling point for eco-friendly drivers and those on a budget. A little modification, maybe some engineering, and one could potentially never have to pay for gas or a public charging station again. Oh, those poor oil companies (bwahahahahaha).
Keep up with all Kia Motors news and updates on Miami Lakes Kia social media . Find out what else Kia Motors has going on by checking out the latest Kia vehicles in our inventory.
Photo Source/Copyright: Engadget
Previous Post Kia Rolls into SEMA 2018 with New Concepts Next Post Kia Forte GT Specs Update