Kia America Announces Pricing for EV6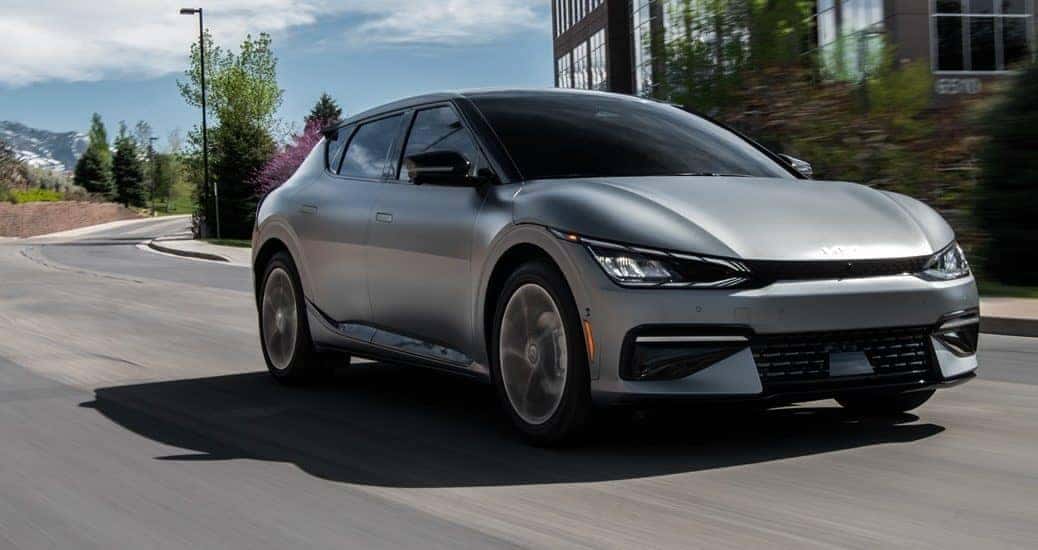 The all-new all-electric Kia EV6 was released back in 2021 by Kia Corp, but consumer may not have seen it on the street just yet. In fact, aside from flashy advertisements, where is the Kia EV6? It was overseas, of course, but not Kia America is ready to bring the battery-electric vehicle (BEV) to the states. Whether you call it a hatchback or a compact SUV, the EV6 is the first all-electric vehicle to come from Kia that has no gas-powered predecessor. Built on the new Electric-Global Modular Platform (E-GMP), the EV6 is riding on the foundation all of the future electric vehicles (EVs) by Kia will be riding on. With the Plan S strategy in full effect, if Kia wants to obtain 6.6% global EV market share, than they need to branch out and start selling EVs everywhere, even in the stubborn market of America. As the Kia EV6 starts hitting showroom floors, the starting MSRP has been shared, with the base trim set at $40,900 (plus destination fee).
Surprisingly, the MSRP jumps by nearly $7000 from the EV6 Light with rear-wheel drive (RWD, base) to the EV6 Wind RWD, but it's mainly due to the power setup. According to the press release, just like before, the energy-dense battery pack powering the EV6 comes in two sizes – 58.0 kWh and 77.4 kWh. If getting the base model, consumers will be locked into a rear-wheel drive model powered by the 58.0 kWh battery with a 168kW rear motor able to yield up to 167 horsepower. This model has an EPA rated all-electric range (AER) up to 232 miles. The EV6 Wind, also with RWD, is powered by the 77.4 kWh battery with a 168kW rear motor able to generate up to 225 horsepower. This setup can deliver an AER of 310 miles.
For full power and sport car-like performance, there is the GT-Line and Dual Motor e-AWD configurations. The EV6 Wind and GT-Line can be powered by the 77.4 kWh battery with RWD or choose all-wheel drive (AWD) with the Dual Motor e-AWD setup. This comes with a 77.4 kWh battery, a 74kW front motor, and a 165kW rear motor, able to generate a total of 320 horsepower. Consumers can expect an AER of 274 miles with this setup. The high-tier trim, the EV6 GT-Line Dual Motor e-AWD has a starting MSRP of $55,900 (plus destination fee).
Don't forget about all the available tech and lush interior. Specific trims offer 100-percent vegan leather surfaces and 100-percent LED lighting to light up the cabin. Consumers can also find an Augmented Reality (AR) Head-Up Display and a premium 14-speaker Meridian audio system for a more high-tech look and great sound for listening to tunes. The EV6 also comes with a list of 21 standard active Advanced Driver Assistance Systems, such as Blind-Spot Avoidance Assist (BCA), Forward Collision-Avoidance Assist (FCA), and Driver Attention Warning (DAW).
The starting MSRP may seem like a hefty price, but for those looking for a tax break during the 2022-2023 tax year, don't forget the $7,500 federal electric vehicle tax credit the EV6 is eligible for. The price is the same, but whether the base trim or the high-tier GT, that's $7500 less you have to pay in taxes…next year. It doesn't count for the year you purchased the vehicle, of course. Still, the 2022 Kia EV6 is finally hitting the states. Look for your Kia EV6 at Miami Lakes Automall .
Photo Source/Copyright: Kia Media
Previous Post Kia America Shares a Teaser of its 2022 Super Bowl Ad Next Post Hello world!