An In-Depth Look at the New E-GMP Platform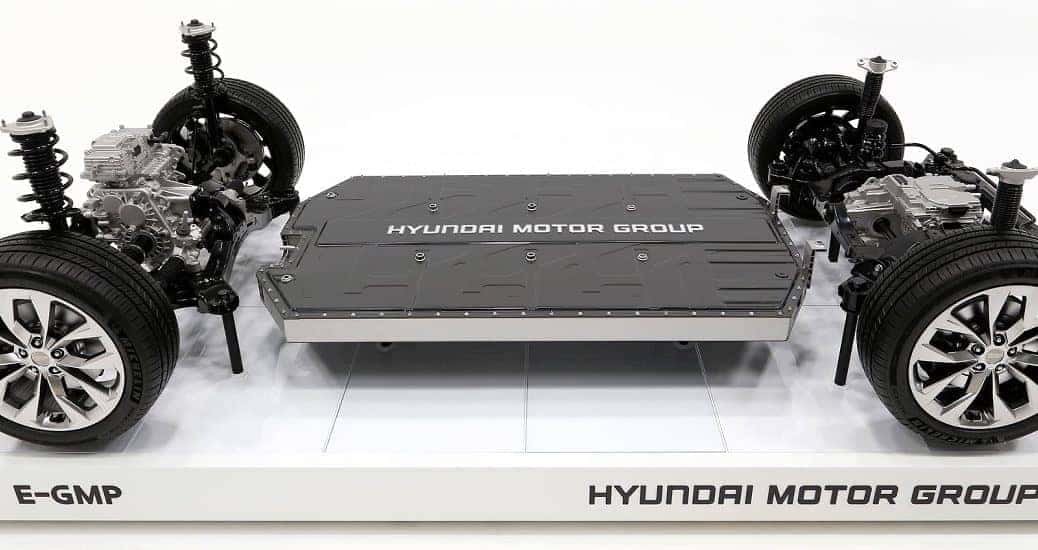 We're finally in the final days of 2020, and everyone is hoping for a HappIER New Year for 2021. This just wasn't the year we were expecting. There are some interesting things happening in the automotive world amidst all the madness. In early December, Hyundai Motor Group (HMG), also known as The Group, also known as the automotive group that Kia Motors belongs to, HMG unveiled its new Electric-Global Modular Platform (E-GMP), a dedicated battery electric vehicle (BEV) platform for future vehicles. Building a fully-dedicated system for upcoming and new electric vehicles is not only a step in the right direction for streamlining electric vehicle (EV) production, but also opens up a whole new lineup of EVs. After all, why invest in a BEV platform if there are no plans to use it?
"Today our front-wheel driven Hyundai and Kia BEVs are already among the most efficient ones in their segments…With our rear-wheel driven based E-GMP, we are extending our technological leadership into segments where customers demand excellent driving dynamics and outstanding efficiency." – Albert Biermann, President and Head of R&D Division for Hyundai Motor Group
Standardization is a Key Strategy
As we mentioned, having a dedicated BEV platform allows for quicker production of BEVs and EVs going forward. With the E-GMP, The Group suspects that the platform will be flexible enough for sedans, SUVs and even crossovers, with a high-performance model able to accelerate from 0-60 mph under 3.5 seconds, with a top speed of 160 mph. Now that is some powerful stuff for an electric vehicle.
Having the E-GMP now a part of vehicle design and production, this new development is also going to help Kia Motors continue to launch its Plan S Strategy to dominate the EV market. With The Group aiming to release 23 BEV models, 11 of which are dedicated BEVs, and sell more than 1 million BEVs worldwide by 2025. Kia Motors plans to own 20 percent of all BEV sales by 2025, with plans to release seven dedicated BEV models by 2027.
Powerful Electric Motor
Not many consumers may think of the specs we discussed when it comes to the performance of an EV, but that's the world we're living in. Made up of a powerful motor, EV transmission, and inverter, all three components of the E-GMP, make a compact and powerful module. When compared to standard motors today, this system can increase a motor's maximum speed by up to 70-percent and the overall efficiency. Power isn't the only thing to look forward to, either.
Choices. Having a choice makes the car buying process a little more rewarding. Not only can HMG and Kia make use of the E-GMP in various kinds of vehicles, but also drivetrains. For now, the platform relies on rear-wheel drive (RWD) for propulsion, but future models will have all-wheel drive (AWD) available with a transmission that can switch between RWD and AWD. Another choice will be how consumers charge up their vehicle, without needing to purchase additional add-ons.
The E-GMP comes with 800V charging capability as a standard feature but will allow for 400V fast-charging, able to charge up to 80 percent in 18 minutes, or simply get a boost of 60 miles in five. Now those bathroom breaks on the road come with additional perks. Moreover, the E-GMP platform is not just a one-way unit. Using bi-directional charging features, the E-GMP's newly developed Integrated Charging Control Unit (ICCU) enables a new vehicle-to-load (V2L) function where the BEV can discharge energy to charge other products – again without any add-ons or fancy doodads.
Safety is Still a Priority
Kia Motors isn't just about becoming #1 in BEVs. Safety is still a large part of Kia Motors vehicles, and future BEVs with the E-GMP platform get just as much special treatment as the rest of the lineup. With a low center of gravity thanks to its low-mounted battery pack, BEVs already get a plus, mitigating the chance of a rollover. Ultra-high strength steel with hot-stamped steel components form a very rigid structure to protect passengers, and like most vehicles, crumple zones and energy-absorbent sections are built-in to take the brunt of the damage. A long wheelbase, short front and rear overhangs, and slim cockpit module lead to increased interior space with more legroom and interchangeable seating configurations thanks to a flat cabin floor.
The new E-GMP platform is going to reshape the way Kia Motors and The Group as a whole produce future BEVs and concepts. With over 20 new vehicles being planned, there will be plenty to look for. Want a chance to check out an electric vehicle by Kia ? Come to Miami Lakes Automall or contact us about EV models on the lot.
Photo Source/Copyright: Kia Media
Previous Post Kia Motors Wins CPO Title Once Again Next Post Kia Motors America and the Community in 2020