Kia America Has Plans for the 2022 Super Bowl LVI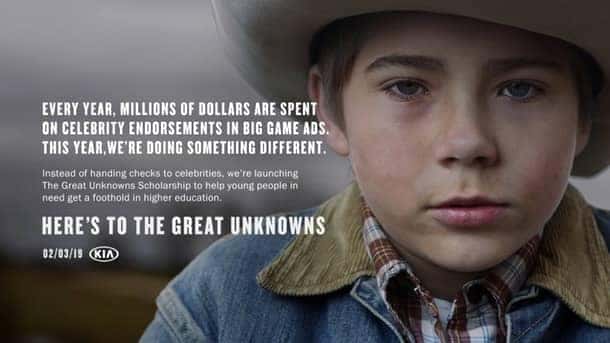 Kia Corp has been getting involved more and more with the youth community, and their latest announcement of being the official sponsor of the League of Legends championship for the fourth consecutive year, it's clear this is a smart move that will continue. The demographic tomorrow is the youth of today, and if a company wants to survive, they need to adapt to the new audience. Not just sponsoring events, Kia America has also helped its community in times of disaster during the pandemic, such as donating to Covenant House and other charities, and every year a new Super Bowl Campaign. 2022 will be no different, and here's a look back at previous endeavors by Kia Corp.
Giving Back
Back in 2019, during the ultimate EDM music festival (the annual Electronic Dance Music ( EDM) Festival), Kia America put together an unforgettable experience for partygoers to help them refresh and refuel to party on. One major initiative, Accelerate the Good , was the major jumping off point for Kia going beyond events and giving back to the community in larger ways. Last year, Kia donated $200,000 to the American Red Cross to help with relief efforts after the hurricane season hit New Orleans and the U.S. mainland. That's in addition to the $250,000 donated to Covenant House.
The Great Unknown Scholarship
In 2019 and 2020, Kia America put together the Great Unknowns Scholarship program . Not just a scholarship for the academically-inclined, this scholarship is looking for students who are already actively trying to better their community or make an impact. Part of the marketing campaign at the time "Give It Everything", the Scholarship was open to all students across the U.S. planning to pursue a college undergraduate degree in one of the following discipline areas: Sciences, Technology, Engineering, Arts, or Math (STEAM). Finally, artists get some recognition. Previous recipients have definitely made everything they could with those scholarships, enrolling at Harvard University and Duke University, and for those that studied closer to home, their coursework ranged from economics to aerospace engineering. A real variety to build a better community once these kids graduate.
Yards Against Homelessness
Also in 2020, Kia Corp debuted its "Tough Never Quits" campaign with its new "Yards Against Homelessness" Initiative. The commercial was heartfelt, but the real impact was the commitment Kia made that year. For every yard gained during the Super Bowl in 2020, Kia donated $1,000 to charity partners Covenant House, Positive Tomorrows, and StandUp For Kids. The "Yards Against Homelessness" Initiative went beyond the Super Bowl ads and continued to keep the channels open, as it were. The number may still be working, and Kia set up a line for those who want to help in the fight against youth homelessness by texting HOME to 41444 to make a donation.
This year, 2022, this will be the thirteenth time Kia has bought up some ad space and had a marketing campaign to connect with the community. There hasn't been any information on what the new plan is for this year, but with a 60-second spot, we expect they have a lot to say. Look out for Kia America and Kia Corp during the 2022 Super Bowl, February 13, 2022, starting at 3:30 PM PST, but that's just the pre-game. Kickoff is at 6:30 EST. Tailgating parties may be closed this year, but we all know how to keep it safe and party under quarantine. Share your secret seven-layer dip recipe or favorite dish for a Super Bowl party with us on Miami Lakes Kia social media . Or you can always purchase a new Kia vehicle from Miami Lakes Automall and help Kia Corp give back.
Photo Source/Copyright: Kia Media
Previous Post Kia and Hyundai Shift All Focus to EV Development Next Post Kia Corp Sponsors LoL LEC for the Fourth Consecutive Year