Future Vehicles Coming from Kia Motors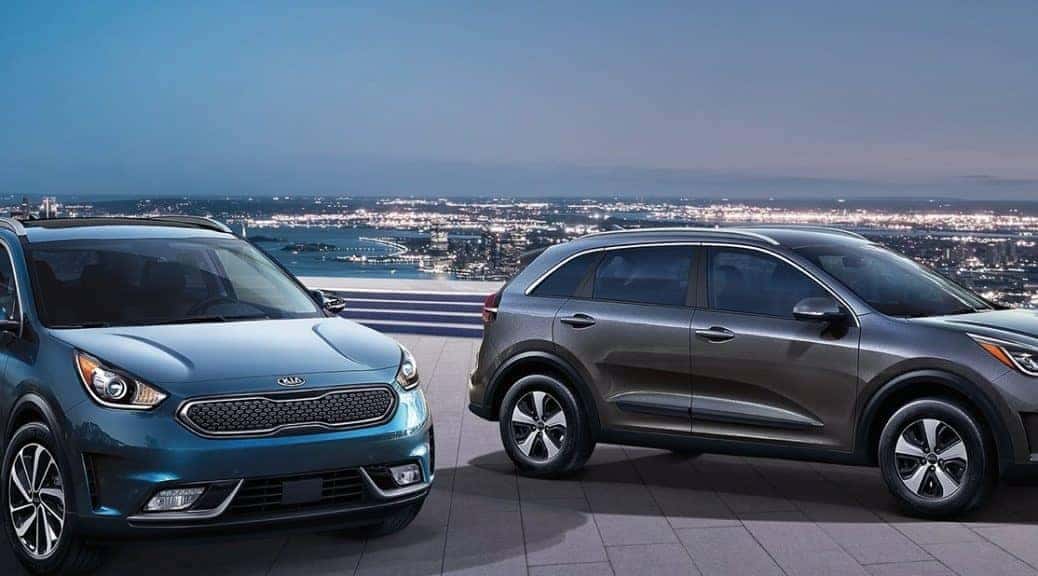 Kia Motors is really turning the tables on the auto industry these days. It's almost not fair, but hey, the auto industry is practically a war. Nothing is fair. We don't mind though, because the more concepts and vehicles that come from the Kia Motors lineup, the more we have to love. After all, Kia vehicles are award winning models. Kia Motors earned strong marks from the J.D. Power Dependability Study , two models were named "Best Vehicle for the Money" , and the award-winning 2018 Kia Stinger is, well, award-winning.
Hybrids and Electric
Kia Motors is well known for making alternative fuel vehicles. They came out with the groovy Kia Soul hatchback in 2009 and quickly turned it into an all-electric vehicle. A similar pattern formed with the Kia Optima. First it came with the standard internal combustion engine, then a hybrid version came out, and then again with a plug-in hybrid electric vehicle (PHEV) variation. The release of alternative fuel vehicles by Kia Motors is just becoming the norm.
Recently, more so mid-to-late 2017, Kia released the Kia Niro, a hybrid crossover and the first of its kind. It wasn't long after its release that Kia started talking about making a plug-in hybrid variant of the crossover, having gained popularity sooner than expected. Before the end of 2017, that's exactly what they did – the Kia Niro Plug-in Hybrid was officially added to the lineup.
Now, with Kia models getting all new looks like the 2019 Kia Sorento , the Kia Soul EV is also getting some changes. Said to enter its third generation in 2019, word is, the new Kia Soul and Kia Soul EV will be borrowing some tech from the Hyundai Kona, being that Kia Motors is a part of the Hyundai Motor Group. It's not uncommon – Mitsubishi will be doing the same thing with its Nissan-Renault-Mitsubishi Alliance to bring hybrid SUV s to the auto industry.
According to sources from ETNews.com, the next-generation Kia Soul will get a more rugged look to catch the attention of its American buyers with their muscle cars and Demons rolling around. We're not sure if it's a good idea, but the upgraded look is leaning towards more of an SUV than a hatchback, but who knows these days? Maybe an SUV with a turbocharged four-cylinder engine and optional all-wheel drive (at no extra cost) is just what the Kia Motors lineup needs.
There's also the Kia Soul EV to think about. From what we can find, the Soul EV will be getting more Kona tech as it enters the Soul's next generation. This means a larger battery, possibly as strong as 39.2 kWh with 186 miles of driving range. As it currently stands, the 2018 Kia Soul EV has a total driving range of 110 miles. It's not bad by any means, but it could be better. This trip to the Kona side of things may do just that.
With all this talk about electric vehicles, the Kia Niro will also be getting its own electric version. Man, Kia Motors isn't kidding with alternative fuel. For every great selling vehicle that comes out, a hybrid, a plug-in, and/or an electric-vehicle follows. Said to be the Kia Soul EV's big brother, the two may look more like twins if the 2019 Kia Soul EV does in fact get bigger. At the moment, a prototype of the Niro EV is in the testing phase.
Future Concepts
New vehicles are also in testing for the Kia Motors lineup. Last year we heard about the Kia Stonic , currently only being sold overseas (boooo). Let's hope the same fate isn't shared by the upcoming Kia Telluride . A hybrid SUV, the Kia Telluride got the greenlight not too long ago and it didn't take much longer for Kia Motors to start testing it. This wicked concept will be the most futuristic, high-tech vehicle to come from Kia Motors yet, so we're really hoping it will come to America as well. Can you imagine the outrage if the Kia Stinger was a Europe-only model? World War 3 right there.
* Maybe not that dramatic, but you get it. Best of all, with all these great Kia Models available, you can find many of them in our new vehicle inventory at Miami Lakes Kia . *
* Photo Source/Copyright: Kia.com *
Previous Post 5 Alternative Fuel Vehicles Made by Kia Next Post Kia Soul Sales Record + a Closer Look at the 2018 Kia Soul