Remarkable 1,300 Horsepower Dodge Charger – Miami Lakes Automall Dodge Remarkable 1,300 Horsepower Dodge Charger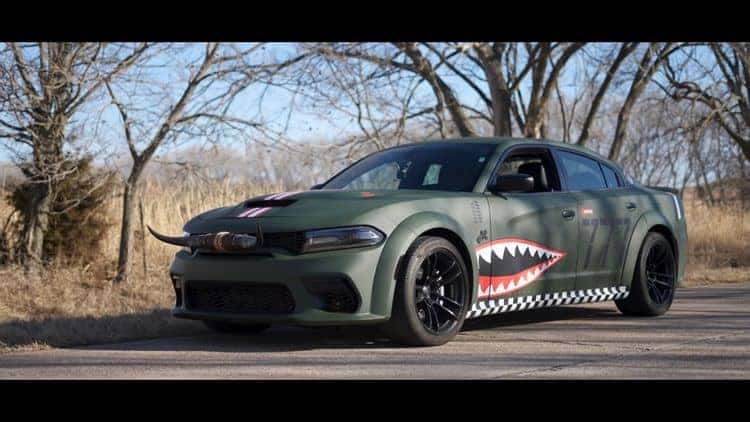 The Dodge brand has been in the news making waves and all sorts of noise to a positive response with its EV muscle car set to debut in less than two years . We can be assured the Dodge brand is set to offer a slew of outstanding vehicles that are electrified and awesome , but for now, the latest news is focused on what we have today like the 1,000 horsepower engine found in a modified 1970 Dodge Charger or the 1,400 horsepower Dodge SRT Demon made a few years back. We've shown off some of the most impressive tuneups that Dodge owners have done to modify and upgrade the stock versions of their Dodge muscle cars. A recent example has come out with Westen Champlin's new creation where the uniquely modified Dodge Charger has been revealed on their YouTube channel. Built out of passion and using premium Mopar parts to improve the already powerful Dodge muscle sedan, the YouTuber has crafted quite the outlandish Dodge muscle car build. Westen chose to coax a Dodge Charger Hellcat with nearly double the force Dodge supplies customers with, that's what took this car to an upper echelon.
Dodge Charger Now and Then
Today, the seventh-generation Dodge Charger has been around since 2011 and will be phased out when the newest generation arrives sometime after next year. There was a refresh back in 2015, the same model year as the one this team changed up. Nowadays, the 2022 Dodge Charger starts from $33,000 MSRP (Plus destination fee) with a V6 engine, from $40,000 MSRP customers can acquire the 5.7-Liter V8 R/T version but at $75,000 MSRP the Hellcat sedan is available. Dubbed the HellJet, this outlandish invention supports a uniquely styled khaki green matt paint, a HellJet logo, labeled 777 on the sides, and jet-fighter teeth behind the front wheels. Those wheels are located in black, but the standout feature would have to be the bullhorns up front, though that's still not all.
Perks of Something Special and Fierce
Westen does a burnout inside an active garage with exotic cars and has the goods revealed under the hood to reveal a tremendous new powertrain. The HellJet harbors the most recent supercharged 6.2-Liter Hellcat V8 that has also been twin-turbocharged with a Hellion turbo kit for a total of 1300 total horsepower, roughly 583 more horsepower than granted on the standard Dodge Charger Hellcat. They also moved a retired Dodge police vehicle, pushed up the engine output from 370 horsepower from the mid-tier 5.7-Liter V8 engine to a brand new Hellcat engine that delivers 707 horsepower and 650 lb-ft of torque.The entire build was all done from scratch, each part by part and crafted with time and some love. Owning a vehicle comes with the freedom to drive and enjoy the experience, but don't put up with nagging noises, on-going engine troubles, or neglecting to tune up and prepare a vehicle for safer travel. We do more than just oil and tire changes at Miami Lakes Automall !
Experience Dodge the Way We Do!
Don't hope to experience any Dodge any longer, test-drive with us today! Our professional staff is ready to help our guests buy, lease, sell or trade-in your vehicle and receive an excellent deal. Our inventory of new vehicles and the line-up of over 400 pre-owned vehicles is second-to-none!
Dealing with any current or on-going issues with your current vehicle lately? Let us help. Our service team will make sure you're back on the road quickly with a simple appointment . Allow our friendly service techs to resolve any vehicle problems in a timely fashion.We look forward to being your center for all things automotive at Miami Lakes Automall .
Photo Credit: Westen Champlin YouTube Channel
Previous Post Stellantis Growing Their Dodge, Other Brands By Leaps and Bounds Next Post A Hurricane Is Coming To Future Dodge Vehicles