Mitsubishi Reveals Specs for 40th Anniversary Special Edition Outlander and Outlander PHEV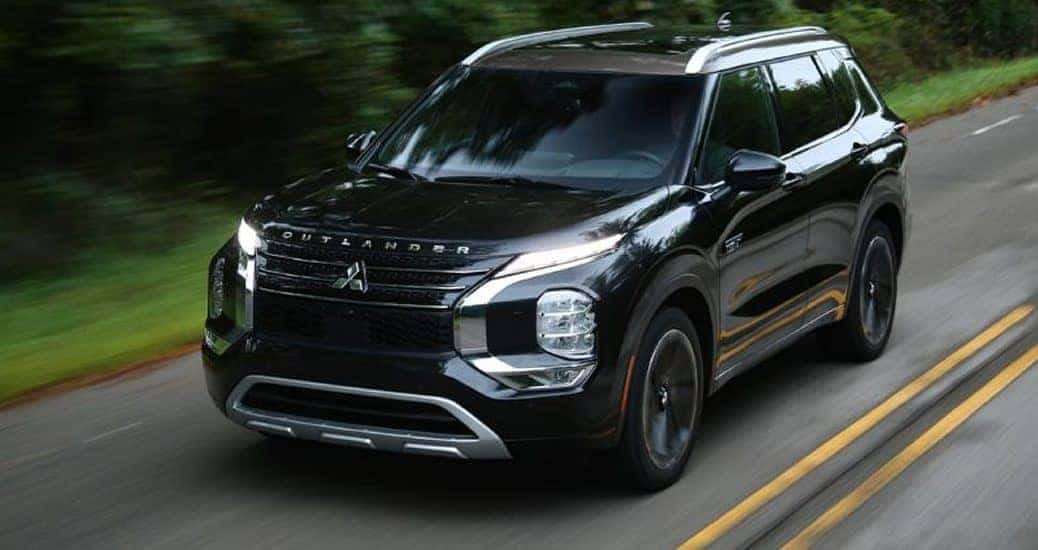 Mitsubishi Motors has been selling in the States since 1982. The automaker has been in business for over 100 years, but when it comes to the states, it's been a little over 40 years. In fact, the real 40-year anniversary was back in 2021/2022. Mitsubishi Motors North America (MMNA) decided to celebrate with a new generation of the Mitsubishi Outlander SUV for the 2022 model year (skipping 2021), and then introducing a new and revised Outlander plug-in hybrid (PHEV) for the 2023 model year. Well, isn't done celebrating its time here in the U.S., because in 2023, a new special edition 40th Anniversary model is being released for the Outlander and Outlander PHEV.
Built off of the SEL Premium package, consumers can expect a higher cost than usual for these special editions. The 40th Anniversary Special Edition of the Mitsubishi Outlander starts at $39,995 (plus destination fee). This price includes some nice additions, starting with a unique Black Diamond paint job and a unique Bronze roof. That roof also comes with a power panoramic sunroof for a clear view of the skies and a little extra sunshine when on the road. The exterior also features Dynamic Shield illumination, door scuff plates, metal cargo scuff plates, a chrome Outlander hood emblem, and a rear bumper protector. To handle any kind of driving conditions, the 40th Anniversary Special Edition of the Mitsubishi Outlander also comes with the brand's signature Super All-wheel Control (S-AWC) all-wheel drive system.
Inside the cabin of the 40th Anniversary Special Edition, consumers can find an illuminated center console; quilted-leather door inserts in black and saddle tan, a black headliner and pillars, and semi-aniline leather-appointed seating surfaces; a Bose Premium sound system; and a 10.8-inch Head-Up Display. Fancy stuff here, and the price definitely matches. For those interested in the Outlander PHEV, the price is a little more hefty, starting at $49,995 (plus destination fee). The sole difference between the two 40th Anniversary Special Edition models is the large battery powering two electric motors in the PHEV – an AC synchronous permanent magnetic motor with a 60kW motor in the front and a 70kW motor in the rear for a a combined 248-horsepower and 332 lb-ft of torque.
Here's a fun fact. Remember that series we did on sports car by Mitsubishi, like the Mitsubishi Lancer Evolution ? We started off the series with the one and only Mitsubishi Galant AMG , back when AMG still wasn't absorbed by Mercedes-Benz, and AMG worked with any automaker that wanted to get a little sports car DNA in their lineup. What may surprise some consumers is that at one point, the Mitsubishi Galant was considered a muscle car more than a sports car. If that sounds silly, the second generation of the Dodge Challenger is a rebadged Mitsubishi Galant. That's bonkers, and it goes to show how long Mitsubishi Motors has seen success in the states, even if under a different guise.
"Throughout the past 40 years, Mitsubishi has earned a reputation in this country for reliable, capable, and convenient vehicles that offer great value, winning the loyalty of many repeat customers… said MMNA President and CEO, Mark Chaffin. Our 40th Anniversary Special Edition Outlander and Outlander PHEV are more than just a celebration of that brand heritage, they are a powerful step forward into our next 40 years of success in the U.S."
Want to get the new Mitsubishi 40th Anniversary Edition of the Outlander or Outlander PHEV? Find new Mitsubishi models at Miami Lakes Automall Mitsubishi . Follow us on Miami Lakes Automall social media to find out when these new anniversary edition models become available.
Photo Source/Copyright: Mitsubishi Media
Previous Post 2023 Mitsubishi Outlander PHEV Named SUV of the Year by Puros Autos Next Post Mitsubishi Vision Ralliart Might Get the Greenlight by 2024