Remember the Mitsubishi Galant AMG?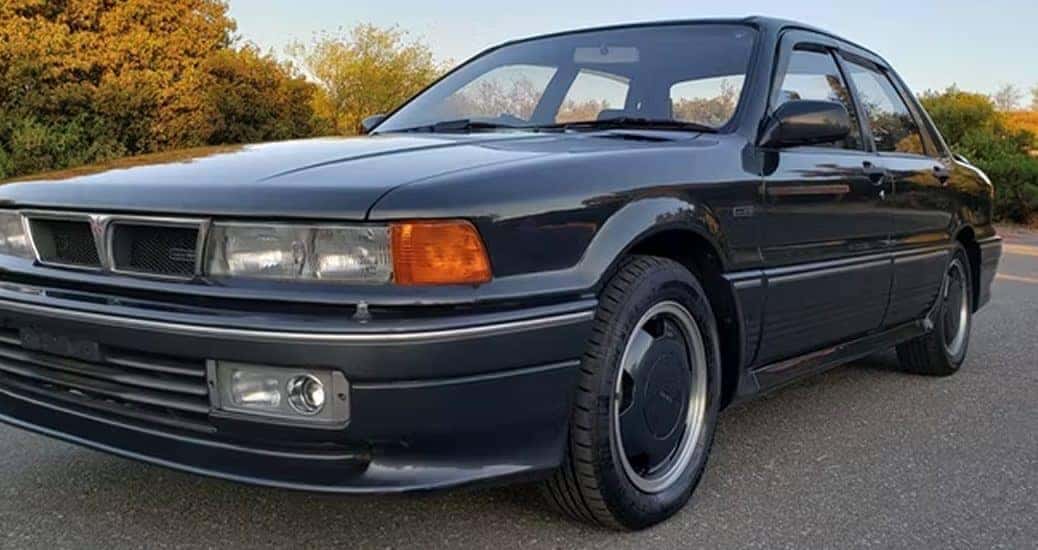 It wasn't too long ago that Mitsubishi Motors sent racing fans for a whirl when the automaker revived the Ralliart team , responsible for turning the Mitsubishi Lancer into the Lancer Evolution, becoming a staple for rally cars and amateur racing fans everywhere. Like Dodge//SRT, the latter is known for taking vehicles fans already love and making them more powerful than ever before. Ralliart does the same, and shortly after its revival, the canceled Mitsubishi Starion 4WD was revealed . Sadly, it would remain canceled, and although the automaker has claimed its only focus is electric vehicle (EV) development, fans of its rally car roots are still hoping for a return of the Evolution nameplate, or even a mashup of Mitsubishi and AMG once more. Sure, the name is mostly associated with Mercedes-Benz these days, but back in 1991, AMG and Mitsubishi teamed up to make a product unlike any Mitsubishi vehicle before it – the AMG-tuned Mitsubishi Galant.
AMG, performance-enhancing folks from Affalterbach, play to the tune of Mercedes-Benz, but before 1999, the group had no ties to any one automaker. If they were willing to pay, then AMG was willing to modify and enhance any vehicle model that came their way. That's what happened in 1991 when about 500 AMG Galants were produced , all exclusive to Japan. It's a surprise, too, because the Mitsubishi Galant AMG was not the first time AMG partnered with the automaker? Ever hear of the Mitsubishi Debonair V 3000 Royal AMG? The partnership can be traced back to 1987, but the body was more so a Debonair with few AMG upgrades, but the name stuck.
Based on the sixth generation of the Mitsubishi Galant, built from 1969 to 2012 across nine distinct generations, the Galant AMG already had some competition to go up against. At the time, the Galant VR4 was released during the sixth generation and competed in the World Rally Championships (WRC) between 1988 and 1992. The VR4 came with all-wheel drive, a turbo engine, 4-wheel steering, ABS, and fully independent electronically-controlled suspension, and of course, a championship title from WRC. Based off of this model, what did the AMG do differently? The Galant AMG was designed to be more of a sports car than a rally car, with a more youthful appearance. Ultimately, the VR4 overshadowed the Galant AMG, and both eventually went out to pasture when the Lancer Evolution came out in 1992.
Even so, the Galant AMG was designed for the times it was released. This included a 2-liter four-cylinder able to generate 143 horsepower and 127 lb-ft of torque that AMG fine-tuned to generate 170 horsepower. This is thanks to new pistons, camshaft, titanium valve springs, and a bespoke high-flow intake and exhaust manifold. In the 80s and early 90s, most automakers needed a turbocharger to match that kind of power. Appropriate styling for the 90s included German-looking wheels and a luxurious cabin . AMG brought its German style to the wheels and the interior with AMG branded door stills, floor mats, and a four-spoke leather-wrapped steering wheel – if consumer wanted to spring a little more cash, full leather seats and traces of wood trims on the dash and center stack were also available. AMG style also flowed across the exterior with a wide-body kit featuring bulkier bumpers, bespoke 15-inch wheels, a rear spoiler, and AMG badges at both ends, on the fenders and wheel caps. With sports cars like this, why would Mitsubishi Motors give up on its rally racecar roots? We can only hope the automaker is planning to release a performance-inspired EV, like the Mitsubishi e-Evolution concept we saw a few years ago. We'll just have to wait and see. You can learn more about Mitsubishi Motors and the future of the automaker when you follow us on Miami Lakes Mitsubishi social media .
Photo Source/Copyright: Mitsubishi Motors
Previous Post Closer Look at Renault-Nissan-Mitsubishi EV Plans Next Post A Look At Mitsubishi Rally Car History with the Lancer Evolution