Kia Telluride May Get a New Off-Road Trim Level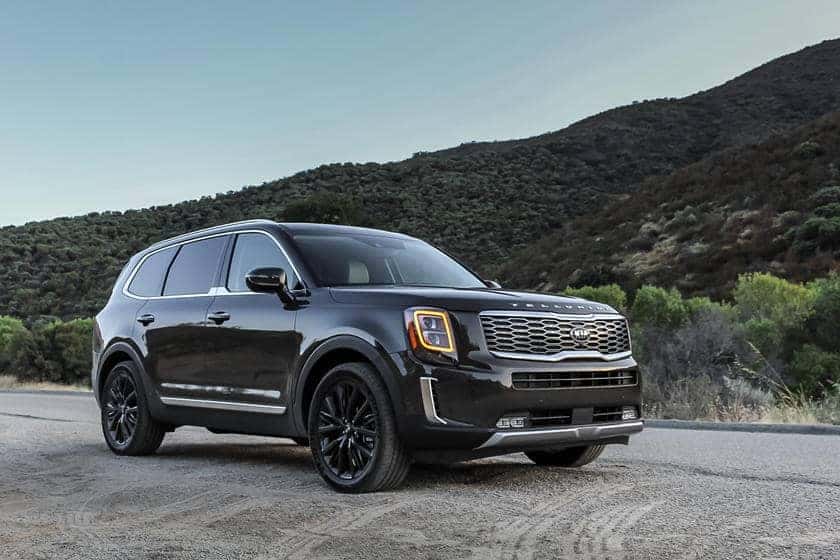 Just last week we were discussing how the 2020 Kia Telluride has won the "Triple Crown" of prestigious Automotive Awards . It's not often that an automobile wins the kind of honor to heralded by _ MotorTrend _ , _ Car and Driver _ , and the North American Car, Utility and Truck of the Year Awards. Yet, the 2020 Kia Telluride was named the 2020 North American Utility Vehicle of the Year from North American Car of the Year (NACTOY); _ MotorTrend _ SUV of the Year ; and landed on a _ Car and Driver _ 10 Best list . With all that already under its belt, we wonder if the large SUV can get any better…and it can! Coming soon to the auto market is a new trim level that makes the Kia Telluride even more luxurious than previously thought possible.
Yeah, it sounds too good to be true. The 2020 Kia Telluride already has great amenities – the high-end trim level offers features many consumers won't find available on competitor SUVs, like second-row ventilated seats, and those SUVs cost twice as much as the Telluride. Is it really possible to get even better while still keeping the Telluride an affordable option? According to an internet rumor from AutoSpies, there could already be something in development. You know what they say about internet rumors.
Don't trust them, especially without a source. So, take all of this with a grain of salt, but the report from AutoSpies suggests a new trim level is coming to the Kia Telluride that gives it a more rugged and off-road look. This new trim level comes with a two-tone roof, an off-road package with skid plates, a brush guard, and knobby tires. The report also mentions an increased number of exterior and interior color options. When the Kia Telluride was first making its debut, there were many concepts that demonstrated the versatility of the SUV. Since then, it's become a little mainstream.
This new unnamed trim level could change remind consumers what the Kia Telluride is capable of aside from being the largest SUV in the lineup. One of the concepts Kia released was an off-road-oriented Kia Telluride. At 2018 Fashion Week – yes the Telluride concepts date that far back – a Kia Telluride off-road concept was put on display. This model was painted in a dark-gold green color and came equipped with off-road gear, including off-road bumpers, skid plates, an exterior spare tire carrier, a roof rack, an air intake snorkel, leather-trimmed side mirrors. There was even a ladder installed into the side of the body to help consumers reach the high roof rack on top of the large SUV. It sure sounds like an off-road-ready vehicle.
At the 2018 SEMA Auto Show, Kia Motors showed four other concepts that demonstrated the versatility of the Kia Telluride. These concepts ranged from hardcore off-road accessories like custom brush guards and skid plates to equipment for adventure like a roof rack with an LED light bar, Black Rhino 32-inch wheels wrapped in Milestar Patagonia mud terrain tires, and even roof-mounted rotopax for extra gasoline when going far out to the middle of practically nowhere. You know, adventure stuff.
The other half to this rumor from AutoSpies suggests that this new Telluride will be the GT trim level Kia Motors is intent on adding to all of its models. It could also be an addition to the EX Designer Collection due to the popularity of the Telluride since its release in March 2019. Whatever the case, a rumor is just a rumor for now. Follow along with us on Miami Lakes Kia social media to learn what happens next.
Photo Source/Copyright: CarBuzz
Previous Post Kia Motors Announces "Yards Against Homelessness" Initiative Next Post Pictures of New 2021 Kia Sorento Leaked