How the Kia Stinger Breaks the Sports Car Mold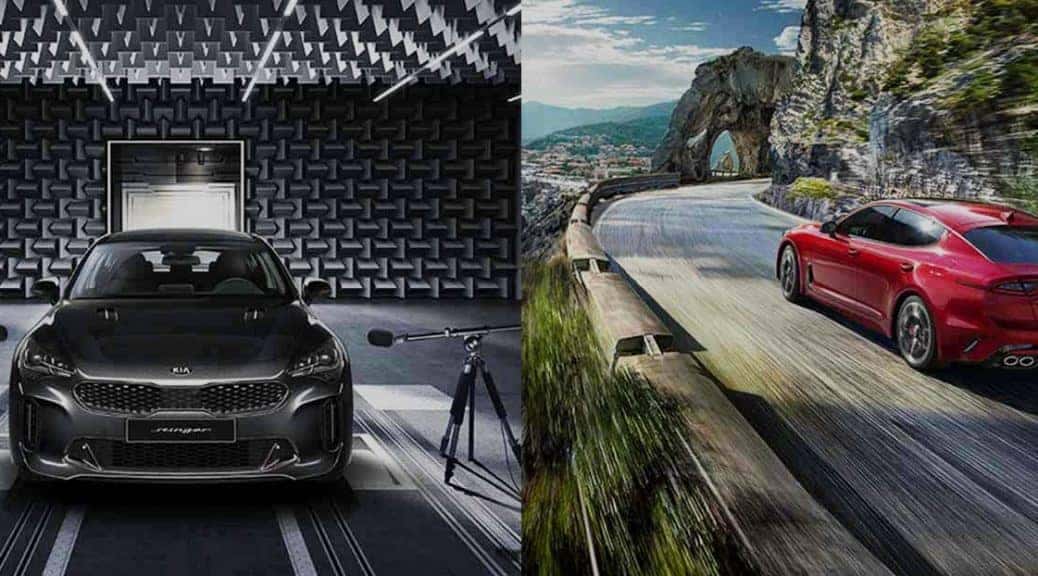 Is there really anything else we can say about the 2018 Kia Stinger that hasn't been said already? The 2018 Kia Stinger Continues to Win Awards from all sorts of big names in the industry, most recently the interior of the Kia Stinger Won the 10 Best Interiors Trophy from WardsAuto and was named by the _ U.S. News & World Report _ for " Best Four-Door Sports Cars ". The 2018 Kia Stinger is also an affordable sports car that beats the competition of expensive and "fast" vehicles. Is there really anything else? Well, sometimes it takes a keen eye and a little curiosity to notice the smaller things that make this sports car something unique.
Style
Let's talk about style. The 2018 Kia Stinger is one sexy-looking machine, mechanophilia's rejoice! Not only is the Kia Stinger immediately recognizable, but it can attract car enthusiasts and sports car lovers within a 50-foot radius (this actually happened, no joke). But there is something quite obvious about the Kia Stinger that we'd like to mention. The 2018 Kia Stinger is a sports car – not an SUV, not a crossover, not a truck. Thank the Automotive Gods we don't have to deal with another SUV or crossover. Sure, the auto market is shifting towards crossovers , but we don't all want a big car. So it's nice to see a change by a well-known and loved automotive brand, Kia Motors.
And do you know why the 2018 Kia Stinger won the "10 Best Interiors Trophy from _ WardsAuto _ "? It could be because every trim of the Kia Stinger features leather upholstery; or because the Stinger, yet elegant, roomy, and athletic, takes some cues from the popular Kia Optima for a roomy and comfortable cabin; or because the interior is designed intuitively, giving drivers a sense of a second skin or an extension of themselves. Now that is something you won't hear about most automobiles.
Convenience
This is a small tidbit to point out, but this surprised us when we got our hands on a Kia Stinger. Did you know it's a hatchback? No seriously, the 2018 Kia Stinger is a 5-door sports car. Unlike the typical crossover or wagon-type vehicle that uses a hatchback trunk design, this is a sports car that can double as a family passenger vehicle with 23.3 cubic-feet in the trunk and a 60/40 split-folding rear bench seat for longer items. Very unexpected, but just one more reason to check out the 2018 Kia Stinger.
Attitude
Oh yeah, every muscle car enthusiast knows a sports car needs to have attitude if it's gonna show its face at the race track. The Kia Stinger is _ all about _ attitude. Even the name, "Stinger" is pronounced, definitive, and iconic. Like the Dodge Challenger or the Chevrolet Corvette, people know what vehicle you're talking about when you say the "Kia Stinger". Kia Motors has stated they're moving forward with vehicle design and engineering, and the Kia Stinger is the first vehicle to take them there with its swept-back roof, aggressive front fascia, and how well it handles the road.
Kia Motors also said they're intent on making vehicles that drive as good as they look, and drivers can feel the difference when fiddling with the various driving modes. In many cars, nothing really feels different when switching between the various modes offered – that's not the case with the Kia Stinger. For one – Eco will adjust the throttle response to optimize the vehicles fuel efficiency whereas Sport mode will have this sports car riding on rails with excellent response to the driver.
*
Looking for a sports car that breaks the mold? It should be obvious, but the number one choice is the 2018 Kia Stinger . *
* Photo Source/Copyright: Kia.com *
Previous Post The 2019 Kia Optima Comes With a Few Updates Next Post Kia Motors Leading Auto Brand in 2018