The 2019 Kia Optima Comes With a Few Updates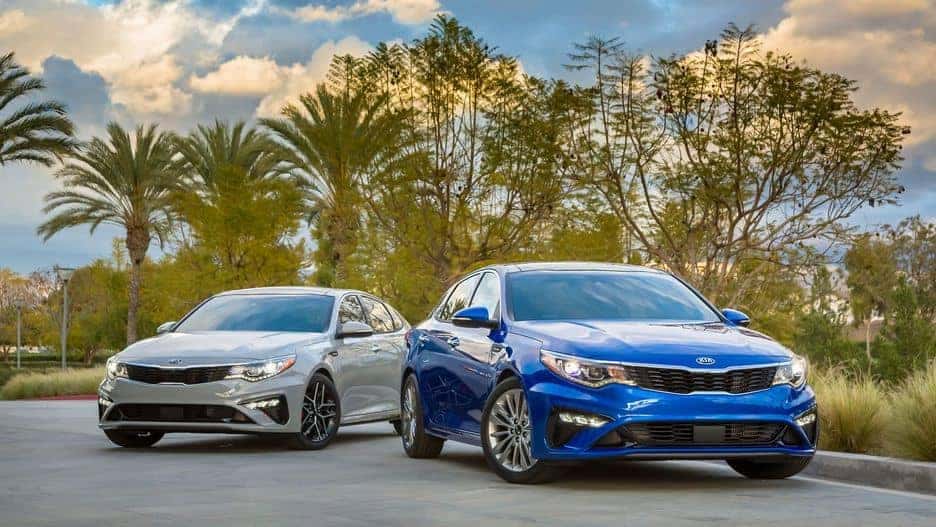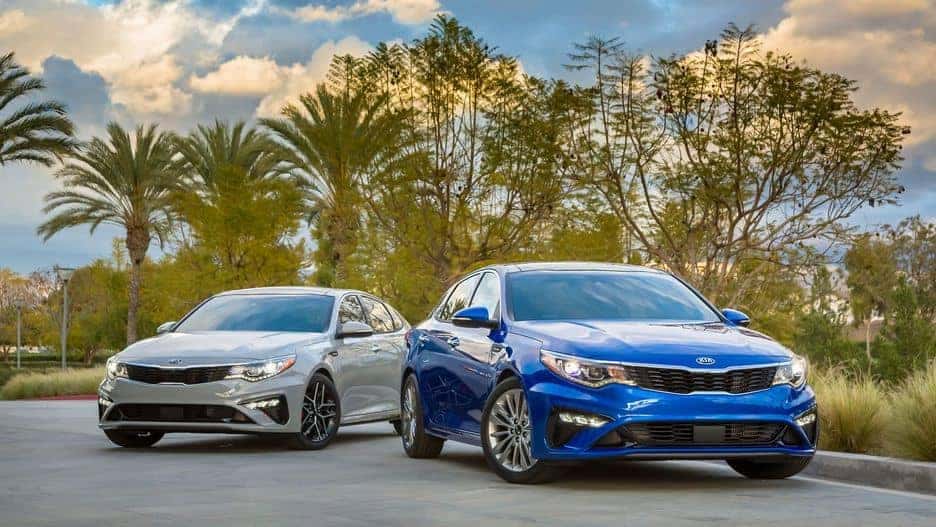 The Kia Optima has been one of the major bread winners for Kia Motors for years now, and because of that, it's not going anywhere anytime soon. Currently in its fourth generation and having produced a hybrid and plug-in hybrid variant, the Kia Optima enters its 2019 model year with updates to give its competitors a run for their money. We can already see Kia Motors winning many awards in 2019 with the likes of the Kia Optima in tow. Check out these highlights for a peek at what's to come with the 2019 Kia Optima.
Powertrain
The powertrain for the 2019 Kia Optima is unchanged – the 2.4-liter DOHC, turbocharged 1.6-liter DOHC, and turbocharged 2.0-liter DOHC engines are all still there for their respective trims. With an affordable price range, many consumers tend to lean towards the high-end 2018 Kia Optima SX for the turbocharged 2.0-liter DOHC engine for a boost of 245 horsepower and a fuel economy of 22 mpg in the city and 31 mpg on the highway. Moreover, the Optima SX offers several driving modes that can enhance their driving experience.
Offering Comfort, Eco, Sport, and Smart, drivers can either: (1) set the driving mode to Comfort, or what can be described as granny driving, (2) go the fuel efficient route with Eco, (3) turn on Sport for an amazing driving experience with great control and handling, or (4) turn on Smart, the setting that will adapt to the driver's style. It's nice to have choices, isn't it? And the 2019 model comes with the added "Comfort" and "Smart" driving modes, whereas the 2018 model only has "Normal, Eco, and Sport".
Style
The Kia Optima may not share the same style as the Kia Stinger , but we do think the Kia Optima compares with the Kia Stinger well in terms of a great Kia Motors vehicle. Plus, along with redesigned LED running lights, fog lights, and headlamps, the 2019 Kia Optima gets a little taste of Kia Stinger style in the front fascia. Overall, the Kia Optima was already attractive to begin with. The inside hasn't changed much either, but a fancy, two-tone red-and-black leather upholstery option has been added to the Optima SX trim.
Tech and Safety
Kia Motors has never shied away from putting its infotainment system with UVO eServices on every vehicle trim, but this year, Kia has made an interesting choice with its entertainment options. Previously only known as UVO on a 7-inch touchscreen and UVO with voice-command navigation on an 8-inch touchscreen, now consumers will be getting UVO Play, UVO Link, or UVO Link with Navigation. UVO Play will be standard, offering the usual radio, iPod, Apple CarPlay, and Android Auto capabilities on an 8-inch touchscreen. UVO Link will add satellite radio, a 4G LTE Wi-Fi hotspot, and onboard vehicle diagnostic tools, and UVO Link with Navigation of course simply adds GPS navigation to the infotainment system package. The navigation system has also been replaced with a new, smarter version.
As usual, Kia Motors vehicles are safe, and the 2019 Kia Optima is as safe as ever. Like on the 2018 model, blind-spot detection, lane change assist, and rear-cross traffic alert are standard across the lineup. For 2019, lane departure warning, forward collision warning, and lane departure warning are also becoming standard systems, along with the new Kia Motors driver attention warning system that warns the driver if it notices uncommon driving behaviors. Automatic emergency brakes and adaptive cruise control would be nice too, but that's why the high-end trims are also affordable.
* The 2019 Kia Optima sure has some changes, but they're all welcome to those who love a good Kia vehicle. Find yourself a new Kia vehicle at Miami Lakes Automall . *
* Photo Source/Copyright: Cnet.com *
Previous Post Two Kia Hybrids and the Kia Stinger Named by U.S. News Next Post How the Kia Stinger Breaks the Sports Car Mold