Two Kia Hybrids and the Kia Stinger Named by U.S. News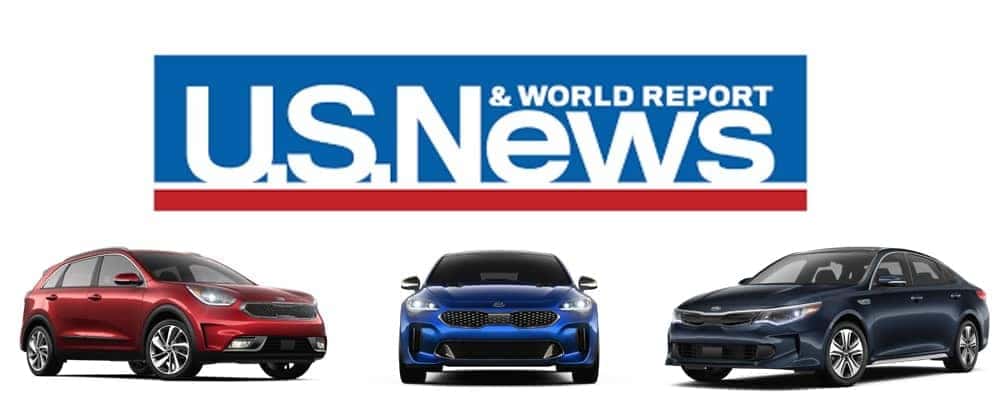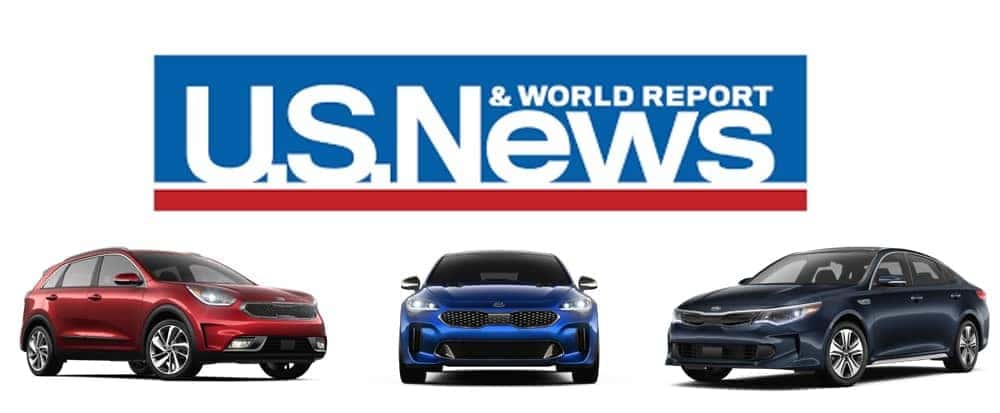 Kia Motors is super popular as of late. Many organizations and news sources, including the Insurance Institute for Highway Safety and _ U.S. News & World Report _ , are heralding many Kia vehicles. Two of Kia Motors' newest vehicles, the Kia Stinger and the Kia Niro were both named on a list by _ U.S. News & Report _ , along with the Kia Optima Hybrid. Both, the Kia Optima Hybrid and the Niro hybrid crossover were also named on the same list. Can you guess what list? It has to do with their fuel type.
U.S. News List of Best Hybrids
Yes, the 2018 Kia Niro and 2018 Kia Optima Hybrid have both been named on the _ U.S. News & World Report's _ list of best hybrids on the auto market today. Cheers! If thinking about making the switch to a more eco-friendly way of driving, then one of these hybrids is the ticket to get going. Looking for the flexibility of a crossover, or is the handling and a control of a sedan a better fit? It all comes down to lifestyle.
We can understand why both of these Kia Motors vehicles made the list. To start, the Kia Niro is the world's first hybrid crossover. Powered by a combination of two different power sources working together, an internal combustion, or a 1.6-liter four-cylinder engine, and a 1.56 kWh lithium-ion polymer battery and generator attached to an electric motor. Together, the hybrid system produces 139 horsepower and 195 lb-ft of torque. Paired with a six-speed dual-clutch transmission, _ U.S. News & World Report _ points out the substantial fuel economy not normally found on larger vehicles.
"It's EPA rated to earn up to 52 mpg in the city and 49 mpg on the highway. If you want to get that kind of mileage, however, you'll want to opt for the base model … Also making the Niro stand out from competitors in the SUV hybrid world, was the model's offering of a six-speed automatic transmission, one of only a few hybrids that feature it" – John Vincent, writer of _ U.S. News & World _ Report.
The 2018 Kia Optima Hybrid is a true classic and just as deserving to be on the list. Powered by a 2.0L Full Parallel Hybrid System, like the Niro, the Optima Hybrid is powered by an internal combustion engine, a 154hp 2.0-liter DOHC 16-valve engine with continuously variable valve timing (CVVT) and gasoline direct injection (GDI), and a 1.76 kWh lithium polymer battery able to generate 50 horsepower. Together, the hybrid system can deliver 192 horsepower and 271 lb-ft of torque, and is paired with an electronically controlled 6-speed automatic transmission.
Honestly, hybrid or not, the Kia Optima is one of Kia Motors' most well-known vehicles as well as of high quality. We even compared the Kia Optima and the Kia Stinger to show how well the two lineup if looking for a good looking Kia for a more affordable price. Speaking of which, as we mentioned, the Kia Stinger also ended up on an interesting list.
U.S. News Best Four-Door Sports Cars
Now there's a term you don't see every day. "Four-door sports cars". Off the top of our head … Dodge Charger and Kia Stinger. Many other sports cars only come with two doors, for some reason.
Either way, the Kia Stinger is a sports car that continues to impress and win awards. Having quickly gained favor with sports car enthusiasts, the Kia Stinger is known as a thrilling performance vehicle to automotive enthusiasts. The Kia Stinger is even better than many high-end high-class sports cars that are more expensive than they are fast.
"Kia built a legitimate sports sedan, and it is legitimately impressive. The all-new Stinger earns one of the top spots in our luxury small car rankings, and it can hold its own against most of its rivals in terms of comfort and performance, despite its much lower price," – Cherise Threewitt, U.S. News & World Report Writer.
Whether going with the Kia Stinger base or Kia Stinger Premium trims, or the Kia Stinger GT trims, a consumer can get power. The Kia Stinger base and Premium are powered by a twin turbocharged 3.3-liter V6 engine, capable of churning out an impressive 255 horsepower and 260 lb-ft of torque. The Kia Stinger GT, GT1, and GT2 are all equipped with a twin scroll turbocharged 2.0-liter four-cylinder engine that puts out a massive 365 horsepower and 376 lb-ft of torque. All trims are paired to an eight-speed automatic transmission.
* Find these Kia model favorites and more when you visit Miami Lakes Automall. *
* Photo Source/Copyright: Kia Ad Planer and USNews *
Previous Post Two More Kia Models Named for Their Safety Next Post The 2019 Kia Optima Comes With a Few Updates