Comparison of the 2018 Kia Stinger and Kia Optima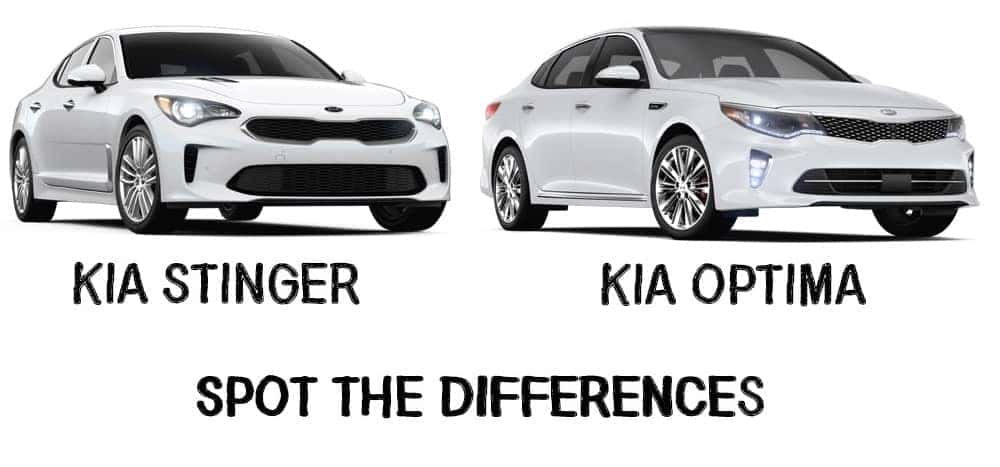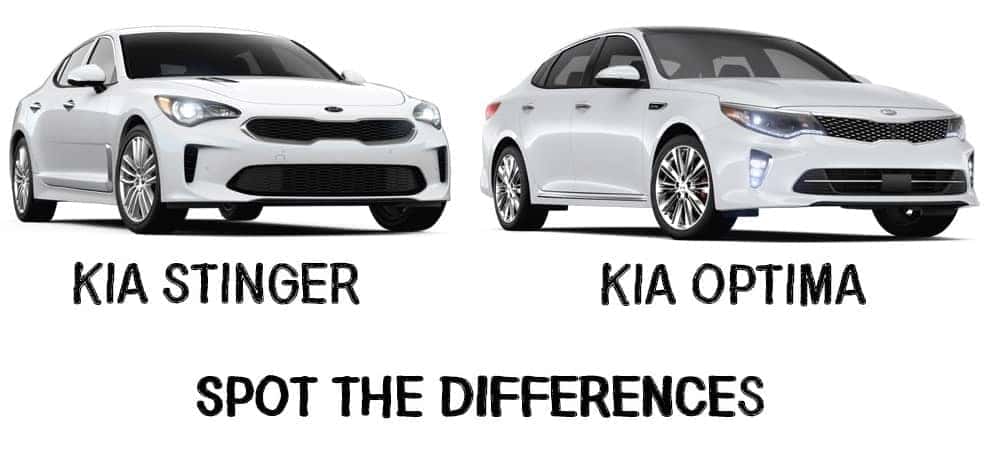 Man, we _ love _ the new 2018 Kia Stinger . We love how the Kia Stinger wins so many awards , most recently for best interior by _ WardsAuto _ , and we loved throwing a little dirt at all the expensive fast cars that can't match the Kia Stinger GT . The 2018 Kia Stinger GT is also pretty affordable … but what if looking for a Kia vehicle as cool as the Stinger, without the powerful engine and maybe a smaller price tag? Maybe a gift for a new teen driver that isn't crazy about hatchbacks like the Kia Soul ? The 2018 Kia Optima is said to be a bit of a luxury sedan, and we're going to show you why with a comparison between the Kia Optima and the Kia Stinger.
Powertrain
Both Kia models have five trims, with the Kia Optima lineup consisting of the LX, S, LX 1.6T, EX, and EX trims, and the Kia Stinger lineup with the 2.0L, Premium, GT, GT1, and GT2 trims. Three engine options are available on the 2018 Kia Optima, with the base starting at $22,600, powered by a 2.4-liter DOHC inline 4-cylinder engine optimized by dual continuously variable valve timing (CVVT) for better performance and fuel economy. This vehicle can generate 185 horsepower and, paired to a six-speed automatic transmission, has a fuel economy of 25 mpg in the city and 36 mpg on the highway. The Kia Stinger 2.0L starts at $31,900 and is powered by a twin scroll turbocharged 2.0-liter DOHC 4-cylinder engine, also optimized with CVVT. The Stinger 2.0L can generate 255 horsepower, is paired to an eight-speed automatic transmission, and has a fuel economy of 22/29 mpg city/highway if driving on rear-wheel drive – 21/29 mpg city/highway if opting in for all-wheel drive, for another $2,200.
Style
The 2018 Kia Optima may not be as flashy as the 2018 Kia Stinger, but the two share similar standard features, such as heated exterior mirrors with LED turn signal indicators, solar control class, automatic headlamps and sound-absorbing front door windows (optional add-on on the Kia Optima). We won't argue that the interior of the 2018 Kia Stinger is essentially better, with leather upholstery as a standard for the lineup. The 2018 Kia Optima does save some convenient interior features for the high-end trims, like dual-zone automatic temperature control, smart-key with push-button start, and an auto-dimming rearview mirror, but if going for a first car, those are all really novelties (but standard on the 2018 Kia Stinger).
Entertainment
Especially if this a first car for a lucky teenager we're shopping for, the sound system and entertainment will be all they care about. Both base trims, the 2018 Kia optima LX and 2018 Kia Stinger 2.0L come with UVO eServices on a 7-inch touchscreen display, capable of Apple CarPlay and Android Auto, Bluetooth wireless technology, and powering a six-speaker stereo system. Not bad for a first-time setup.
Safety
We're betting this is where most parents will be looking towards if shopping for a teen driver. The 2018 Kia Stinger is flashy, and made for those who want a little more throttle on the road, it is a sports car after all. The 2018 Kia Optima is not made for racing down the highway, but also has some extra security.
Both models come with a rear-camera display to help with backing up, but aside from the Kia Stinger having front and rear parking assist, with the Kia Optima only having rear parking assist, the rest of the advanced automatic safety features available today are all add-on options part of Kia Drive Wise Package. These include Advanced Smart Cruise Control (ASCC) with Stop and Go, Blind Spot Collision Warning (BCW) with Lane Change Assist, Driver Attention Warning (DAW), Electronic Parking Brake (EPB), Forward Collision Avoidance (FCA), Forward Collision Warning System (FCWS), High Beam Assist (HBA), Lane Departure Warning (LDW), Lane Keep Assist System (LKAS), Rear Cross Traffic Collision Warning (RCCW), and Rain Sensing Variable Intermittent Windshield Wipers, all for an additional $2000. The 2018 Kia Optima comes standard with blind spot detection, lane change assist, and rear-cross traffic alert – great safety features for drivers who may be a little too distracted or not used to sharing the road with other drivers on the highway.
* Honestly, the 2018 Kia Stinger is an amazing vehicle, but if on a tighter budget, or shopping for a teen driver, the 2018 Kia Optima may be a better place to start. *
* Photo Source/Copyright: Kia Ad Planner *
*Plus destination fee
Previous Post Five Affordable Vehicles at Miami Lakes Automall Next Post 2018 Kia Soul Named by KBB on Coolest Cars Under $20K List