HMG and Kia Extend Partnership with Michelin for Next-Gen EV Tire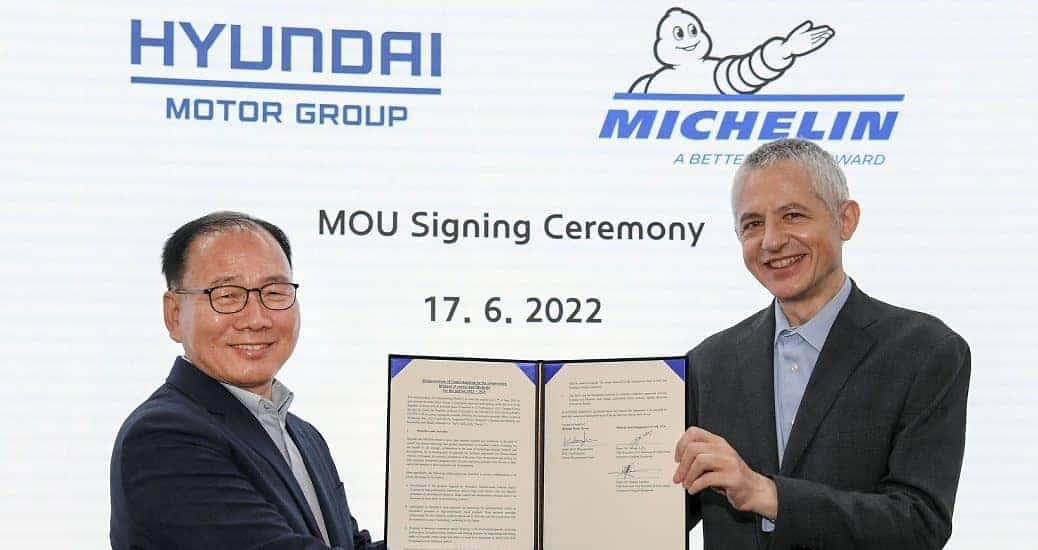 Automakers from all over the world have been busy signing partnerships and contracts to boost their resolve for the shift to electric vehicle (EV) and battery-electric vehicle (BEV) production. Some automotive groups have been a little late to the party, but the same can't be said for the Hyundai Motor Group (HMG). With Kia Corp under the umbrella, the South Korean automaker has been steadfast in producing EVs, claiming to be the next all-electric automaker and shifting its resources into EV production. With a recent increase in investing into EV production, Kia will also benefit from the new contract between HMG and Michelin to develop the next generation of tires for premium EVs and work towards clean mobility.
This won't be the first time the two names have worked together. In fact, the new agreement is a follow-up to a preceding five-year partnership that was signed in 2017. The partnership helped to develop exclusive tires, notably for the Hyundai IONIQ 5. Extending this new partnership, over the next three years, the goal is to jointly develop new innovations in EV tires, including eco-friendly tires with made from more eco-friendly materials; tires optimized for next-generation EVs, and a real-time tire monitoring system that will one day help advance the development of autonomous driving technology.
"The collaboration between Hyundai Motor Group and Michelin over the past five years contributed to the successful launch of the Hyundai IONIQ 5…We are pleased to announce that the relationship has been extended for three more years to continue our work together on new technologies in favor of safer, cleaner mobility. The association between Hyundai Motor Group and Michelin is founded on the same vision and on a shared passion for excellence, performance and innovation that have become increasingly essential factors as we rise to the mobility-related challenges we all face today." – Georges Levy, Executive Vice President of Automotive Original Equipment at Michelin
The signing ceremony happened on June 17 at the HMG's Namyang Research Center, attended by Bong-soo Kim, Vice President and Head of Chassis Development Center at Hyundai Motor Group and Levy. Furthering the plans of HMG and Kia Corp, according to the Plan S Strategy and plans for Kia in 2030 , about 14 models are said to be developed between 2023 and 2027. That's a whole lot of rubber, but the next-generation tires being developed between HMG and Michelin will become a hallmark future premium EV models. Automakers like Kia Corp are not only focusing on fuel efficiency with EVs. The new fashion is EV performance vehicles, and that requires new tire technology that can design tires that meet the durability requirements while also increasing the performance and efficiency of EVs as driving range continues to increase. The 2022 Kia EV6 has a range of 232 miles to 310 miles, depending on the trim and equipment.
With automakers also striving towards cleaner mobility solutions for future lineups, the new tires by HMG and Michelin will also increase its use of eco-friendly materials in tires to 50-percent. In addition to a change in tire construction, these new tires are also being designed to reduce the vibration and noise that may be generated by EVs at high speeds, evidently improving driver and passenger comfort. Both parties will also being conducting joint research to analyze tire wear, tire load, and road friction and testing tire temperature and air pressure. Want to keep up with all the new developments for Kia vehicles? Stay informed when you follow us on Miami Lakes Kia social media . You can also find the new Kia EV6 at Miami Lakes Automall .
Photo Source/Copyright: Kia Media
Previous Post Kia EV6 Lands on WardsAuto 10 Best Interiors & UX List Next Post Kia Forte Ranks Highest During 2022 J.D. Power IQS