New Patent Hints at Ram 1500 With New Grille and Off-Road Equipment – Miami Lakes Automall Ram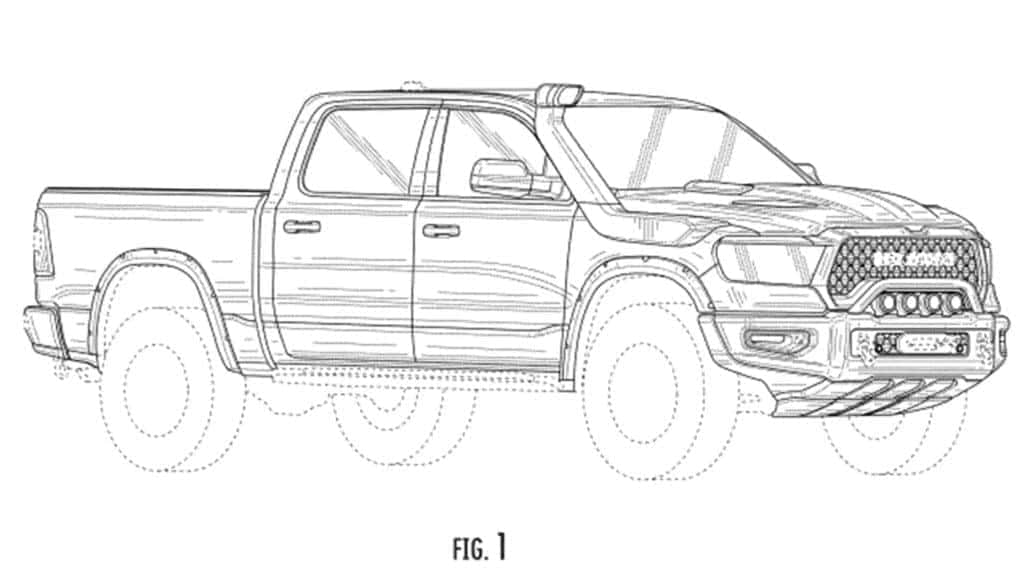 A new patent was recently released depicting a Ram 1500 with a new grille design. The patent also showed the heavy-duty pickup equipped with some new off-road equipment including a snorkel design. This is good news for Ram fans as it may indicate a new mid-cycle refresh is in the works. As of late, Ram has been working on its first electric vehicle, the all-new 2024 Ram EV . The automaker has been busy gauging consumer sentiment for its all-new EV in order to create the ultimate electric pickup. Other vehicles Ram has been working on include the all-new 2023 Ram ProMaster van . For now, we'll take a look at this new patent and see what Ram could have in the works.
New Ram 1500 Revealed in Patent
Ram has recently unveiled a new patent for a Ram 1500 pickup. This patent shows the heavy-duty pickup with a new grille design as well as some new off-road equipment. This patent was published in April of 2022, so the new pickup is most likely still in production. Although Ram has been busy working on its all-electric Ram EV, the automaker is still making time to refresh its lineup. While Ram has offered consumers powerful new trims with high-performance features like the 2022 Ram 1500 TRX , this new model looks to feature more off-road capability.
The Ram 1500 depicted in Ram's new patent appears to have a new grille design. The heavy-duty pickup also looks to have new auxiliary lighting attached to the front grille. What leads many to believe this Ram model will feature more off-road capability is the fact that there is a built-in winch along with fender flares with exposed bolts. There is also a large air intake snorkel. Snorkels are typically used on off-road vehicles as a means to prevent dirt and water from entering the engine.
The last time the Ram 1500 featured a new redesign was in 2019. This new patent could be a mid-cycle refresh for the pickup as Ram aims to improve its lineup with new features and technology. Since it looks to be an off-road-oriented vehicle, Ram may offer several other trims that also feature the new redesign. We'll have to wait for more information, but this is great news for Ram fans.
Come Test Drive a Brand-New Ram at Miami Lakes Automall!
Are you excited about getting a new Ram ? So are we! At * Miami Lakes Automall *, we're more than excited to help our customers find what they're looking for. Check out our new vehicle inventory or browse our quality pre-owned vehicles . We offer suggestions like auto financing to help make paying for a vehicle easier.
If you're in need of service, schedule an online service appointment with our expert technicians. Allow our professional techs to get started on all repairs or maintenance work. Stop by today and see what we can do for you right now.
Photo Credit: Ram
Previous Post Ram to Gather Feedback About 2024 Ram 1500 EV Concept Design Next Post 2022 Ram 1500 Earns Number 1 Spot in Best Truck Ranking