The 2022 Ram 1500 TRX is Unstoppable – Miami Lakes Automall Ram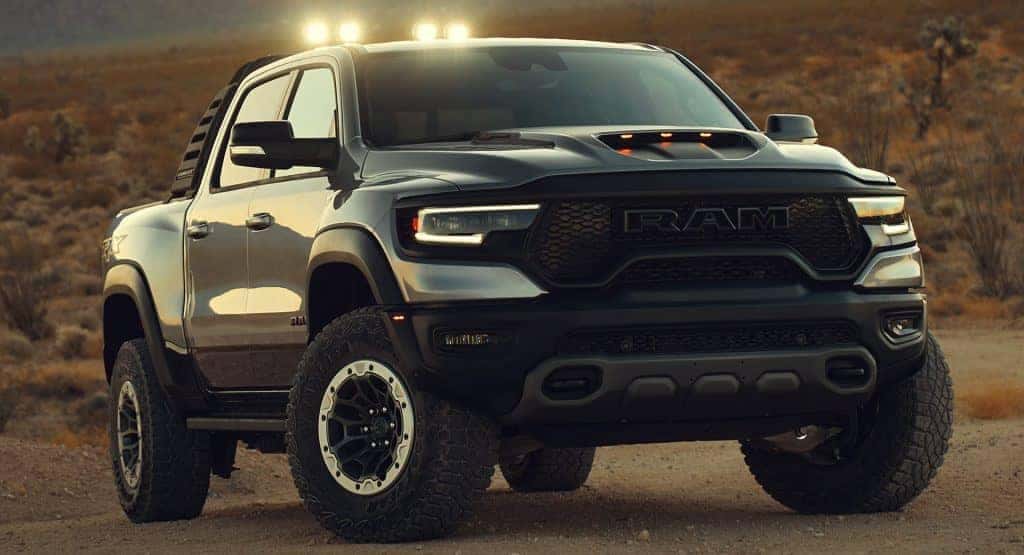 The 2022 Ram 1500 TRX is unlike any Ram pickup truck ever seen before. The 3 and a half-ton pickup truck has the capability and versatility to take on any terrain. Ram has always been known for its tough trucks, but with the 2022 Ram TRX, the automaker has really stepped it up. Just last year the 2021 Ram 1500 TRX received the Texas Truck of the Year award . Now for the 2022 model year, the Ram TRX brings even greater performance. Ram has been working on bringing its all-new all-electric 2024 Ram EV to the market, but it's good to see the automaker constantly upping the ante. We'll take a look at the powerful 2022 Ram 1500 TRX and see what gives it its unstoppable performance.
2022 Ram 1500 TRX Is Unlike Any Other
The 2022 Ram 1500 TRX arrives with a powerful 702 horsepower 6.2L supercharged V8 engine. Paired with an eight-speed automatic transmission, the large pickup is capable of going 0-60 mph in just 3.7 seconds. For a pickup truck, that is almost unheard of. The pickup also comes with easy-to-use controls and a four-wheel-drive system. For those wanting something unstoppable, the Ram TRX is it. The 2022 1500 Ram TRX starts at an MSRP of $78,675 (plus destination fee), but given the power and performance, it may be well worth it.
The 2022 Ram 1500 TRX is quite large. The pickup's dimensions are 19.4 feet long, 7.3 feet wide, and 6.7 feet tall. Owners will enjoy a high-seated position as they traverse cities, highways, and anywhere they decide to travel. With 11.8 inches of ground clearance and 35-inch all-terrain tires, the pickup can go over all types of terrain. The suspension makes sure of this too as it has been tuned for high-speed and off-road performance.
Those looking inside the 2022 Ram 1500 TRX will note an interior that resembles the base Ram 1500. The TRX trim does indulge in luxury however with some Alcantara material, TRX badging, and a carbon fiber upholstery. Owners can also make use of a 12-inch touchscreen infotainment system that comes compatible with Apple CarPlay and Android Auto. There's also a wireless charging port that can be paired with smartphones. The Ram TRX offers a lot. With so much performance stacked in one pickup truck, the 2022 Ram 1500 TRX really does seem to be unstoppable.
Come Test Drive a Brand-New Ram at Miami Lakes Automall!
Are you excited about getting a new Ram ? So are we! At * Miami Lakes Automall *, we're more than excited to help our customers find what they're looking for. Check out our new vehicle inventory or browse our quality pre-owned vehicles . We offer suggestions like auto financing to help make paying for a vehicle easier.
If you're in need of service, schedule an online service appointment with our expert technicians. Allow our professional techs to get started on all repairs or maintenance work. Stop by today and see what we can do for you right now.
Photo Credit: Ram
Previous Post What Will the All-New All-Electric 2024 Ram EV Look Like? Next Post Ram to Gather Feedback About 2024 Ram 1500 EV Concept Design