Mopar Teases Ram 1500 TRX RexRunner and Outdoorsman Concepts – Miami Lakes Automall Ram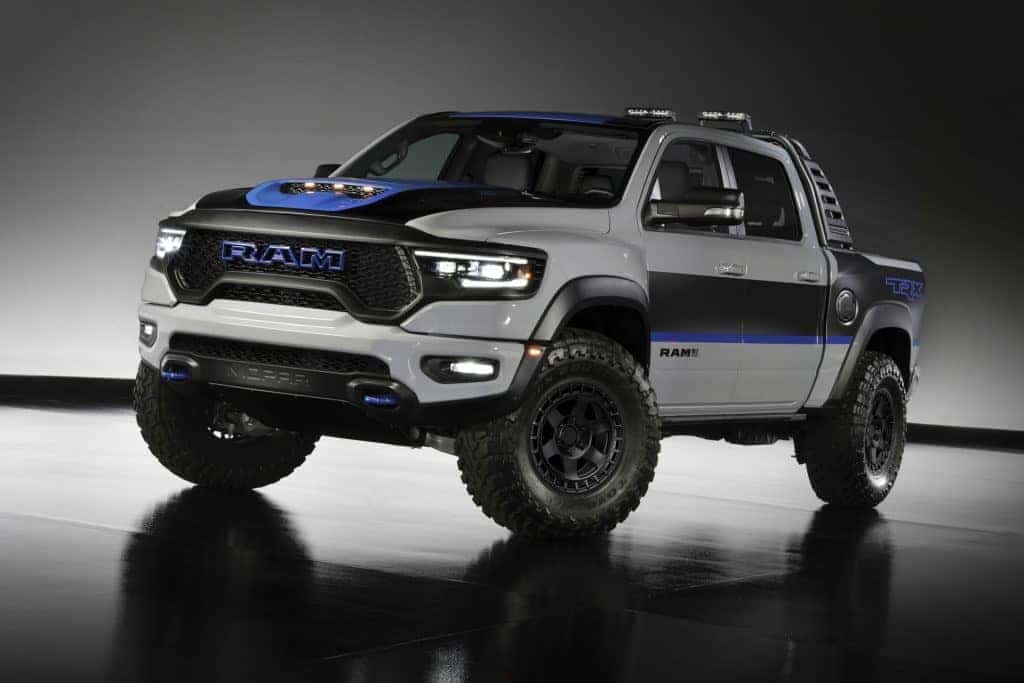 Ram is getting two new concept vehicles courtesy of Mopar. The Stellantis parts, service, and customer care division prepared several vehicles for the 2021 Speciality Equipment Market Association (SEMA) Show. Hosted in Las Vegas, Nevada, the 2021 SEMA Show brings manufacturers and buyers from different segments of the automotive industry together to share new parts, accessories, and concept vehicles. The Ram 1500 has done exceptionally well in recent years. The pickup has been highly rated by the Texas Motor Press Association as the Texas Truck of the Year and it has also been awarded the Light-Duty Pickup of the Year in a recent 2021 APEAL study. Now the iconic Ram pickup will be getting two new concepts, the Ram 1500 TRX RexRunner and the Ram 1500 Outdoorsman. We'll dive into the concept trucks and see what Mopar has to offer for fans of the rough and tough pickup.
Ram 1500 TRX RexRunner
Mopar presented the Ram 1500 TRX RexRunner as one of its concept vehicles at the 2021 SEMA Show. The RexRunner is based on the 2021 Ram 1500 TRX but this pickup gets even more capability and durability. The RexRunner pickup comes equipped with a standard 6.2L Hemi V8 that's capable of 702 horsepower and 650 lb-ft of torque. The truck features 18×9-inch Black Rhino Chamber wheels wrapped in 37-inch Goodyear tires. These give off a race-inspired look which is further complemented by Ash Gray paint and Mopar Blue accents.
The Ram RexRunner also features a RamBar and a pair of 14-inch TYRI rectangular LED lights. A Mopar bed extender that flips inward helps secure tools and a bed liner protects cargo. Enhancing the rough and rugged look of the pickup are custom skid plates with Mopar lettering that protect the truck's underside. These increase the approach angle up to 32.5 degrees while Mopar rock rails protect the side sills. The pickup also gets a custom black flip-top fuel-filler door that accentuates the truck's toughness. Final additions to the RexRunner concept include 5-inch Mopar exhausts in the rear as well as a Mopar bed step with an articulating arm for easy access to the truck bed.
Ram 1500 Outdoorsman
For the Ram 1500 Outdoorsman concept pickup, Mopar used the Ram 1500 Big Horn Crew Cab 4×4 as a base model. The idea around the Outdoorsman concept was that it was to be made for those hard-working consumers that also want an everyday truck. The Ram 1500 Outdoorsman comes with a painted black gloss and custom Mopar blue graphics. Designed for hard work and harder play, the truck comes with a two-height position aluminum Mopar bed rack system that goes the full width of the truck bed. This rack system can hold ladders, plywood, whatever the owner needs. Mounted on the floor of the bed are modified Expertec bed-slides capable of holding 2,000 pounds. These make unloading tools, gear, and equipment much easier. Bed rails are also attached to the inside of the walls of the bed. These come with adjustable cleats that slide to secure loads of all sizes.
The Ram 1500 Outdoorsman comes equipped with all a handyman needs. The pickup features a custom Mopar RamGate workbench on the inside panel of the tailgate. It features conversion charts, an angle finder, and a T-track mounting system that adds additional room for cutting wood, tuning bikes, or sharpening tools. The pickup rides on a 2-inch lift kit with Fox shocks and split six-spoke 20×9-inch Black Rhino wheels wrapped in 35-inch Continental tires. Inside the pickup, owners will note a custom deployable work surface that slides out from the center armrest. It provides 12×14 inches of extra workspace.
Ram fans are getting two new concept pickups. The RexRunner is a sportier version of the iconic pickup while the Outdoorsman takes outdoor work to another level. These two pickups are still concepts but from what we've seen so far, they're two trucks that Ram owners are sure to love.
Come Test Drive a Brand-New Ram at Miami Lakes Automall!
Are you excited about getting a new Ram ? So are we! At * Miami Lakes Automall *, we're more than excited to help our customers find what they're looking for. Check out our new vehicle inventory or browse our quality pre-owned vehicles . We offer suggestions like auto financing to help make paying for a vehicle easier.
If you're in need of service, schedule an online service appointment with our expert technicians. Allow our professional techs to get started on all repairs or maintenance work. Stop by today and see what we can do for you right now.
Photo Credit: Ram
Previous Post 2021 Ram 1500 TRX Receives Top Honor as Texas Truck of the Year Next Post The Ram 1500 Classic is the Ideal Pickup for Enthusiasts