Mitsubishi Fuso's Plans for a Fully Electric Commercial Truck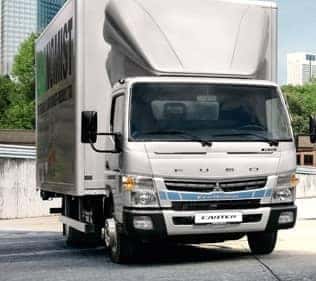 Mitsubishi has a lot more going on these days now that they have started working with the Nissan family. Interestingly enough, the Mitsubishi Eclipse Cross that recently debuted didn't have a single third-party hand in its design – it's all Mitsubishi. So while Mitsubishi Motors may have a few tricks left in their passenger vehicle division, its other brands are also making some changes. Soon to come to the U.S. are Mitsubishi's all-electric commercial trucks.
We discussed the many different brands and technologies developed by Mitsubishi last year, and one of those brands, Fuso, makes commercial trucks. Recently, Mitsubishi Fuso Truck of America, Inc. announced an upcoming, limited-production line of fully electric trucks that will be made available in the U.S., Japan, and Europe by 2018. Known as the eCanter, it will be the first fully electric plug-in truck produced by a major truck manufacturer.
This isn't the first time Mitsubishi is introducing an entirely new electric design. In fact, they've been researching electric technology since the '70s, so it's nice to see them applying all of that research into a tangible product.
Though many people incorrectly assume electric vehicles don't have a lot of power, electric vehicles actually produce a lot of torque, and that is an essential component when towing. As a Class 4 truck (GVWR between 14,001-16,000 pounds), the e-Canter's GVWR of 15,995 pounds almost boosts the EV into the next truck class.
The eCanter can recharge at a public station in an hour, and can be recharged in eight hours with a lower voltage outlet. When fully juiced up, the all-electric truck has a driving range of 100 miles! That's pretty fantastic for a commercial truck to travel that far on a single charge with zero tailpipe emissions and zero noise pollution. Customers will also have a choice between going for distance or picking one of the eCanter flexible battery configurations for less distance but larger payloads.
For those of you still iffy about an electric commercial truck, Otto Schmid, Fuso's director of product management, had this to say:
"While the new eCanter has a different look than our standard FE Series cabovers, the electric drivetrain is fitted to our standard 151.6-in. wheelbase cab-chassis—so customers and upfitters will find the same maneuverability and the same familiar 33.5-in. wide frame, same body attachment capability, cab-to-axle dimensions, and box sizes as they've enjoyed with our traditional turbocharged diesel cabovers … And the eCanter includes a high-capacity electric power take-off so the eCanter can be used for refrigerated applications and those requiring a liftgate or other auxiliary device."
* New technology from Nissan, their own personal eclipse, and now electric trucks? Mitsubishi's future is looking bright, so put on some shades. You can view our Mitsubishi models here . *
* Photo Source/Copyright: Fuso-Trucks.com *
Previous Post New Mitsubishi Eclipse Cross Debuts at Geneva International Motor Show Next Post Mitsubishi Has Autonomous Vehicle Tech After All