Mitsubishi Auctions Off Lancer EVO VI TME Before Leaving UK Market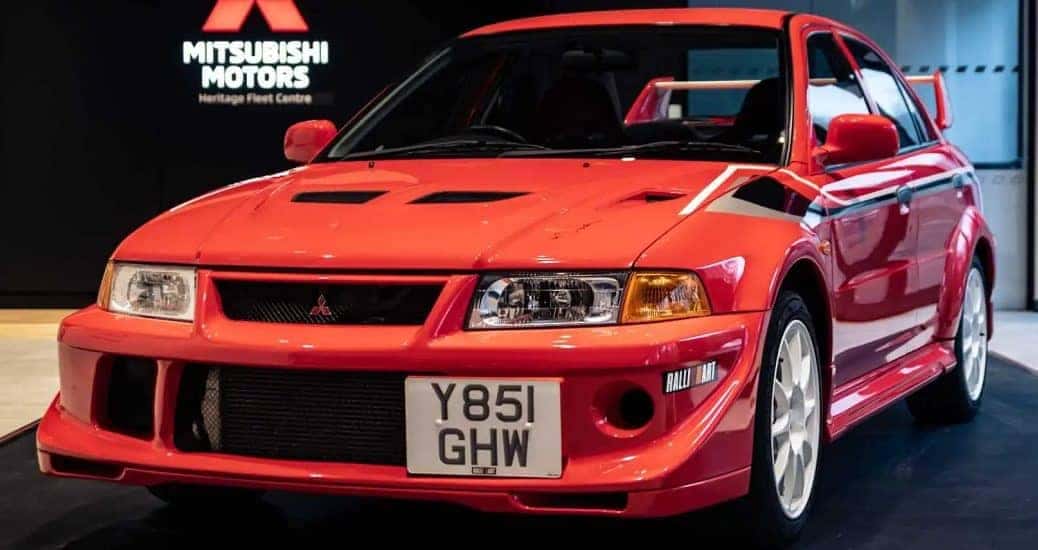 The last Mitsubishi Lancer Evolution Tommi Makinen Edition was just sold at an auction in Europe for £100,100. In terms of USD, that's just under $121,000. It sounds a little absurd that someone would pay over $100,000 for an old sports sedan, but then again, back in 2016, someone spent $76,400 on a Mitsubishi-joint-eBay auction for the last Mitsubishi Lancer Evolution Final Edition. This one was also for the children, with all proceeds going to charity (Feeding America and Second Harvest Food Bank). We're not sure if the same outcome happened this time around, but it's a historic moment all the same. Not only did the Lancer EVO VI Tommi Makinen Edition (TME) set a record for the most expensive Mitsubishi ever sold at an auction, but it also marks the departure of Mitsubishi Motors from the UK market.
Wow, that's a big one. Back in May 2020, the Renault-Nissan-Mitsubishi Alliance shared a new business strategy, along with previews at new and upcoming technology and concepts, with Mitsubishi Motors set as the first automaker in the bunch to release a new vehicle. Since then, we haven't seen much aside from a Mitsubishi and Nissan mini electric vehicle project and the Mitsubishi Airtek concept , debuted at the 2021 Shanghai Auto Show. Each automaker in the Alliance will also be setting its sights on different regions to drive sales and pulling out of the UK market might be a part of this new strategy if Mitsubishi doesn't fare well in parts of Europe.
So, what is the Mitsubishi Lancer Evolution Tommi Makinen Edition? A very special vehicle produced to commemorate a historic moment for the automaker. A bit of a history lesson here, but when Mitsubishi Motors first came to America, the automaker entered an international motorsports event and set a track record with its Mitsubishi 500 Super Deluxe. Thus began the legend of Mitsubishi Motors being a rally car automaker, although the automaker wouldn't officially sell in the American market until 1982. However, one of its models was sold by Dodge under the name of the Dodge Colt for 20 years, starting in 1971.
The Tommi Makinen Edition, or TME, was a part of the sixth generation of the Lancer Evolution. In short, they call it the EVO VI TME, and this vehicle debuted in December 1999 in celebration of rally driver Tommi Maikinen winning the World Rally Championship (WRC) for the fourth year in a row, from 1996 – 1999. At the time, Maikinen was the driver for Mitsubishi Motors, having joined the Mitsubishi Ralliart Team in 1995. After winning the WRC Driver's Championship for the fourth time in 1999, the EVO VI TME was produced, with only 2500 units built and released in January 2000.
Each EVO VI TME came with a titanium turbocharger, more responsive compressor wheel, free-flow exhaust, and a quick-ratio steering rack, and a front strut-tower brace. Originally available in five colors (red, blue, white, silver and black), the EVO VI TME also came with a special front bumper and 17-inch white Enkei alloy wheels. EVO VI TME sold in red were also offered with a rally styling package that included a WRC stripe, Ralliart bumper decals, Mitsubishi decals, white spoiler wing, rear panel garnish, and more.
There goes another legendary Mitsubishi vehicle. Want to keep up with everything Mitsubishi Motors? Follow along with us on Miami Lakes Mitsubishi social media .
Photo Source/Copyright: Motor1
Previous Post Mitsubishi and Renault to Rebadge Models for Europe Next Post Mitsubishi Electric Introduces All New Tech