Kia and HMG Launch EV RoboRide Service in Korea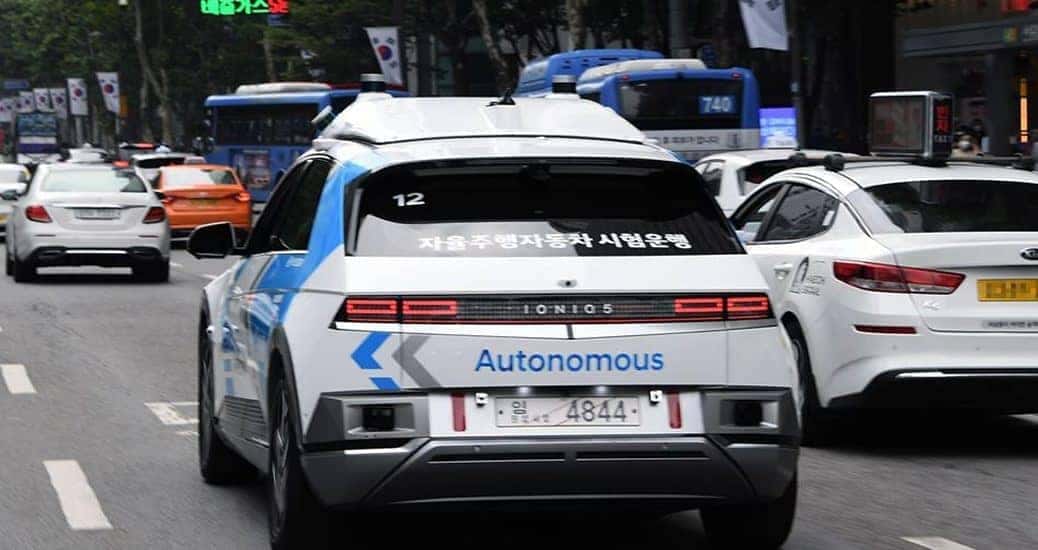 During the 2022 CEO Investor Day, a conference held by Kia Corp, the automaker shared its vision for Kia in 2030. Building upon the original Plan S Strategy , a business plan to help Kia Corp achieve a 6.6% global electric vehicle market share, the automaker planned to produce at least 11 electric vehicles (EVs) by 2025. Already underway, and increasing the number to 14 battery-electric vehicles (BEVs) by 2027, the automaker is set to launch at least two BEVs per year between 2023 and 2027. The Plan S Strategy was actually a two-fork path, with its sights set on EVs and purpose-built vehicles (PBVs). Becoming ever increasingly popular, like the presentation by parent group Hyundai Motor Co at the 2022 Consumer Electronics Show (2022 CES), HMG and Kia are working towards a lineup of PBVs, starting with the Kia Niro Plus, a robotaxi launched in Korea.
The RoboRide car-hailing service has started operations in Gangnam in Seoul, South Korea. Produced with IONIQ 5 battery electric vehicles (BEV) as its base model, the RoboRide utilizes in-house developed level 4 autonomous driving technology, making it the first car-hailing service with autonomous driving vehicles to operate in Gangnam. With Kia's home town in South Korea, it makes sense to test this service overseas, and especially in Gagnam, one of the most congested areas in metropolitan Seoul. It's unclear if this RoboRide car-hailing service is the same as the Kia Niro Plus Taxi Model, also said to launch in Korea, and based off of the Kia Niro EV.
The Niro Plus was going to be a little larger than the Niro EV in terms of interior cabin space to offer occupants a more luxurious ride with slim seats and an all-in-one display integrated into the dashboard for easy utilization. Features readily available for the taxi service included navigation, app taximeter, a digital tachograph, and voice recognition. Because the Niro Plus would be an EV, locations of nearby EV charging stations were also able to be recommended along the route, and relevant points of interest pop up for the passengers. Really helpful when new to the area and looking for stuff to do on the way to the hotel or place of stay.
Kia Corp is so passionate about its future in PBV production, the automaker recently announced E-FOREST, a new production hub to be constructed in Kia's existing Hwaseong manufacturing site in Korea. A high-tech smart manufacturing facility dedicated to producing electric PBVs, the production plant is called "E-FOREST", and aims to build 100,000 PBVs a year. Construction is slated to start during the first half of 2023, with production for commercial PBVs by 2025. Between now and then, it's the perfect time to test the RoboRide car-hailing service. After all, the first and easiest PBV to make is to build off of what already exists – taxi and ride-hailing services.
Collaborating with Jin Mobility, a Korean startup operating the artificial intelligence (AI)-powered car-hailing mobility platform 'i.M.', HMG will be starting a pilot service that Jin Mobility will be in charge of operating. With only two IONIQ 5 RoboRide units on its i.M application, the two entities can monitor the success of the program and learn how to improve the next phase based on feedback from the pilot service. This, of course, includes the advancement of autonomous driving technology with consideration for various conditions.
"At Hyundai Motor Group, we are developing level 4 autonomous driving technology based on the internally developed Advanced Driver Assistance System (ADAS), whose functionality and safety are verified through mass production and successful commercial launch…We expect this RoboRide pilot service will be an important inflection point that will enable us to internalize autonomous driving technology." – Woongjun Jang, Senior Vice President and Head of the Autonomous Driving Center of Hyundai Motor Group. Interesting stuff. Want to keep up to date with everything new for Kia Corp and HMG? You can follow along when you follow us on Miami Lakes Kia social media .
Photo Source/Copyright: Kia Media
Previous Post The 2022 Kia Seltos Offers More Standard Features Next Post Kia EV6 Lands on WardsAuto 10 Best Interiors & UX List