Debut of the Kia Rio GT

Back in March 2018, the 2018 Geneva Motor Show took place overseas in Switzerland. During that time, like every year, many automakers showed up with their own new vehicle concepts and debuts. The Renault-Nissan-Mitsubishi Alliance showed up to give the Mitsubishi Outlander PHEV and the Renault EZ-GO concept some love. The Hyundai Motor Group was there as well, shining some light on the Hyundai Le Fil Rouge and 2019 Hyundai Kona EV. When we see Hyundai, we know Kia Motors isn't too far behind. They showed up to debut their new GT lineup, and with the recent news about Kia Motors going GT , it would seem the new lineup is true – starting with the Rio GT.
Earlier, when we learned Kia Motors is turning into a GT brand, we were pretty surprised. After all the good the Kia Stinger is doing for the automaker, we thought performance was the way to go, but that's not necessarily true. Yes, the Kia Stinger is an award-winning vehicle , but it was also the first sports car Kia designed with a GT trim. This was actually the first test of a GT vehicle, and after all the good reviews, Kia Motors went on to expand their GT lineup with the 2019 Kia Forte GT , debuted in Korea in early October 2018.
Wrap around back to the 2018 Geneva Motor Show, because that's where our next GT model is coming from. Around the time of its debut, the new Kia Rio GT line looked like a sporty hatchback that shared design cues from the Kia Stinger, a fashion sense we'll be seeing on many Kia Motors vehicles going forward. When introduced on the auto show floor, the Kia Rio GT was sporting a revised Stinger-esque front grille, 17-inch alloy wheels, and a black boot spoiler.
There was also talk about vehicle autonomy, but every automaker is talking about autonomy these days. Since then, tidbits about the Kia Rio GT lineup have come from news sources and the Kia Motors website. With new style, a turbocharged engine, and smart technology, the GT lineup is going to start a new wave for Kia Motors. We're just not sure which vehicle will become the new Halo car for the automaker.
The drivetrain is said to come from a turbocharged 1.0-liter inline three-cylinder engine that can generate 118 horsepower. Whether a sedan or a five-door hatchback, the Kia Rio GT is expected to make good use of that small engine, able to accelerate from 0 to 60 mph in 9.8 seconds and a top speed of 118 mph to match the horsepower. It may not sound like much, but unless looking to drag race, this is a vehicle to have fun with.
That's the new Kia Motors motto – designing a car that drives as good as it looks. And the new Kia Rio GT does look good, with new GT-inspired design features, such as the high-gloss black and chrome contoured radiator grille, unique GT-Line 17-inch alloy wheels, and "ice-cube" LED fog lamps – it makes sense when you look at the picture below. Also joining the new sporty GT look of the Kia Rio GT are a new front and rear bumper with twin exhaust tips, a chrome window trim, gloss black roof spoiler, and aesthetic highlights.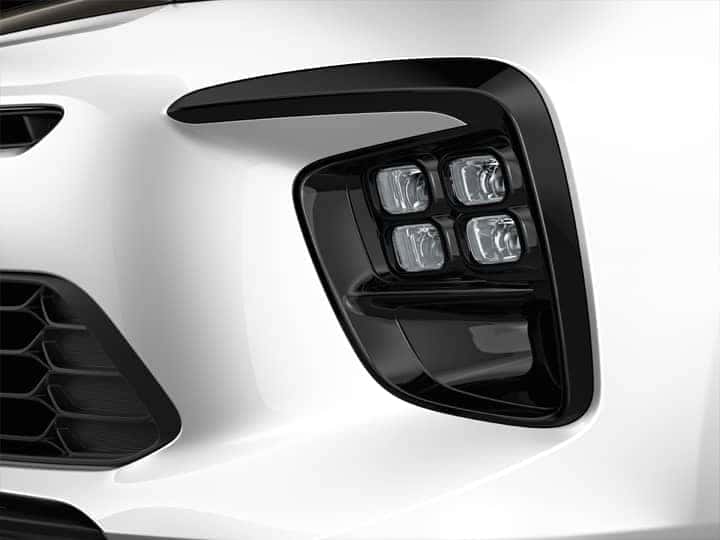 The interior gets an upgrade as well to match the uniqueness of the GT line with GT-only features. Enjoy a better in-car experience that includes a black synthetic leather blend with cloth upholstery and grey stitching, a stunning black carbon-fibre-feel dash, and a sporty D-Cut steering wheel. The cabin is designed to entice the driver and passengers with the most passenger space in its class.
To top it all off, the Kia Rio GT comes with a "floating" 7.0-inch touchscreen (Human Machine Interface) with a navigation system, full smartphone integration, and a rear-view parking camera. When it comes to safety, we're looking at a long-range radar detection system that can detect potential collisions with other vehicles or pedestrians, Lane Departure Warning (LDW), and Kia's new Driver Attention Warning (DAW) system. How can it get any better?
We're find out soon enough. Keep up-to-date on all Kia Motors news with Miami Lakes Kia social media .
Photo Source/Copyright: Kia
Previous Post Kia Forte GT Unveiled? Next Post Updates to the 2019 Kia Forte