The Jeep Performance Parts Headed to the 56th Annual Moab Easter Jeep Safari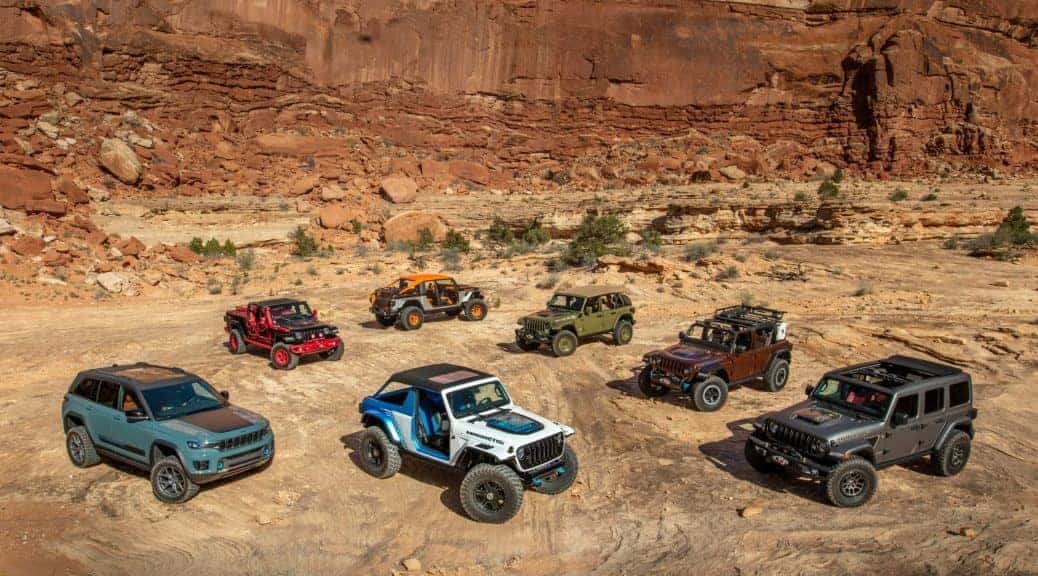 Once again, the creators of the legendary 4×4 capability will gather together at this year's Easter Jeep Safari. Mopar, Jeep, and Jeep Performance Parts (JPP) enrolled the "A-Team" to create a custom line-up comprising 4×4 and 4xe concepts. The vehicles will premiere on the red rock of Moab, Utah, and thousands of 4×4 enthusiasts will gather from April 9-17th, 2022, for trail rides and technical off-roading.
"Easter Jeep Safari is the perfect opportunity for the Jeep brand to push the limits of four-wheel-drive development and, most importantly, to stay connected with our customers. Moab is a rite of passage for many Jeep owners, and to own a Jeep is to truly understand the lifestyle – it's what the Jeep brand is all about. Whether it's a Jeep concept or the latest Jeep production vehicle, our customers have the chance to get up close and personal with our passion projects during this event. From a fully capable BEV off-roader to rugged and powerful terrain tacklers, every concept is a true reflection of what our customers tell us they want and give a taste of where the future of the Jeep brand and off-roading can go."

-Senior Vice President and head of Jeep brand North America, Jim Morrison
For * *the 56th Annual Moab Easter Jeep Safari , Jeep branded and JPP concept vehicles feature a plethora of advanced powertrains. In addition, the Jeep Wrangler Magneto makes a miraculous return as the automaker's first battery-electric vehicle (BEV). The Jeep Wrangler Magneto 2.0 is back and more powerful than ever, with four more Jeep 4xe concepts echoing Jeep's sentiments of Zero Emission Freedom . Here's a look into our personal favorite.
The Jeep Bob Concept
The Jeep Gladiator Rubicon is the beauty of when two worlds collide, and the Bob Concept embodies this vision perfectly. The Jeep Bob Concept is a child-like spin on the trend of "bobbing." Bobbing (no relation to the apple game) is the long overhang of the pickup truck bed to make the pickup a more spirited off-roader.
Spend some time with the Bob Concept, and its missing features pop right out, such as the four doors and B-Pillars. In addition to the open-air freedom, the Bob Concept sports a perforated hardtop, and a canvas top provides shelter from various elements and natural lighting to seep through.
The exterior shimmers in a multi-finish paint scheme that incorporates mixed gloss and matte finish that screams the best of both worlds. Step inside Jeep Bob and look down. The bed floor is brightly lined with custom trimmed seats adding some heat to the cabin. Additionally, a carbon hood generates a finer airflow to the engine.
Of course, the Jeep Bob Concept's outside matches the inside, starting with Jeep's award-winning, turbocharged 3.0-liter EcoDiesel V6 engine. For those powerful torque loads the EcoDiesel V6 pairs with the TorqueFlite 8HP75 eight-speed automatic transmission. The V6 engine and transmission pair together to calibrate low RPM shifts to easily maneuver through more turbulent grounds. Moreover, the Bob Concept's equipped with a Mopar cold-air intake that boosts torque and enhances fuel economy.
"Teaming up with the Jeep brand, there is no better place than the annual Easter Jeep Safari to show off our latest production and custom innovations to true off-road enthusiasts. Unlike any other aftermarket offerings, our factory-tested and factory-backed Jeep Performance Parts are specifically designed and engineered to face the toughest trails in the world."

-North America Vice President of Mopar Service, Mark Bosnac
Come Test Drive Your 2022 Jeep at Miami Lakes Automall!
For over 30 years , Miami Lakes Automall has served South Florida with all buying, trading, leasing resolutions.
Our new vehicle inventory or certified pre-owned vehicles speaks to the volume Miami Lakes Automall holds to fit your needs. Yet if you already have a beautiful baby in need of some fine-tuning, you've come to the right place.
Here at Miami Lakes Automall, our * *service experts are warmer than a fresh cup of coffee. So don't hesitate to chat with our friendly service members available to you whenever you need them.
We've been here since 1982, so please stop by today. Your 2022 Jeep Gladiator is ready to Go Anywhere and Do Anything.
Previous Post Jeep Will Premiere a Brand New Wrangler Magneto Concept Next Post Off-Road in Style with the New 2022 Jeep Grand Cherokee 4xe High Altitude